Batkid and Coach Jack, the 49ers and the Panthers, and everything but Ric Flair
What young boys can teach us about being adults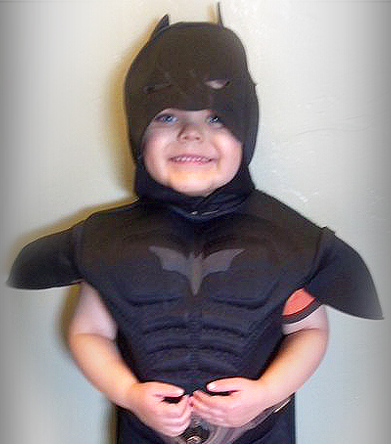 Batkid sent me an email Friday.
You remember Batkid. He's Miles Scott, the 5-year-old boy from San Francisco with leukemia who always wanted to be a superhero and, thanks to the Make-A-Wish Foundation, actually got to be a superhero.
Two months ago, Scott dressed up in a tiny Batman costume, complete with the hardcore abs, and he hooked up with an adult Batman impersonator, and Batman and Batkid set out to save the world. They saved a damsel in distress on the cable car tracks. They captured the Riddler before he could pull off a bank heist. They even stopped the Penguin from kidnapping the mascot of the San Francisco Giants. It started as a nice thing. But within a few hours, 20,000 people were helping out in person. And thousands more were cheering him on through social media. The San Francisco Chronicle documented it, under the cape of another masthead, Gotham City Chronicle. The president even Vined about it. For a weekend or so, nobody in the world was bigger than Batkid.
Then we moved on. The next week marked the 50th anniversary of the Kennedy assassination. Thanksgiving came. Nelson Mandela died. That Christmas Jammies video happened. The world spins faster these days, now that it's easier to know what everyone's doing.
After a trip to New York to appear on Good Morning America, Batkid and his parents went back to their home. They declined all media requests, until the media requests stopped, which was fine with them. Miles's parents are just 26 and 29 years old. They're learning how to be a mom and dad, a mom and dad of a child who's in remission. They're learning how to be superparents, on all those other days when Miles is just a kid.
This week in Charlotte, we're rooting for the Carolina Panthers. They play the San Francisco 49ers—Batkid's favorite team—in a playoff game.
Make-A-Wish Greater Bay Area
After his day as Batkid, Miles attended the 49ers-Seahawks game on December 8. The 49ers won.
It's the biggest sporting event here in years. There's a lot of noise. And tons of stories: I've received emails about a Panthers pet food drive, events at the EpiCentre, an entire day devoted to wearing black. But somehow during the course of this festive week, Ric Flair emerged as a story. First, last Sunday, he gave a motivational speech in the 49ers locker room before their game against the Packers. After the 49ers won, Panthers fans got mad. They called him a traitor. Apparently some of them sent death threats. As a response, Flair and his agency on Thursday sent out a press release to say he wasn't going to attend this weekend's game. Then the Charlotte Business Journal reported that another reason he might not be attending is that he has an outstanding warrant for his arrest here. And as crazy as it seems that anyone would care who Ric Flair is rooting for or where he will be on gameday, it became the most popular Panthers story on the biggest week of Panthers football in a decade. Woo.
Not knowing what else to do or where else to turn for better news, I tried to find Batkid.
Without a batphone, I used email to contact the Greater Bay Area Make-A-Wish Foundation on Thursday afternoon. I asked if I could talk to him or his parents. A woman named Jennifer wrote me back. Jennifer confirmed that Miles and his family still aren't doing interviews. She was very nice, though, and said Batkid's mother and father are trying to return to normal lives, and she asked if there was anything else she could do for me.
I asked her for one thing: Does the superhero have a prediction for the game?
I didn't get a response until Friday afternoon.
At 1:22 p.m., an email came in, and in the "From" column, there was only one word, in lowercase: "batkid."
I opened the email. It was signed by a woman named Lynne, but it may as well have been Bruce Wayne. Lynne was from the Make-A-Wish Foundation. Lynne said the family is "enjoying being back to their normal, pre-superhero lives." Lynne said she didn't have a prediction for me, and she hoped I understood, but her signoff in this email was: "Go Niners! (Sorry, had to add that in!)"
I laughed. But still, a piece of me wished that the superhero himself had written me back, wished for something to come save Charlotte from Ric Flair and other big distractions created by a big football game. Then on Saturday morning I woke up, opened the door, and unrolled my newspaper. And there it was, on the front page, a story under the headline "The return of Coach Jack." In the story, Observer columnist Tom Sorensen writes about Jack Bolton, a little boy with Spinal Muscular Atrophy who always wanted to be a football coach and, thanks to the Make-A-Wish Foundation, actually got to become a football coach.
"Jack is part of who we are," Panthers coach Ron Rivera says in the story.
And it made me think: Grown people from California to Carolina will be shouting at their televisions on Sunday, pulling hard for one team or the other. One team will lose. One will win. But if Miles and Jack can teach us anything, it's that there's always someone to root for on the other side.
Thanks for writing, batkid, whoever you are, wherever you are.