Battle Slam Jam, Alpha Luau, Crown Royal and Patrón Parties, and More this Saturday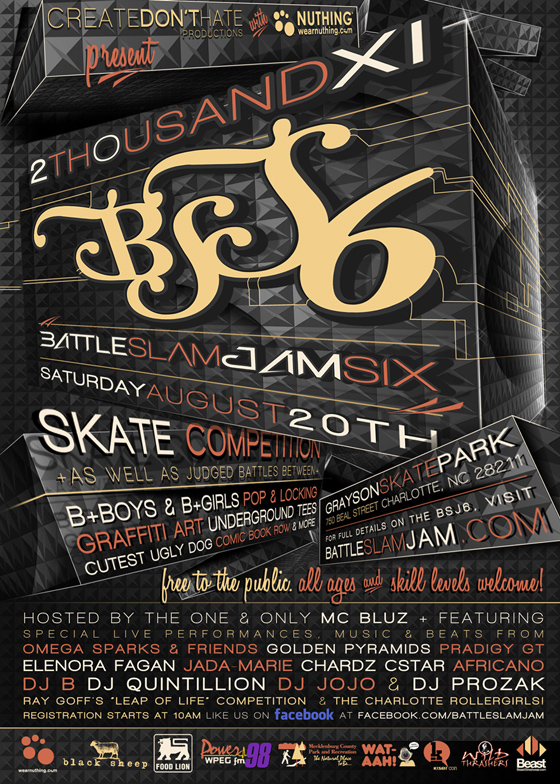 There's a ridiculous number of parties going on tomorrow. One can only assume it's because it's my birthday (and my twin brother's). Maybe I should try hitting up all of these parties in one day/night… I've narrowed this list down to what I think will be the best ones. You should be sure to pick at least one or two, and have a good time.
Saturday, August 20
Sixth Annual Battle Slam Jam
Okay, so this isn't a party but it's a cool event that I had the pleasure of checking out for the first time in 2009. This year's festival seems bigger than ever and will feature skateboard contests, DJs, live bands, a B-boy/B-girl battle, graffiti writing, pop & locking, a comic book row, a custom bike show, and more. It's certainly one of the most creative and inclusive events I've seen come along, and it's fun for all ages. Battle Slam Jam is being put on once again by Create Don't Hate Productions and in partnership with Nuthing Clothing Company and Charlotte Mecklenburg Park and Recreation. 10 a.m.-6 p.m. Free. Grayson Skate Park, 750 Beal St., battleslamjam.com.
Alpha Luau 2011
The Alphas of Charlotte present two parties in one day for their annual luau. Part one is 1-6 p.m. and will feature food, games, and music by DJ '06. Hawaiian attire is suggested. The Mecklenburg Shrine Club, 5200 Mecklenburg Shrine Club Rd. Part two is the after-party 10 p.m.-2 a.m. and will feature music by DJ DR. Dress to impress. Grand Central, 1000 Central Ave. Tickets start at $35 and that includes admission to both events. alphaluau2011.eventbrite.com.
The Crown Black Affair
Charlotte Junior Chamber and BlackFinn present this opportunity for you to experience the bold new flavor of Crown Royal Black. Complimentary appetizers and specialty cocktails will be served. 6-9 p.m. RSVP required; click here. BlackFinn American Saloon, inside the EpiCentre, 210 E. Trade St., blackfinncharlotte.com.
Signature Saturdays
Eddietainment, the popular promoter behind such events as Mainstream Mondays (which is returning soon for the start of Monday Night Football) has a new, monthly event taking place every third Saturday. Expect a fun and classy crowd, and great drink specials. Music by celebrity DJ Shogun. 9 p.m.-2:30 a.m. Free. Apostrophe Lounge, 1440 S. Tryon St., apostrophelounge.com, eddietainment.com.
Reasonable Doubt
This party, themed after Jay-Z's classic debut album, seeks to evoke a memorable night. Music by DJ B Lord, and presented by Heights Entertainment. 10 p.m.-2:30 a.m. Admission starts at $20; valet parking, VIP tables, and bottle service available (see website for prices). Ruth's Chris Steakhouse, 222 S. Tryon St., reasonabledoubt.eventbrite.com, heightsent.com.
Trance on the Terrace 2
It's a summer night of trance music on the rooftop terrace of one of uptown's trendiest nightclubs. Music by DJs Kevin Focus, Glojin, Kaotika, and Fotizo. 10 p.m.-2 a.m. Free before 11:30 p.m., or email kevinfocus@phoenixofcharlotte.com to get on the guest list (admission is for the rooftop so be sure to state that at the door). Phoenix, 300 N. College St., phoenixofcharlotte.com.
Late Summer Rendezvous a.k.a. Last Leo Standing
Some of Charlotte's leading party promoters are joining forces to celebrate the end of Leo season. Music by DJ Bro-Rabb. Presented by Blue Goose, Roundtable Ent., Sol Kitchen, and Rickmond Media. 10 p.m. $10 and up in advance; VIP tables available (see website for prices). Blue Restaurant and Bar, 206 N. College St. (corner of Fifth and College streets), ez-tixx.com/Static/info_blue_lastleo_event.html, thesolkitchen.com.
Patrón On the Roxx
It's a salute to the top-shelf tequila and you can enjoy free Patrón shots until 11:30 p.m. (designate a driver). Music by DJ Yasmin of Power 98 FM. Presented by BGray, Nick "PrimeTime" Ingram, Julio Boseman, Gary Sauls Promotion, and WorkMoney. 10 p.m. $10 in advance. On the Roxx, 1520 South Blvd., patronontheroxx.eventbrite.com, roxxsouthend.com.
Be sure to bookmark www.charlottemagazine.com/Blogs/Dusk-Till-Dawn to stay plugged into Charlotte nightlife.