Baubles Boutique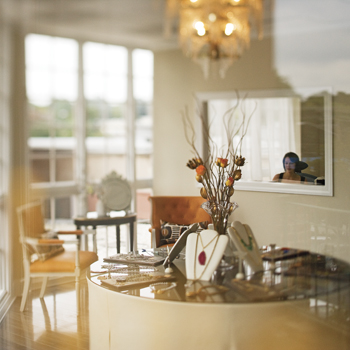 WHAT: Charlotte jewelry designer Laura James, known for her vintage-inspired trinkets favored by Hollywood stars and stylish Charlotteans, recently opened the Laura James Jewelry Studio Boutique in Dilworth. James moved her home-based studio to the back of the store, where local customers can finally select from her trendy collection in person.
VIBE: "It all started out of my home, and having a storefront was the pinnacle for me," says James, who spends most of her time in the store working in her studio, which opens into the main shopping area. "I feel like I have more of a purpose now." The second-story store is brightly lit with floor-to-ceiling windows facing East Boulevard, white walls, and James's signature orange accents. James decorated the interior with Luxe Home Couture, re-covered antique chairs from Sleepy Poet Mall with faux orange ostrich skin, and ordered vintage chandeliers off eBay. The final product is the perfect sophisticated accent to her vintage-meets-modern jewelry.
FIND: The boutique carries all of James's signature pieces, like her ornate zodiac necklaces ($180). Peek in the antique drawer at the front of the store to find eye-catching vintage rhinestone cocktail rings ($138). 1419 East Blvd., Ste. K, 704-372-1267 —A. M.