BB&T Ballpark Eats
Whether you're staying for the whole game or just stopping by for some corn dogs and an inning or two on your lunch break, here's a sampling of what you'll find when you cheer on the Charlotte Knights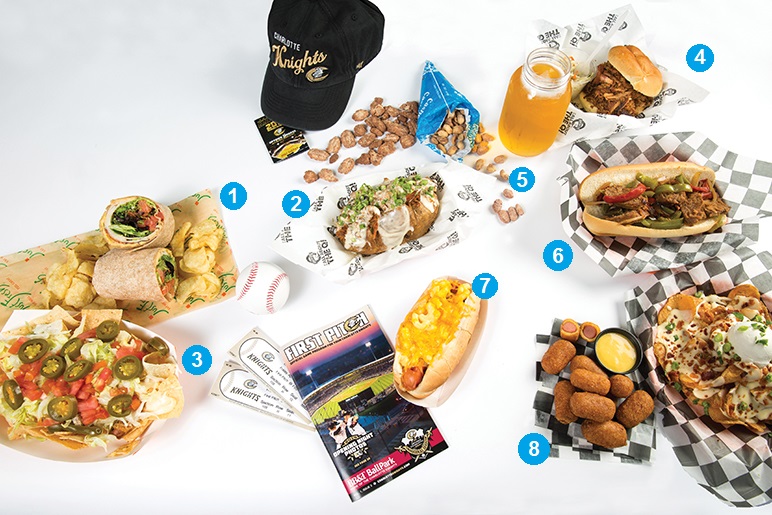 1. Franita Wrap, $11. The concession cart from Just Fresh serves up lighter fare, like this wrap combo, which includes the restaurant's signature sandwich—roasted turkey, parmesan artichoke spread, lettuce, and tomato—on a wrap at the ballpark. (If you order it in a restaurant, it comes on bread.) Tip: You can also get sandwiches and salads made to order if you're looking for something different from what's on the menu.
2. Pulled Pork Potato, $8. This baked potato from Queen City Q is stuffed with the same barbecue you'll find at the restaurant, and then topped with queso and green onions. It's only available at BB&T Ballpark, so you'll need a ticket to get your fix.
3. Fully Loaded Nachos, $9.25. Salsarita's 16-foot cart serves up the same certified organic chips at the ballpark that are made exclusively for the Charlotte-based Tex Mex chain's restaurants. Order them fully loaded (queso, diced tomatoes, shredded lettuce and cheese, queso, and sliced jalapeños), or simply topped with queso, pico de gallo, salsa roja, or guacamole.
4. Pulled Pork Sandwich, $11. This is Queen City Q's signature plate. Just like in the restaurant, it comes bare: You decide whether to add one of their housemade sauces. And of course, there are sides: mac and cheese or coleslaw.
5. Aunt Fran's Southern Roasted Pecans and Almonds, $6. If Dave & Fran's Taste of the South seems familiar, here's why: Owner Dave Cook launched his business at Panthers Stadium (although he no longer has a spot there) and also sells his food at Time Warner Cable Arena.
6. Sausage Filly, $8. Whisky River translates the classic Philly for the ballpark with sausage slices topped with grilled peppers and onions on a hoagie roll.
7. Mac and Cheese Hot Dog, $6. Buffalo-based Sahlen's expects to sell about 10 tons (or 140,000 hot dogs) at the ballpark this season. You can order one plain, topped with chili and cheese, or Chicago-style—but the mac-and-cheese-topped dog is a winner.
8. Tiny Baby Corn Dogs, $8. Whisky River serves their petite corn dogs the same way they come at the Epicentre party spot: with honey mustard sauce for dipping. Add a basket of Whisky Chips, $10 (far right), the eatery's take on nachos, to make it a meal.