Beat the heat with the latest sour beers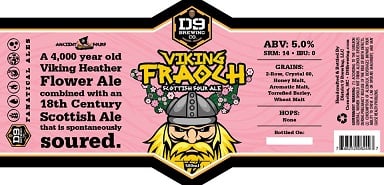 Sour beers continue to grow in popularity in the craft beer scene, and Charlotte is no different. One of the great things about many sour beers is not only the refreshment it provides, but the low alcohol content, allowing you to enjoy several at a time.
Here's a look at a few sour beers being released this week:
–Since opening about a year and a half ago, one of the more popular beers at D9 Brewing has been its Viking Fraoch, Scottish sour ale. Now you'll be able to enjoy that beer outside of the Cornelius brewery, as D9 is set to release Viking Fraoch in bottles this Saturday – and in a really cool way.
Viking Fraoch is the first in D9's Ancient Sour Series, and described as a "4,000-year-old Viking Heather Flower Ale combined with an 18th Century Scottish Ale that is spontaneously soured." The beer comes in at 5 percent ABV.
Saturday's festivities begin at noon, where 120 cases will be for sale with a 4-bottle limit per person. And here's the cool part: Each bottle will have a crowned cap made out of the tokens that were used when D9 had its grand opening. This bottle run will be the only one to feature these caps, and they will also be numbered and signed by a D9 brewer. Each bottle will cost $11.99.
–Wooden Robot has yet to open, but they've already made a major impact with some collaborations, first with Fullsteam and then with Haw River. Now the SouthEnd brewery is staying within the city limits, teaming up with Birdsong Brewing Co. for the release of Paranoid Android.
This beer will be part of Birdsong's THURSty THURSday weekly small batch release and is available beginning tomorrow in Birdsong's taproom at 4:30 p.m. Continuing Birdsong's excellent theme of naming their small batch releases after songs (and a tremendous Radiohead one at that), Paranoid Android is a Farmhouse IPA that comes in at 6.7 percent ABV. There will also be 32 ounce "howlers" of Paranoid Android to take home.
In more sour beer news, Unknown Brewing recently posted a picture on its Facebook page about its next bottle release. The folks at Unknown announced a while back that it would be starting a sour program, and this looks to be the first in wide production. On Facebook, Unknown lists this is a "Belgian-style red rye aged and soured on French Oak cabernet barrels with strawberries and vanilla beans. Look for more to come on this as news becomes available. … Also, NoDa Brewing is set to re-release its Gose from last year, What Gose Round, in July, with this year's version brewed with cranberries.