Beating the Odds
These stories will stretch you. They'll make you believe in the power of science and medicine. And they might also open your mind to the possibility that something else—a splash of luck or the hand of God—can touch us when we need it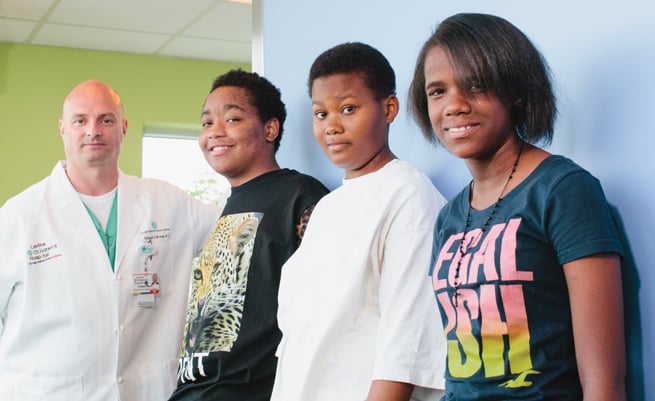 Devin Gilchrist, 13, Huntersville
Damien Logan, 13, Gastonia
Kiera Richardson, 13, Charlotte
Heart Failure – Levine Children's Hospital
FOR DR. THOMAS MAXEY, 2012 was one of the most rewarding years—and one of the most challenging—in his career as a pediatric cardiothoracic surgeon. Maxey regularly treats newborns and infants with heart defects and other abnormalities. But last year, he was faced with treating not one but three local 13-year-olds—Devin Gilchrist, Damien Logan, and Kiera "Keke" Richardson—who were all on the heart transplant list, their health failing rapidly.
"A 13-year-old child with heart failure is a relatively rare event," Maxey says. "Most adults with heart disease have acquired their illness through lifestyle choices such as obesity, cigarettes, and poor compliance with medications. These children made no choices that led to their heart condition."
As all three teens' cardiac functions began to decline, Maxey, along with partner Dr. Benjamin Peeler and a team of cardiologists and intensive care specialists at Levine Children's Hospital, faced a critical decision. The question at hand: Should they implant a class of circulatory support known as a continuous-flow left ventricular assist device (LVAD), which has become the go-to option for some adult patients suffering from heart failure? Maxey and his team made the decision to implant a continuous-flow LVAD in all three teens, a three- to four-hour, potentially fatal surgery.
"I had lengthy conversations with each of these kids and their parents explaining in detail the risks associated with implanting this type of device, specifically, the risk of death," Maxey says. "These children clearly understood these risks and unfairly realized they may actually die. A 13-year-old isn't programmed to hear something like that—and they grow up quickly."
The outcome for all three patients, though, could not have been better. Not only did all three thrive after receiving their LVADs, they've since gone on to have heart transplants and remain healthy, active teenagers (Gilchrist and Richardson are now 14). "There's a bit of an exhale when the transplanted heart functions well coming off bypass and we slowly realize everything is going to be OK," Maxey says. "That's a very rewarding feeling not shared by many."
Marlie Musgrave, 2, Lancaster, S.C.
Hydrocephalus – Duke University Medical Center
WHEN LINDSAY MUSGRAVE was 20 weeks pregnant with her second child, she and her husband, Joshua, learned that their baby had hydrocephalus. This occurs when cerebrospinal fluid—the clear, water-like fluid that surrounds and cushions the brain and spinal cord—is unable to drain from the brain. The fluid then pools, causing a backup in the skull. When left untreated, it can damage brain tissues and cause a variety of impairments in brain function, including blindness, hearing loss, and sometimes death. "As soon as I got home from our doctor's appointment, I started Googling the condition," Lindsey says. "That's when I first heard about Dr. Kurtzberg."
Dr. Joanne Kurtzberg is one of the world's leading researchers and physicians using banked umbilical-cord blood as a source of stem cells to treat children with cancer, blood disorders, immune deficiencies, and metabolic disorders. Working at Duke University Medical Center, Kurtzberg established the internationally known Pediatric Blood and Marrow Transplantation program (PBMT), the largest pediatric transplant program in the world.
"We've learned that when donor cells are infused into one's body, they go to the brain and help the brain heal," Kurtzberg says. "When a child has a brain injury around birth, we can use their own cord blood cells to correct the damage that's occurred."
To the Musgraves, this procedure was their daughter's only hope of living a normal life.
When Marlie was born in December 2010, her cord blood was banked and sent to Duke. She received her first infusion within a month of being born, then two more during the next two years.
The results are astounding: Marlie has reached every developmental milestone without delay, and "you would never know this little 2-year-old has anything wrong with her," Lindsey says. "It's amazing."
Cassidy Hooper, 17, Charlotte
Born without eyes and a nose – David Matthews Cosmetic & Reconstructive Surgery, Levine Children's Hospital
WHEN SUSAN HOOPER was in labor with her second child, she and her husband, Aaron, were in for a startling discovery: Their daughter, Cassidy, had a rare birth defect that likely formed during the first two weeks of gestation: She was born without eyes and a nose.
"I was in shock," Susan says now. "I cried a lot. I figured the doctors could fix [her] right then and there and by the time we left the hospital everything would be taken care of."
It wasn't. The next year, Susan says, was one of the most difficult in her family's life. "The first three weeks of Cassidy's life I wondered what I would do with this child," she says.
Dr. David Matthews, one of the country's top reconstructive surgeons specializing in craniofacial surgery, met Cassidy as an infant. Matthews knew immediately that Cassidy would need reconstructive surgery. But her growing had to slow first. She underwent a tracheotomy to help her breathe when she was 11 days old. But for the next decade, Cassidy and her family had to wait to make any physical alterations.
She underwent the first of several skin-graft and facial-reconstruction operations when she was 11. About a dozen more reconstructive and cosmetic surgeries followed. Matthews performed the operations at Levine Children's Hospital.
Cassidy is now a vibrant and cheerful 17-year-old. She attends the Governor Morehead School in Raleigh, a K-12 school for the blind, where she landed a spot on her school's track team.
This year marks a milestone in Cassidy's life: In three final surgeries over the course of this summer, doctors will stretch skin flaps over a bone or cartilage graft from another part of her body to create her new nose.
"I'm excited," Cassidy says. "It's the beginning of the end."
Lindsay Knopp, 30, Lilesville
Stage 4 Colorectal Cancer– Levine Cancer Institute, Levine Cancer Institute Union County
LINDSAY KNOPP'S PREGNANCY had been uneventful. So when she mentioned to her OB/GYN that she'd been suffering from back pain, her doctor wrote it off as normal pregnancy symptoms.
But after Knopp's son, Kasen, was born, the symptoms remained, and she dropped almost 40 pounds in a three-month period. She visited her family physician and told the story of how her grandmother died of colon cancer. The physician ordered a CT scan. Then, Knopp finally learned the cause of her pains: She had stage 4 colorectal cancer, which had metastasized to her lymph nodes and liver.
Knopp was 29.
The average age for a person with colon cancer is 70.
"It's really rare to see someone this young," says Dr. Joshua Hill, a surgical oncologist at Levine Cancer Institute, who treated Knopp. Most patients with stage 4 colorectal cancer live no more than two years, so Knopp's doctors didn't want to give her false hope. "But I told them, 'I'm not your typical patient,'" she says. "I'm gonna surprise you."
After an initial round of chemotherapy, Hill and Dr. Gregory Brouse, a medical oncologist at Levine Cancer Institute Union County, suggested an aggressive treatment that included radiation and more chemo. But Knopp opted to do only the latter because radiation in that area of her body would prevent her from carrying another child. Surgery, in conjunction with the chemotherapy, was the next best option. After three months of chemo to shrink her tumor, doctors began preparing Knopp's body for surgery.
Both her liver and colon were cancerous, so they had to pick one to approach first. They started with the liver. An interventional radiologist then performed portal vein embolization, a technique in which the cancerous part of the liver is "starved" so that the healthy part of the organ can regrow after it is removed. Just six weeks later, Hill and his colleagues at CMC removed 80 percent of Knopp's liver and with it her cancer. Another six weeks later, she returned to the operating room to undergo the removal of part of her colon.
Today, almost a year since her diagnosis in August 2012, Knopp is in remission. She remains cautious in her optimism; approximately 50 percent of patients in her situation live more than five years. Until recently, when treatments weren't as effective, survival was limited to less than two years.
"Lindsay's attitude has always been, 'I'm going to fight this thing,'" Hill says.
Adds Knopp, now a single mother with a 2-year-old son: "I don't know why some people survive cancer and some don't. … The Lord has blessed me with everyone I've been in contact with—from the nurses to the doctors. I feel like He brought Dr. Hill here for me."
Jeff Davis, 43, Charlotte
Stage 4 Stomach Cancer – Matthews Hematology Oncology Associates, Duke University, Novant Health System, and Carolina Surgical of Charlotte
JEFF DAVIS WAS in fantastic shape. The 5-foot-8 father of three exercised several times a week, played competitive softball, and watched what he ate. So when he shed 20 pounds from his muscular frame in just two weeks, he knew something was wrong.
In May 2011, Davis underwent a CT scan. A few days later, at 41 years old, he finally learned what was wrong. "I was driving on I-77 on a Tuesday at five minutes to five when I got the call from my doctor," he remembers. "That's when he told me I have cancer."
Davis's diagnosis of stage 4 stomach cancer was, the first doctor he saw told him, a death sentence. The doctor gave him four months to live. "He told me I should do this clinical trial to make me comfortable," Davis remembers. "Comfortable for what? I wasn't having that."
A few days later, Davis met with Dr. Alfred Newman, a medical oncologist with Matthews Hematology Oncology Associates. Newman convinced Davis to participate in the clinical trial—a partnership with Duke University and Novant Health System—which explored a chemotherapy drug that's been used in conjunction with other medicines but not alone. "Jeff came to me in a state of shock," Newman says. "Even with a combination of various chemotherapy drugs, the average survival rate for this type of cancer has never been more than 10 to 12 months. … I didn't have any expectation that he'd be around two years from now. I was trying to be optimistic for him but realistic at the same time."
After almost two years and 23 rounds of chemotherapy—as well as a surgery performed by Dr. Wyatt Fowler, an oncologist with Carolina Surgical of Charlotte, to remove the remaining cancer cells—Davis is now cancer-free. "I've never seen anybody respond this well," Newman says. "We see this with certain cancers, but stomach cancer isn't one that responds that well. … I truly was astounded."
Davis attributes the success to his positive attitude and will to fight. "Right now I'm just living my life and keeping my fingers crossed every day."