"Beauty and the Beast" Closes 2011-12 Broadway Lights series
My Q&A with The Beast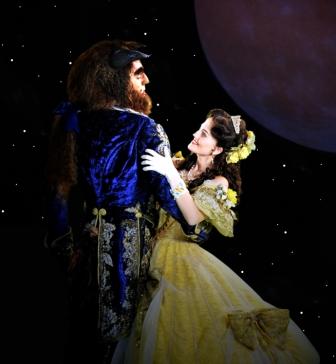 Dane Agostinis has to put on a heavy, hairy costume night after night … and he couldn't be happier about it.
Agostinis, a graduate of NYU's Tisch School for the Arts, has played the leading male role since last March. Being on the road is nothing new to him, though. He was part of the national touring company for The Great American Trailer Park Musical. His other credits include Oklahoma!, Spelling Bee, Bat Boy, The Full Monty, Side Show, A Midsummer Night's Dream, Carousel, Godspell, A View From the Bridge, and Debbie Does Dallas.
Agostinis came to the role at the same time the current Belle did, and they will make their exits together in July. He'll then take August off, move back to The Big Apple and, he says, "see what happens next." I chatted with him about his upcoming performance in Charlotte. Catch the show at the Belk Theater from June 26 through July 1.
Revue: I read that you do your own make-up, and that you've got the routine down to just 45 minutes. Wow!
Dane Agostinis: Yep. When I first started, I was in the make-up chair for an hour and a half before the show. It was really cutting into my time. So I watched how the make-up people did it, learned from them and asked if I could try it myself. I was lucky they let me. Now I've got the routine down to 45 minutes. I can do in in 30 if I have to rush.
Revue: The hair, the horns, and everything?
DA: All of it.
Revue: So is your make-up person now out of a job?
DA: [Laughs.] No. There are about 30 other cast members who have their hair and make-up done.
Revue: Does it take you longer to become beast-like than it takes your co-star to become Belle?
DA: Oh, yes. She looks beautiful like that right out of the gate. She just needs a little blush, and she's good. There's a wig involved, too, which is the toughest part of her costume.
Revue: How much does your costume weigh?
DA: Five or 10 pounds. It's not so much the weight of it as the heat of it. There's layer upon layer upon layer. When I'm not on stage, I'm in my dressing room in front of a fan with it blasting at the highest speed.
Revue: Beauty and The Beast is obviously for kids — and for parents of young kids. But do adults who don't have kids enjoy it, too?
DA: Everyone enjoys it. It's one of my favorite Disney movies, and the show definitely does it justice. It sticks closely to the movie, but with a few added songs. Parents, grandparents, non-parents — everyone has a great time at this show. It makes you remember what it was to be a kid. And it's really not as geared to kids as people think. There is slapstick, which the kids enjoy. But there's some adult humor that goes right over the kids' head.
Revue: What's your favorite song?
DA: I'd have to say it's Gaston's drinking song — the beer mug-clinking scene. I always wish I could be on stage for that scene. It's so high energy.
Revue: Aww, you're not even on stage for your own favorite song?
DA: Right.
Revue: You're in front of the fan.
DA: Exactly!
Revue: What are the audience favorites?
DA: Everyone seems to love the Gaston song I just mentioned and also "Be Our Guest."
Revue: OK, last question. I don't suppose you're going to tell me how you quickly transform from the Beast into the handsome prince.
DA: [Laughs] I can't, but I can say it's a very awesome spectacle. Other than that, I can only say it's Disney magic. It's very impressive, though. One of David Copperfield's guys is the genius behind it.