Because Who Hasn't Seen a UFO While Peeing on Compost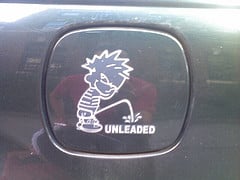 Thanks to the Raleigh News & Observer, we have a UFO story that asks readers to take a leap of faith while the subject takes a leak:
Roy Mars was peeing in his compost last weekend — it adds nitrogen — when he looked up and saw something streak across the sky.
Go on.
As he turned his head and arched his back, it seemed to slow down and went from a streak to a perfect three-pointed triangle. Then it disappeared over the tree line.
First off, this is happening in Carrboro, North Carolina's Park Slope. Second, if you're going to see a UFO, Roy Mars is THE PERFECT NAME. Thirdly, arching your back? Turning your head? We've all been there, Roy.
We're missing the point, though. Roy was not looking for aliens, he was enhancing his compost, which, according to
The Telegraph
,
is a thing in England
:
The rather unusual practice is already actively encouraged at stately homes around the country where "pee bales" have been deposited in secluded areas of National Trust gardens to allow male members of staff to relieve themselves.
Male urine is less acidic than female urine. It's also good for the environment, since you don't have to flush a toilet, or even let it mellow. And according to Rosemary Hooper, Wimpole Estate's in-house "master composter," peeing on things is just a hoot:
She insisted it will not make the compost heap smell any worse and could eventually make sweet-smelling flowers come up better.
"Adding a little pee just helps get it all going; it's totally safe and a bit of fun too," she added.
Back to Roy. He's the only one who's seen the UFO thus far (He "remained unsettled," says the N&O). But for what it's worth, I'll start taking you a lot more seriously if you've got one of those Calvin-peeing-a-Chevy/Ford/Chrysler-logo stickers on the back of your car. It's totally not degrading. You're just adding nitrogen.