Bechtler Museum, the Making Of
Could there be a worse time to launch a cultural institution? Despite the impressive collection, the Bechtler Museum of Modern Art has a daunting challenge. But if it succeeds, it may reveal a new model for local nonprofits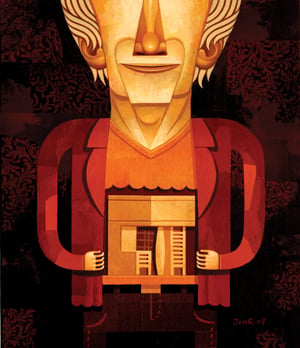 Coming Soon: Hear Andreas Bechtler discuss the collection and the museum in an exclusive interview.
The small conference room has a bland institutional look — white walls, nondescript furniture — which is surprising since it's tucked inside uptown Charlotte's most unconventional new building, the angular and spectacularly orange Bechtler Museum of Modern Art. A circular table crowds the space, but there's room for Andreas Bechtler to stretch out, and he does, his muscular arms extending from a dark T-shirt as he talks about his first impressions of Charlotte.
Bechtler moved here from Zurich in 1970 to work for a family company that serviced the since-faded textile industry. His father had studied and worked in the United States and thought Andreas should experience the tough and competitive world of American business.
In Switzerland, he lived in a small apartment and drove a VW. Here, he bought a spacious suburban home with a big backyard for $45,000 — furnished. For the drive to work, he found a used red Mustang and bought that, too. Local customs such as brown-bagging, common in those days before liquor-by-the-drink, puzzled him. Others — banana pudding for dessert — were a delight.
"I loved Charlotte," says Bechtler.
The freedom he found appealed to him most. Switzerland, he explains, is a small country "where every square inch is dedicated to something." America had room to stretch, and not just elbow room, but psychic space, too. In Switzerland, committees hedged decisions, offering a hundred reasons why something could not be done. Here, says Bechtler, "if you can think of it, you can do it."
The just-opened Bechtler Museum of Modern Art is proof of that.
Bechtler had a vision for this facility and pursued it in his gentle but steadfast way for more than ten years. He envisioned a museum in the 1990s after his parents died and he inherited a portion of their vast collection. It blossomed from his affection for Charlotte and a desire to honor his family's long involvement in the arts. His proposal boiled down to a simple equation: he would give his 1,400-piece collection, including name artists such as Picasso and Warhol, to a foundation that would keep it on view as long as the city built and maintained a home for it. That has been achieved—art hangs in the light-filled spaces created by internationally known Swiss architect Mario Botta.
But cutting the ribbon and welcoming visitors is just the first chapter. Now the upstart Bechtler Museum, like all nonprofit cultural groups, has to find financial support in a city where a recession has battered its biggest businesses, the traditional sources of money and talent. Moreover, it must do this amid changes in how money is raised and by whom.
Finally, the Bechtler Museum faces a paradox: the perception that the wealthy man behind it can pay for everything, which could make potential donors less likely to open their wallets.
In response to these challenges, the Bechtler will use a strategy that most local nonprofits have not employed extensively. It intends to seek support not just from the usual downtown powerhouses, but also from individuals. Such an approach takes sustained effort, and there's no guarantee it will work. But if it does, it may point the way for other organizations, says Chris McLeod, who works with cultural groups to build their endowments. "The Bechtler could surprise a lot of us by doing fundraising in a very different way," she says.
Suzanne Fetscher's office is in uptown at the opposite end of Tryon Street, twelve blocks from the Bechtler. But as president of the McColl Center for Visual Art, she can see what lies ahead for a sister arts group.
The McColl Center, like the Bechtler, was not formed in the same manner as older cultural groups such as the Mint Museum and the Charlotte Symphony Orchestra. Those were founded by groups of supporters who nurtured them for years, in some cases passing along their sense of commitment to their children. Originally the Tryon Center for Visual Art, the McColl Center was a Bank of America project, pushed by former president and CEO Hugh McColl Jr. and renamed for him after he retired. It opened fully formed ten years ago, avoiding the slow growth of older groups but scrambling for supporters.
And, like the Bechtler, it's been identified with a wealthy individual.
That's been an advantage. Fetscher says the McColl name opened doors. Some people gave to honor the man, even though the center — which gives artists fellowships and hosts exhibits of contemporary art — was not their thing. Donors personally close to McColl such as Panthers owner Jerry Richardson and his wife, Rosalind, continue to give.
There's a down side, however, which is the belief by some that McColl, aside from the annual Arts & Science Council operating grant, pays the bills. He doesn't. When she raises money, Fetscher is upfront about telling people this — and believes the Bechtler must do the same.
Andreas Bechtler, who has inherited wealth, quickly points out he's not in the same league as McColl. He didn't want the museum to carry his family's name, but was eventually convinced because its central thrust is tracing how his family collected art and personally connected with artists.
And he has backed his vision with money.
He put $3 million above the city's agreed-upon price of $17 million into the building to get the level of finish he thought it needed. He bought art such as the Firebird sculpture by the late Niki de Saint Phalle, which stands in front. He's also agreed to cover operating deficits for five years.
Then there's the collection. The deal with the city calls for it to be valued at $20 million. Given its blue chip names, it is probably worth half again as much, according to curator Michael Godfrey, citing recent auction house sales.
Bechtler knows the perception is out there that he will pay for everything. And while he declines to give the total amount he's spent on art, or reveal how much he is worth, he says there are limits. "I can only do so much." He knows, too, the museum must make its own way if it is to survive.
Now that the museum is open, Bechtler, vigorous and youthful at age sixty-eight, wants to get back into his studio and make art, an interest that goes back to his teenage years. He's one of twenty board members, but is not inclined to be the museum's public persona, saying, "I tell them to make decisions as if I were dead."
John Boyer, the museum's president and CEO, will be the public face, but he says, "We'd be insane not to tap into Andreas as an asset." Also key to its success is board chair Cyndee Patterson. Savvy and plugged in, the current president and CEO of the Duke Mansion and Lee Institute has been a member of the Charlotte City Council and chairperson of the Arts & Science Council. Her early involvement with the museum was crucial.
On a trip to Asheville several years ago, she ran into Charlotte architect David Wagner and asked what he was up to. He said he was working with Mario Botta on a museum for Andreas Bechtler to be located on land Bechtler owned on Mountain Island Lake, outlining the original plan. Patterson immediately realized an uptown location would bring more visitors. She enlisted the help of a friend and ally, Michael Marsicano, president and CEO of the Foundation for the Carolinas. A well-connected fixer who likes to put together deals, Marsicano pushed the uptown idea, getting it on the city's to-do list by shoehorning a Bechtler facility into the then-budding Cultural Action Plan.
Patterson says the museum has a strong case to make that Bechtler's gift is the largest an individual has given the city. But she knows fundraising for nonprofits in Charlotte is changing. "We've been a corporate town from the '70s to the late '90s, and that's been great for us. We still want them involved as much as we can."
The implied "but" that follows that sentence is pretty big.
Traditionally, arts groups made sure they had Bank of America, Wachovia, and Duke Energy represented on their boards. These corporations would be asked to provide executives, regardless of whether they knew—or cared—about the group's mission.
In the current business climate, fewer people occupy all those corporate offices. They are busier, working harder, and looking over their shoulders. They lack the staff that once made work — and good works — go smoothly. With the pressure on, there's less "release time" — and less credit — for serving on boards.
Patterson says it's still important to involve the uptown institutions. (Fetscher agrees, although she says the McColl Center may appoint national board members to broaden support.) But when Patterson met with BofA, Wachovia, and Duke Energy execs to recruit possible board members, she brought along slides of the collection, saying she wanted art lovers. And she also sought a diverse board, with young and old, newcomers and established residents, black and white — and even something relatively rare on local arts boards, an actual artist: Davidson painter Herb Jackson.
In any case, she says the days when having corporate representation on a board guaranteed a corporate gift are over.
Looking in a new direction, Patterson says, "One thing arts groups have never done a good job of is cultivating individual donors."
The Bechtler will open with twenty "Modernists," members of a donor group who give $2,500 and up. Patterson, who believes committed board members will be good fund-raisers, wants to double that number in the first year. The Duke Mansion and Lee Institute has 100 such givers.
Patterson says the Bechtler will solicit corporate giving, but she believes it has a good chance to succeed with individual donors because it is fertile ground and the museum has a niche it can exploit as the only modern art facility in the region. The museum has begun to identify and cultivate potential givers, relying on a "high touch" approach of personal contact rather than throwing a wide net. "We're not trying to be something for everyone," says Patterson.
Chris McLeod thinks Patterson's idea of going after individuals is the right one, and will show the way for other groups unskilled or not confident in approaching individuals. The vice president of the Greater Charlotte Cultural Trust, which works to invest and grow the endowments of about twenty-five cultural organizations and is an arm of the Foundation for the Carolinas, says fundraising in Charlotte has been too narrow.
Nationally, corporations make up 4 percent of charitable giving. Individuals give 74 percent. Add in foundations directed by individuals and it's more like 90 percent.
"We've been chasing 4 percent of the charitable pie," she says.
Seeking the support of individuals strongly committed to an institution or an art form is not entirely new. Some, such as Children's Theatre, have done it well. But with the Arts & Science Council as a longtime backstop, many groups haven't invested in fundraising staffs.
"[Charlotte has] a shallow pool of folks with experience in cultivating major-gift donors," says McLeod.
The Bechtler also has been especially skillful in securing financial help from the Arts & Science Council. Bob Lilien, Andreas Bechtler's attorney and friend, led the negotiations.
The museum is guaranteed a 2 percent yearly increase in its operating grant. The Bechtler must go through the ASC's rigorous annual review. But unlike other groups, such as the Charlotte Symphony, which this year saw its grant slashed, the Bechtler gets its increase "in perpetuity," the only one of twenty-six ASC-funded partners so favored.
The museum's current budget of almost $2 million includes a $255,000 operating grant from the Arts & Science Council. The Bechtler also got an early payment of $450,000 from the $83 million arts endowment the ASC is trying to raise, a portion of money set aside to help groups such as the Bechtler and the Gantt Center begin operations. If the ASC meets its goal in March, the museum moves to the head of the line. Its endowment share will be $15 million, behind only the Mint Museum at $22 million and Discovery Place at $16 million—and ahead of the Gantt Center, Knight Theater, N.C. Dance Theatre, and the Charlotte Symphony.
ASC president Scott Provancher said the numbers came from estimates of financial need and potential revenue after much debate and negotiations. "Everybody had to give up something to make this work," he says.
Richard Maschal, who covered the arts for the Charlotte Observer for a decade, previewed new uptown architecture for the April 2009 issue of this magazine.