Becoming an Overnight Sensation
Or how to succeed in music by really trying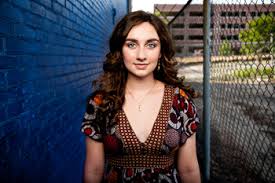 Editor's Note: Winston Salem native Haley Dreis is a very driven, ambitious and talented country singer/songwriter. We asked her to tell us what it has taken to live her dreams, making as few sacrifices as possible. She was kind enough to pen the follow piece. She will be performing Monday, March 4, at 8 p.m. at The Evening Muse. For more information on her visit www.haleydreismusic.com.
So I'm not getting paid the big bucks, or touring with Taylor Swift — or selling millions of albums (frankly, not many people are doing that anymore). But I am writing my own songs, recording and selling albums, touring the US, and sharing my songs online with audiences around the world. Yes, pouring my heart and soul into my music – and attempting to sustain that as my job. I guess "living the dream" is relative to each of our own experiences. For me, that means doing what I love and right now, doing it on my own terms.
Before I got into this whole playing music for a living thing, I thought it would require doing only that – writing lyrics, composing songs, performing them, zooming off to the next show, doing it all again. To my surprise, all of that turned out to be only 10 percent of what it actually takes to be a "full-time" paid musician. I now find myself spending night and day being, well, a businesswoman. Booking shows, sending press releases to local media outlets, running my website and social media, writing blog posts, selling CDs, you name it – I probably do it. But I love doing it because I truly feel like I'm living out what my heart has called me to do.
Being an independent performing songwriter had never crossed my mind as a possible career until I went to college at the University of South Carolina. I started playing music quite seriously at a young age; it was just a different kind of playing music. I began learning classical violin when I was six and begged my mom for lessons. She encouraged me to play the piano since we had one in our house, but I guess my little girl nagging strategies finally worked and my parents enrolled me in a Suzuki violin music program. I'm really glad they did because I was committed to my musical training all the way through college. It was a different kind of training than what I'm immersed in now. I'd been to every summer music festival, played hundreds of pieces in orchestra and quartets, and solo pieces. It was certainly encouraged by my high school conservatory life and college professors and mentors with good intentions, but I only knew of playing classical music as a possibility for the rest of my life.
Until one day, my college dorm room friend, Hayden, brought in his guitar. He asked, "Hey, do you want to play along to this song?" That question made me nervous because I hadn't improvised before. I only knew of playing exactly what was written on the page, and there were no pages. But I decided to take on the challenge, picked up my violin, and played along to Hayden's song. I kept playing and listening; and after a couple of fun days we were writing our own songs together – lyrics, melodies, harmonies, a little violin solo. It was evolving naturally; and just as naturally, I went with it.
At age 19, songwriting invited me in. I took my growing excitement home for our month-long winter break. At odd times of the day and night, I began writing songs entirely on my own. There were minor challenges, like having to learn the guitar. Each day I learned a new chord. With each new chord came a song. By the end of winter break I had written a whole album.
At USC, I was thankful to have access to a student recording studio. There were also other media arts majors eager to amp up their portfolio. Before I knew it (actually, many months of crazy hard work), I had an album recorded. I called up a CD distribution company that pressed CDs, connected with a local photographer to take some professional photos, and got a friend to help me design the album artwork. In all, I took a good chunk of my savings to press 1,000 copies of my album before I actually had discs in my hands. When I listened to my entire album for the very first time, I felt so happy and alive; and I could finally express what I had been hearing in my head. Most of all, this was my voice, my music, and these were my words.
I had, by default, become a performing songwriter. By then, I had an album recorded, a website, and favorable local press. My whole dorm supported my first show at the on-campus Acoustic Café at Starbucks. I couldn't wait to play again.
The following summer, I got a taste of the music industry as a publicity intern. My landing at Island Records in New York City was more than just luck. My prior experience reviewing various Def Jam Artists for our Daily Gamecock newspaper led me there. This was one heck of an eye-opening experience. I saw the huge proportion of money, time, and attention being spent on artists like Mariah Carey, Bon Jovi, Rhianna, and Justin Bieber. This, in contrast to meager resources allocated and spent on truly talented artists with smaller album sales. In reality they were all contracted, bound into agreements, which determined whether or not their careers thrived or stunted. I learned that major labels were a whole different territory than artists like me. I was doing things a little differently, beginning to build my audience slowly but doing it my own way.
Columbia was a great place to begin my journey and also presented itself with a huge learning curve. In the three years I lived there, I had some amazing experiences opening for artists like Edwin McCain, Toby Lightman, Jay Clifford (of Jump Little Children – who I recorded my second album with.) But I also had some sadly frustrating moments, playing in front of three people, all of which were probably in the band performing after me. Those were the moments that hit me hard and I forced myself to re-evaluate my strategy: Did I hang enough posters in the right places? Did I invite enough people to the Facebook event? Or worse – was there a USC football game going on during my show?
After playing every possible event at USC, every music festival in Columbia, every radio station on-air interview, every music venue in town, every benefit show, every-everything, it was time to graduate college. This whole figuring-it-out-on-your-own learning curve was such a strengthening experience. I was able to be initially awkward on stage, play those poorly attended shows, and learn from them. Each show got better, more professional, less stressful, and definitely more fun. There were some great bands and excellent musicians in Columbia, but the singer-songwriter world was small and I think I was missing the community.
The only place where this community existed seemed to be in Nashville. My friends kept telling me about the city, what a great fit it would be, and I began to investigate and take some trips over there to visit. The second I visited Nashville I fell in love. People were nice, they wanted to do nice things without wanting anything in return. The songwriters I met wanted to write songs together and share those experiences. All the record labels, publishing offices, recording studios, guitar shops, and music venues fit compactly into one place. I couldn't think of a more musically inspiring place to live.
So I packed my bags, found an apartment, and moved to Music City USA. There were maybe two people I knew in there, but I soon found that Nashville was a very easy city to transition to. The barista at the coffee shop gave me a larger cup of coffee than I paid for, songwriters I didn't even know were eager to write a song with me even though they had never heard my music before. It also appeared that almost every waiter, bartender, receptionist, AT&T sales rep, and UPS delivery driver was a musician. So it was easy to strike up a conversation with the, "Hey, are you a musician?" icebreaker. Now don't get me wrong, while it was a small community, there were also executives and music venue owners that seemed to have their own exclusive network as well. But in comparison to my experiences in other big cities, Nashville seemed like a smaller niche community. And it's definitely – to this day – one of my favorite cities I've ever been to.
But living your dreams is hard work. I worked three part time jobs while still trying to make it. I was a sales associate at a massage clinic, an SES reading tutor, and (my favorite) a violin teacher. All while co-writing songs with new friends, recording my third album, arranging photo shoots for the album artwork, touring regionally, booking my own shows, applying for showcasing at colleges, filming music videos, and taking meetings with songwriting publishers and friends in the industry. It was a full-time job within a full-time job with three part time jobs. I was a little overwhelmed but insanely happy at the same time. Even with all of these jobs, I was only able to pay for my rent and food. I finally found the perfect producer to record my third album, Trey Roth of Black Cat Studios. But when I found out it was going to cost $10,000 to record the album and another $2,000 to press 1,000 copies of it, I knew I needed help financially.
I then turned to Kickstarter.com, a website that allows your friends and fans to fund creative projects. In this case, it was to fund the costs of recording my third full-length album. Before the boom in technology and having resources like Kickstarter, most artists would have to find a record label that would – in a very brief nutshell – pay for all of the costs to record an album and then the artist would recoup those costs through album sales and a bit of the artist's creative control. But with more people on YouTube and downloading music, and less people buying albums, this model didn't make sense to me. I decided I wanted to do this without a record label because I wanted the creative freedom to write songs I wanted to and record albums freely. Kickstarter.com seemed to be the best route for an independent artist like me. But with 30 hard days of promoting I was able to raise $12,825, surpassing my goal.
I recorded my album and it turned out to be the best reflection of who I am to this date. The first week it was released iTunes featured it in the 'New and Noteworthy' section. I sold more albums in one month than I had with my previous two albums put together. It felt like another stepping-stone in the right direction and I have many more of those to go. Then I thought to myself, 'Goodness, I'm only 23, I need to get out there on the road, perform and share this with the world while I'm young.'
And once again, a new decision to pack my bags; but this time to tour the world on my own terms. With similar goals, my friend Caleb Caudle and I decided to quit our part time jobs a few months ago and book a tour that will hopefully become our full-time job. The hardest thing I had to do was say farewell to my violin students. They have taught me more than I will ever know about discipline and remind me of what it means to love playing music.
For four months we have e-mailed over 5,000 contacts and venues to independently book over 50 dates for our Spring tour. We hope to travel the entire United States by the end of the year, meet hundreds of new friends, play shows, and create some amazing memories. We'll certainly be different people by the end of the year, hopefully even stronger. I sure hope my little 13-year-old Volvo will make it through most of it.
I feel like I'm slowly but surely stepping stones at each level getting one step higher. With some sacrifices, I've had some amazing moments that I can't say every 20-something experiences. I'm definitely doing what I love, but it takes a laughable amount of hard work and a heck of a lot of courage to be an independent musician these days. Now that I'm doing it too, I have a lot of admiration for other musician's stepping-stones – from the underdogs to Taylor Swift.