Becoming Mrs. Love
A bride-to-be wonders what love has to do with weddings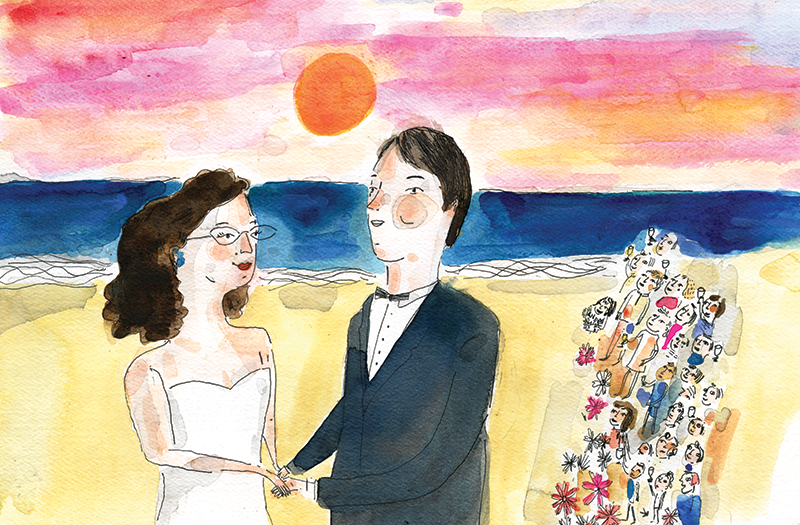 MY FIANCÉ proposed on an ordinary Thursday evening, minutes after I came home from work and took off my pants.
We were headed to an event at the Levine Museum of the New South that night, and I only had a few minutes to change clothes. I'd wandered back to his office in our Plaza Midwood bungalow to say hello.
"How was your day?" I asked.
"It was fine," he replied. "Today was my father's birthday."
Guilt flooded my stomach. His father died seven years ago, before I was around to meet him, but he was my love's hero. All the stories I've heard about him—as a Naval officer during the Vietnam War, as a dad who defended his son against bullies and charmed strangers with his deadpan humor—helped me understand the man he had raised. I knew how important this day was to my boyfriend, and yet I'd done nothing to prepare.
"I'm so sorry I forgot," I said.
He seemed oddly unconcerned. He was busy reaching into his bachelor's chest to retrieve a small box. Apparently, he had decided to make a new memory this year.
"In honor of that," he said, referring to his dad's birthday, "I wanted to give you this."
He opened the box and took out his grandmother's diamond engagement ring.
"You can have it as long as you want to be my wife."
That was April. For the next two months we rode the high, walking around with stupid grins on our faces, blushing and blinking at the diamonds on my left hand. We were so busy feeling pleased with ourselves, we thought it absurd to think too far ahead. We were engaged! We were getting married in early November! Wasn't that all anyone needed to know?
No, no it was not. We had to plan the wedding. We had to wipe those grins off our faces and get down to business. We had to talk about linen pants and gluten-free appetizers and officiants and save-the-dates. In other words, we had to nitpick our happiness to death, one detail at a time.
***
PEOPLE SAY their wedding day was the happiest day of their lives. I have my doubts.
A wedding forces you to choose, over and over again, between yourself and the people you love. You can either do what you want (roasted oysters, polka dancing, lots of wine) or what your friends and family want (a live band, passed hors d'oeuvres, a guest list that runs from here to Tuesday). You can't have it both ways. I know, because I've been trying and failing for the past six months.
My fiancé is an extreme introvert (so private, in fact, that he asked me not to use his first name in this article). I'm an extreme skeptic. For two years, I was the associate editor of Charlotte Wedding. I rolled my eyes at photos of glossy bouquets and misty-eyed brides and vowed never to throw such a soiree for myself.
Perhaps I still saw myself as a nerdy 13-year-old, the girl with glasses and braces who wasn't pretty or popular enough to win boys' attention. I never learned how to put on makeup or properly braid my hair. My only standing date in high school was Friday afternoons at Starbucks with my best girlfriend, sipping Frappuccinos and discussing the crushes who never acknowledged our existence. It's cliched but true: Part of me didn't think I deserved to find a mate and be happy.
I didn't have many illusions about marriage, either. My parents divorced when I was a teenager; my older sister got divorced four days after I got engaged. I remained single until my early 30s, steeling myself for the possibility that having a family was out of the question.
Then three years ago, I met a man named Love (yes, that's his actual last name). He was brilliant and kind and silly and found my neuroses endearing. At every step in our relationship, I thanked God we'd made it that far and prayed for a bit more time. Anything else seemed like tempting fate.
Our love story evolved more like his proposal: an ordinary Thursday, full of chaos and absurdity, punctuated by startling moments of beauty.
One afternoon, about six months after we met, I arrived at his Dilworth apartment for a date and burst into tears. My grandmother had recently died, and I was still in mourning.
"Everything you're feeling is completely normal," he said, with my head burrowed against his chest. "You just feel however you need to feel."
Then there was the spring day we climbed to the top of an ancient stone monastery off the Atlantic coast of Ireland. I was seasick on the hour-long boat ride to the secluded island, and still felt weak after ascending a steep hill. As I stopped to survey the scenery, he whispered in my ear that he loved me.
Another night, a few days after we got engaged, he asked if I'd be changing my name. "Of course," I said. "Who wouldn't want to be Lisa Love?"
There was a pause as the rhythm of those words sunk in. They did kind of sound like a name for an adult
film star.
He burst into a T-Pain song. "I'm 'n luv wit a stripper."
***
WE DECIDED to hold a small celebration at his family's beach house on the North Carolina coast. Fifty people. Saturday afternoon in early November. No bridal party, no small children. Simple, right?
Except that keeping it small meant choosing our own comfort over the comfort of guests we couldn't invite, guests with kids, guests with girlfriends they just met and wanted to bring to the wedding. We were simultaneously terrified of offending people and of having such a big crowd that we couldn't enjoy ourselves.
Mr. Love is a Southerner. The biggest sin he can commit is being impolite. My mother is a Jewish New Yorker; I have no problem saying no. But my career as a journalist has moved me to five states in the past 14 years, and the thought of offending my far-flung friends kept me awake at night.
There was that conflict again: My happiness or theirs? If I pursue what I want, who else gets hurt?
I made a "Wedding To-Do" list and managed to check off almost nothing. There was always another task, another decision fraught with worry.
Finally, we narrowed the guest list. Still, the stress of planning other details—finding an officiant, a caterer, a decorator, a photographer—hung over us like smog, choking the jokes and silliness out of ordinary interactions. We bickered over the dirty dishes in the sink. Once, in the car, we argued about whether his Episcopal God was the same as my Jewish God. I hardly recognized us. I hardly recognized myself.
Every time I drove up I-77 to David's Bridal near Northlake Mall, I suffered an anxiety attack. The first time, I arrived with a friend around 4 p.m. on a Sunday afternoon in July. The receptionist said she couldn't serve me. "We're booked," she said sullenly.
Who knew you needed an appointment to try on a dress? I wanted to leave immediately, but my friend convinced me to stay a few minutes until they "squeezed us in."
A month later, alone in the dressing room for a scheduled fitting, I slithered into my gown and discovered it wrinkled and stretched in all the wrong places. "No, no, this is not the right size," the tailor fussed.
Of course. I had tried on a larger size when I purchased the dress, but the saleswoman had insisted I buy a smaller one. (The dress I tried on was just a sample. Brides must special-order a dress in their size and wait weeks for it to arrive. Sounds fun, doesn't it?) Now I stood, sweating in a gown that was too small and a slip that felt like sausage casing. It was not pretty. It was not comfortable. I was 13 all over again.
This is why brides have nervous breakdowns, I thought, as the cashier rushed to order the next size up and assure me it would arrive in time. I wasn't even sure I still wanted the gown. But all sales were final, and the dress cost half a month's rent. What could I do?
Back outside, in the 90-degree heat of the parking lot, I yelled and cursed and tried not to cry. I was angry at the sales clerk for ordering the wrong size, angry at myself for being so upset, angry at the entire wedding process that was always one step more complicated than it ever needed to be.
"I hate all of this," I told my friend Becky, who kindly picked up the phone when I called her to complain.
"What, exactly, do you hate?" she asked.
After we talked, I realized: I do care about having a nice wedding. I want to feel pretty. I want to feel adored. I want to fondly remember the day when my love and I officially launch our life together. Why do I feel bad for wanting this? And why don't I have a clue how to achieve it?
***
ONE JULY NIGHT, Mr. Love and I had the inevitable talk. "Do you want to just elope?" he asked.
He was frustrated and overwhelmed.
There was a time, not long ago, when I would have agreed to cancel the wedding. But that was before my aunt Sharon died. In September 2015, she succumbed to ovarian cancer at the age of 59.
I thought about my grandfather, who will turn 89 this month. In the span of about two years, he lost his wife and his youngest daughter. I thought about my mom, who lost her mother and her only sister. I thought about my 6-year-old niece and 9-year-old nephew, whose parents just divorced and who are overjoyed to play the roles of flower girl and "ring man" in our wedding. My family needs a celebration, and so do I.
There are so few times in life we throw a party just to celebrate being happy. I didn't want to pass up my chance.
Finally, in August, I took Becky's advice and called an event planner. The planner, a woman named Amanda, works with a company that provides chairs, tables, linens, a dance floor, a sound system—everything we might need for a beach wedding. Suddenly, half the items on my to-do list appeared imminently solvable.
Sure, Amanda is part of the wedding industry I had hoped to avoid. But she also knows so many things that I don't know. She knows how to decorate. She understands color schemes and centerpieces and how to make a beach house carport look like a reception hall.
After I talked to her, for the first time in months, I thought our wedding could be beautiful and fun. I might even enjoy it.
By late summer, I stopped panicking on my drives to David's Bridal. Mr. Love and I started having date nights again—outings where we didn't spend the whole time talking about work or the wedding. It was a revelation.
One Monday afternoon, my friend Jessica spent a few hours doing my hair and makeup as a practice run for the big day. Not to brag, but she made me look amazing. I was so excited when I got home that I insisted we go out for sushi to celebrate.
Sitting across the table from me, I noticed Mr. Love checking me out. I planted a kiss on him when the waiter wasn't looking. This is why people get married, I think: So they can sit together on an ordinary Monday and feel like they're the luckiest people in the world.
Lisa Rab is a freelance journalist and former editor for this magazine. Her work has appeared in Mother Jones, The Village Voice, and other outlets. Reach her at lisayrab@gmail.com.
---
This article appears in the November 2016 issue of Charlotte Magazine
Did you like what you read here? Subscribe to Charlotte Magazine »
---