Bee Lovely
Try this easy honey mask for an at-home facial that will make your skin glow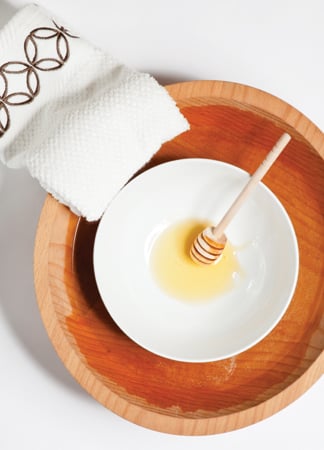 The stress of wedding planning can bring a blemish or two to even the clearest complexion. But once you've tackled the biggest decisions—like finding the perfect venue and gown—it's time to focus on smaller details, like getting your skin under control. "Most of us recommend the six-month mark," says Trisha Compton, lead esthetician at The Spa & Wellness Center at The Ritz-Carlton. "That's the perfect time [for brides] to take advantage of taking care of themselves."
Compton's favorite at-home treatment for stressed-out skin: a DIY honey mask. "Honey is probably the number one product [for healthy skin]," she says. "It's great for back acne; it's great for facial acne."
What you need:
1 ½ teaspoon fresh, local honey (check local farmers markets, many of which are open year-round)
Warm water
Two bowls: one large,
one small
Warm towel
How to do it:
Fill the large bowl with warm water and float the small bowl in it. Put the honey inside the smaller bowl so that the warm water gently heats the honey, changing the consistency so it's smoother and more easily spread.
Once the honey is warm, use your fingers to apply it to very clean skin. "You want it [to be warm enough] to where once you put it on your hands and face, you can move it around for a few seconds," Compton says. "Once it sets up, it's not going
to drip."
Leave the mask on as long as possible—up to thirty minutes. Then gently remove the honey with a warm towel. "It comes right off," she says.
Follow your honey mask with a soothing moisturizer to lock in your skin's hydration. "Moisture is what heals skin," Compton says.
TIP: Don't warm your honey mask in the microwave. "That will kill the natural enzymes," Compton says.
TIP: Don't overdo it; a small blemish can turn ugly—and last longer—if you don't give it a chance to heal. "Allow the skin to take care of itself," says Compton. "Especially with acne spot treatments. Sometimes less is more."
TIP: Compton says this mask can also be used on other troublesome or acne-prone areas, such as the chest and back.