Beef 'N Bottle: Steaks Done Old-School
Restaurant stays true to itself but keeps up with the times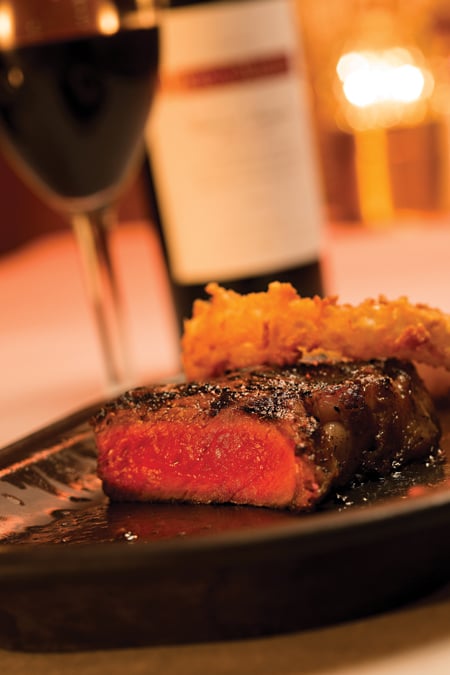 THE OUTSIDE OF Beef 'n Bottle, an unassuming structure on South Boulevard, is covered in the same beige siding and red trim it's had since it opened here in 1978. Inside, black-and-white photos of old movie stars still fill the walls. Some of the employees pre-date the building they work in. They go all the way back to the restaurant's previous life as House of Steaks, which was on North Tryon Street, where Discovery Place is today.
A man named George Fine opened a restaurant, The Amber House, in 1958 as a hobby—something that would entertain him and his wife. They sold The Amber House in 1960 to open House of Steaks, where Fine sold filet mignon for $4.25 and fried shrimp for $1.95. He changed the name when he moved to South Boulevard and occasionally upped the prices, but otherwise, Fine liked consistency.
"The only difference," says Rick Bouman, 50, one of the restaurant's managing partners, "is changing the carpet and the lightbulbs. And maybe the drapes."
But even at old standbys, a lot of things change.
The first shift happened in the early 2000s, when the original Charlotte Hornets abandoned the nearby, and now demolished, Charlotte Coliseum off of Tyvola Road and left for New Orleans. "When any event happened in Charlotte, we were close to it," Bouman recalls. "Losing the Coliseum hurt." He worried about the restaurant without basketball or concert patrons to help fill Beef 'N Bottle to capacity. A strong alliance with nearby hotels, however, made the steakhouse a favorite among business travelers. "They'd come right off the plane, from Dallas or wherever, straight over here," says Ron Rice, the restaurant's owner and co-managing partner.
Not long after that, chain steakhouses came to town, drawing business clients and groups looking for more variety than Beef 'N Bottle's menu offered. "George served four steaks, four seafood, four sides," Bouman says. "His attitude was 'take it or leave it.' "
Surprisingly, instead of crippling Beef 'N Bottle's business, the surge in steakhouse chains actually helped.
"There is a whole segment of the population who would rather eat at an independent restaurant than at a Ruth's Chris or Morton's or Capital Grille or anything like that," Rice says. As a result, today, the restaurant is more than beef and bottles. To compete with the chains, Rice and Bouman added pasta and chicken dishes to the menu and started offering half-priced wine on Mondays and Thursdays.
Rice, now 73, started working for Fine in the 1961 as a financial consultant, and the pair eventually became close friends. When Fine died in 2009, he left the restaurant to Rice, who promised to run the place in a way that would make its founder proud.
Many couples make Beef 'N Bottle a regular part of their lives. Tom and Lib Phillips, for example, have sat at the same booth with the same server on Fridays at 7:30 p.m. for decades, although they no longer make it every week. Celebrities find their way inside, too. Actor Zach Galifianakis has eaten here several times. U.S. House Speaker John Boehner stopped in three years ago; a framed photo of him with Bouman and Rice hangs in the entryway. A few years ago, P. Diddy tried to rent out the whole restaurant. The rapper's agent called Bouman, who said it wasn't going to work out. "We don't rent out the entire place," he says. "To anyone. That would be an inconvenience to our regular guests."
The regulars slide into wooden booths in the dimly lit dining room, eating at tables cloaked in crisp white linens. The walls in the main dining room are wood-paneled. Candles flicker. It's intimate, but not in a contrived way.
Shrimp cocktail—tender and cold—arrives alongside a house-made sauce packed with horseradish ($10). Beef 'N Bottle's six-ounce filet mignon ($34) is the most popular steak on the menu. It is seared on the outside, but remains medium-rare in the center. All steaks come with a large, crisp salad and a side dish—classic steak accompaniments like potatoes, creamed spinach, and onion rings, among others. The restaurant's seafood menu includes North Carolina mountain trout, broiled with a lemon-herb butter ($22).
"This place has re-energized itself," Rice says. He's particularly proud of the way the place wins over new patrons, including millennials, who live in the heart of South End's building bonanza just north of the restaurant, a constantly changing streetscape that feels a world away from Beef 'N Bottle. "[Our customers are] not just old people who are disappearing on us," Rice says with a laugh.
Despite all the recent changes—losing the Coliseum business, losing Fine—Beef 'N Bottle retains its sense of nostalgia. Bouman and Rice want to run a modern restaurant, but only if it doesn't conflict with Fine's way of doing things. An update to the kitchen, scheduled for this summer, will add more work space without forcing changes in the dining room. The restaurant is on OpenTable, the online reservation site, but not for holidays, when Beef 'N Bottle limits its tables to make sure everyone has plenty of time to enjoy their food.
On an afternoon in mid-January, Bouman stands at the cash register, taking reservations for Valentine's Day dinners. He writes the names, in pencil, on a spreadsheet attached to a metal clipboard.
It's old school. But that's part of the secret to Beef 'N Bottle's longevity.
"It's like walking into someone's living room," Bouman says. "People just can't wait to come through the door."
Adam Rhew is a native Charlottean and a frequent contributor to this magazine. Reach him at adam.rhew@gmail.com, or on Twitter: @AdamRhew.