Beer Bites
NoDa's newest pub is all about the brews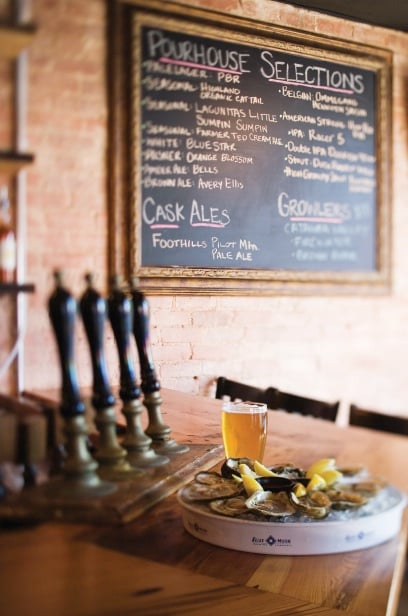 It's not a large space (there are only a few tables, and seats along the bar) and it doesn't have an extensive menu (an unlikely mix of cheese, oysters, and sausage comprises most of it), but what Growlers Pourhouse in NoDa may lack in size, it more than makes up for in inviting décor and flavorful dishes. Of course, all that is to say nothing of the real star of the show here: beer.
With cask ales served from a beer engine, fourteen rotating taps, and nine bottled craft beers, this is a pub for beer lovers. The room has dimly lit leather booths with refurbished dark wood tabletops, where one can order a dish made to complement the flavor of your chosen pint. Sure, there are wines and salads, but if you're going to do this right, beer is imperative. For starters, there's a beer-and-cheese pairing menu (take that, wine drinkers!) that features four different cheeses with recommended beer pairings as well as a variety of distinctive dips like a creamy tofu cilantro mix, perfect for scooping with the house-made potato chips.

If you're there to watch the game on one of the restaurant's flat screens, order the gourmet version of a hot dog from the sausage selection, which offers links house-made with choice cuts, wrapped in oversize fresh buns and topped with a slightly sweet relish. The best thing on the menu, though, may be the chocolate lava cake. It comes hot and drenched in a stout chocolate sauce. Ask your server for the best beer to pair it with and then try your hardest to not lick the plate.
Growler's Pourhouse, 3120 N. Davidson St., 704-910-6566