Beer events this week/weekend at Carolina Beer Temple, Salud Beer Shop, Good Bottle Co. and Sycamore Brewing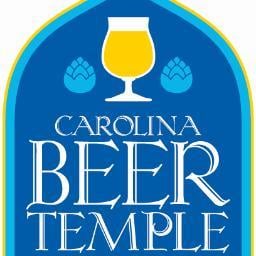 Plan these local beer events taking place today and Saturday around your holiday shopping:
Thursday
Tonight at 7 p.m., Salud Beer Shop is teaming up with Joe's Doughs for a "Donuts and Stouts" event. For $10, you get a flight of beers with doughnut pairings. Among the beers on tap tonight are Stone Coffee Milk Stout, Terrapin Wake 'n Bake, Founders Breakfast Stout and Bell's Java Stout, and there will also be iced coffee from Central Coffee in Plaza Midwood.
Also tonight, Carolina Beer Temple is having what it describes as its largest tap takeover ever, featuring NoDa Brewing Company. Flights and discounted NoDa beers will be offered. The event runs from 6 p.m. to 9 p.m. The taplist is highlighted by a special edition of Coco Loco brewed with coffee and vanilla (wow), and also included Olde Voyager Barleywine, Santa Baby (NoDa's Christmas Ale), Hop, Drop 'n Roll and more.
Saturday
Wake up early for the next "Good Morning" breakfast at Good Bottle Co., which begins at 9 a.m. There will be biscuits available from Roots Farm Food, coffee from Magnolia Coffee Co. and Torch Coffee and, of course, beer. The taplist will include Olde Hickory's Lindley Park, a bourbon barrel-aged imperial stout brewed with honey and then with raspberries added, Evil Twin's Imperial Biscotti Break Natale Pretty Please With a Cherry On Top (yep, that's the name) and the ever-popular Great Lakes Christmas Ale.
Hey, did you know Saturday's date is 12-13-14? Fellow Charlotte Magazine blogger Sarah Nowicki writes that more than 14,000 weddings will take place on this day. On the local front, Charlotte's newest brewery, Sycamore Brewing, is celebrating the occasion with a "Sequential Party." As Sycamore states, it's the last chance for us all to celebrate one of these dates in our lifetime. The party is highlighted by an outdoor concert (don't worry, it's in a heated tent) featuring music from Of Good Nature and Jon Linker Band. It all starts at 4 p.m.
—–
Finally, a quick note about some upcoming festivals: I wrote last week about Queen City Brewers Festival, which tickets are on sale for now. Both tasting sessions (1-4 p.m. and 6-9 p.m.) remain available. … Also, it was announced that tickets for Black & Blue 6 will go on sale Dec. 24. Hosted by Michael Brawley of Brawley's Beverage, this is arguably the top festival in Charlotte and surrounding areas, with very limited tickets. I'll have more information as it becomes available, but plan on being around a computer Christmas Eve.