Beer Lover's the Carolinas a must-have book for any, well, beer lover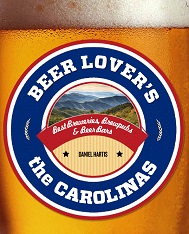 Go ahead and cue the tiny violins from what I'm about to say.
It's hard being a beer writer in this city.
It seems that every day, news about a new brewery or bottle shop, or an expansion, or a new release, pops up. Take two weeks ago for example, when Birdsong announced the brewery was expanding to a new location, NoDa announced it was on the hunt for a potential second location and its own canning line and Olde Mecklenburg Brewery announced the grand opening date for its expanded facility.
All this is a good thing, however. Charlotte is in a never-before-seen age of craft beer domination, and there's even more on the horizon. I try my best to keep up, but I couldn't imagine doing this for two cities, let alone states.
But that's exactly the task that CharlotteBeer.com's Daniel Hartis took on over the last year and a half, and the result is a wonderfully written book, Beer Lover's the Carolinas.
True to its title, this is something that should be on any craft beer lover's coffee table or bookshelf. Beer Lover's has everything you need regarding all things craft beer for North and South Carolina. Daniel does a great job highlighting every brewery across the two states, giving various insight and stories on each one. And he also has a "Beer Lover's Pick" of the beer someone has to try when visiting.
And it's not just breweries, as Beer Lover's focuses in on other top beer spots for a number of regions and cities, whether it's a local bottle shop, beer bar or restaurant. One of my favorite sections in the book is the City Pub Crawl, which routes a path of several great can't-miss places for cities such as here in Charlotte, Asheville and Charleston (which I'll be using for my upcoming bachelor party).
The book also includes sections on the top beer festivals in North and South Carolina, several food recipes featuring local beer and a "Brew Your Own Beer" chapter, which has listings on homebrew shops as well as clone recipes from several breweries, including NoDa here in Charlotte.
I thoroughly enjoyed Beer Lover's, and one of the best things about this book is it's one you pick up to read numerous times, whether it's after trying one of the many beers from North or South Carolina or planning a trip to one of the great craft beer cities in these two states.
—–
As part of his book tour, Daniel has a few upcoming signings. The first is next Thursday, June 12 from 6 p.m. to 8 p.m., at Good Bottle Co. for what I'm calling "A Good Night of Carolinas Beer." Good Bottle will have several of the "Beer Lover's Picks" on tap along with books to purchase for Daniel to sign. I'll also be moderating a Q&A with Daniel about the book and any questions you may have about beer in Charlotte or the Carolinas.
The other two signings are June 14 at Fonta Flora's State of Origin Craft Brew Festival and June 20 at Raleigh Brewing Company from 5 p.m. to 8 p.m.