BEER: Mooresville's King Canary Brewing Company
As #CLTbeer slips the surly bonds of Charlotte, LKN breweries like King Canary make their own mark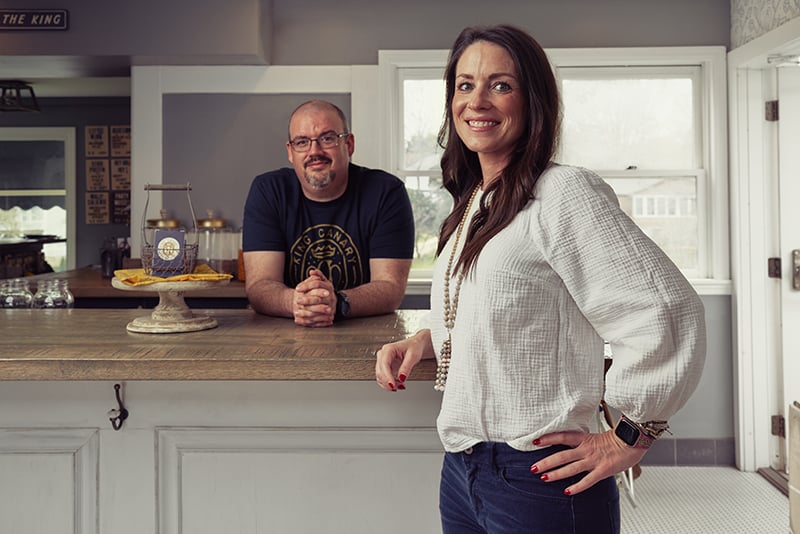 Breweries do what they can with the space they don't reserve for brewing: cozy or expansive taprooms, biergartens, designated areas for kids, water and poop bag stations for the pups. Not many have backyard coves.
Patrons arrive at King Canary Brewing Company in Mooresville, step into the converted house, and typically gravitate to the deck, which overlooks a small offshoot of Lake Norman and the multistory homes and piers on its banks. I ask King Canary's owner, Andrea Gravina, if the cove has a name. It doesn't, she says, glancing at the water on an overcast morning in February. Then she jokingly suggests one: King Canary Cove.
A bit presumptuous, maybe. But Gravina's brewery has driven a stake into the ground here, and in a way that reflects how Charlotte's craft beer industry—#CLTbeer in hashtagese—is expanding outside the city limits and adapting to the neighborhoods it touches. King Canary is a stirring example of a couple of other things: perseverance in the face of devastating loss and the power of community.
Andrea and her husband, Matt, were Floridians who moved here in 2017, in their mid-30s. Matt was a forensic CPA, and Andrea worked in retail management for Ralph Lauren. But he loved homebrewing, and she loved interior design, and they, like a lot of eventual brewery owners, were sick of their corporate jobs. They found the space they were looking for off Williamson Road in Mooresville, at the tip of an inlet near Interstate 77: a three-story, 4,300-square-foot house that a hair salon had recently occupied. They opened in May 2018 as one of the first independent breweries in the Lake Norman area, where brewers continue to open shop. Mooresville now has enough for the town tourism agency to promote the seven-stop "Mooresville Ale Trail."
Heck of a gamble, I suggest, to dump your jobs and head north to a strange place to open a brewery.
"Yeah, well, that was Matt," Andrea replies. "Matt liked to take risks and do cool things. Whether it was music or, um, anything, he just liked to dive into stuff and figure out how to make it work."
What they built matched Lake Norman in particular and suburban breweries in general. Cities' craft brewing scenes tend to start in industrial parts of town where land and buildings are cheap—like South End and NoDa circa 2010. (Think the original NoDa Brewing, in an old textile processing shop, or Lower Left Brewing in LoSo, in a former auto shop.)
Once they reach the 'burbs, owners aim more for familial comfort than hipster cachet. King Canary's upstairs is a warren of rooms with hardwood floors and trim, tables, chairs, sunlit nooks, board and Simon games, vintage arcade games, and decorative birdcages that, along with King Canary beer names, match the avian theme. "It's almost like a coffee shop without having to buy coffee, you know?" says Adam Glover, the operations manager, who's joined us. "It's got that same vibe."
The vibe was Andrea's specialty. The brewing was Matt's. When Matt died suddenly in August 2019, Andrea had to keep King Canary going through her grief. Her neighbors and fellow brewers stepped in to help. Dan Wade of Wooden Robot Brewery and T.J. Creighton of High Branch Brewing in Concord arranged beer collaborations. Joe Hillard, an assistant brewer under Matt, took over as head brewer. Glover, a friend of Matt's who spent more than four years as head brewer at Seaboard Brewing in Matthews, took over King Canary's operations last year.
"Having this is such an extension of (Matt). He loved this place," Andrea says. "So being able to continue, and to have people who are also happy to be here—seeing Joe's passion, having Adam on board, knowing that Adam knew Matt—all these little bits of Matt are still so ingrained in this business and this building and the relationships that we've formed. He's still with us."
GREG LACOUR is the editor.
---
Three Little Birds
King Canary beers worth tweeting about
A bestseller: Stud Puffin
Style: New England-style pale ale
ABV: 5.6%
Lowdown: King Canary's flagship.
"(B)rewed and dry hopped with a balanced blend of cryo Citra and cryo Mosaic (hops), the result is a concentrated burst of citrus and stone fruit essence."
A beer for summers on the lake: Little Wing
Style: Blonde ale
ABV: 5.5%
Lowdown: "Our core Blonde Ale includes a combination of our favorite base malt, house yeast, and noble hops … designed to be easy drinking, crisp and refreshing."
Seasonal favorite: Cuckoo Clock
Style: Milkshake IPA
ABV: 6%
Lowdown: Sold every summer. "(O)wes its smooth mouthfeel to a huge amount of oats, vanilla and lactose … (and) its citrusy aroma and flavor (to) a combo of New Zealand hops and fresh lime zest."