BEER TRAVEL: A Trip to Fort Mill
Along the ale trail, the Amor Artis family brews with love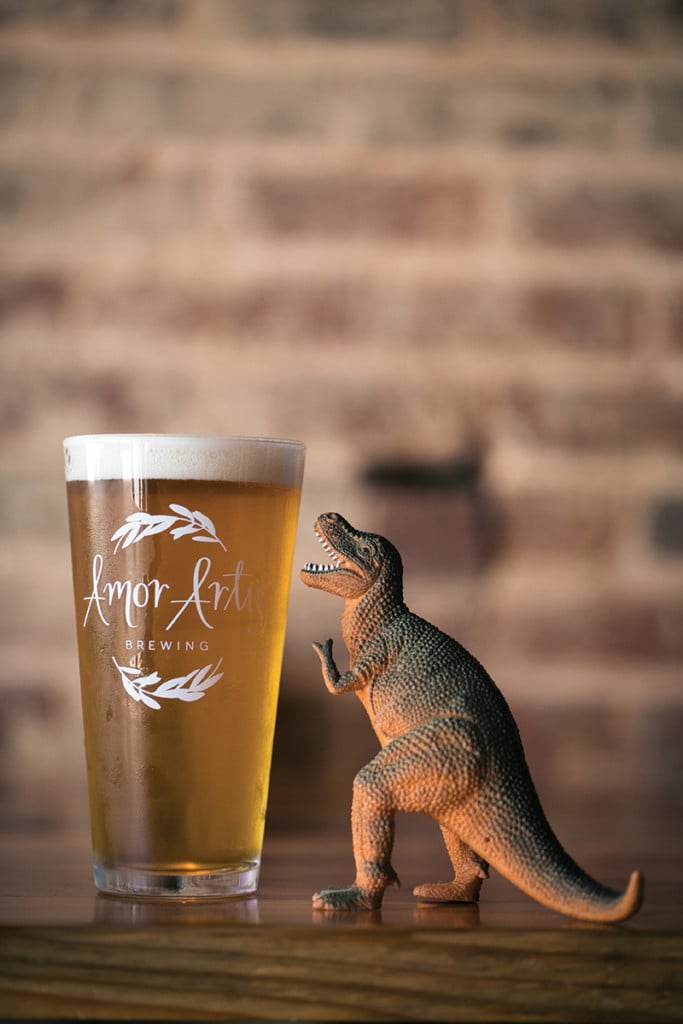 WHILE OTHERS SIP ON PINTS of IPAs and sours, I lock eyes with a tiny plastic baby doll lodged in the mouth of a six-inch Tyrannosaurus rex figurine that stands roaring on the counter at Amor Artis Brewing in Fort Mill.
When Travis Tolson opened the brewery on Main Street with his wife, Khara, and his brother, Steve, his son, Carter, was only 3. Carter has grown up around the bar along with his little sister, Stevie, playing with his dinosaurs and leaving them out. Eventually, Travis tired of picking up the toys, so now the dinosaurs are a trademark for Amor Artis, and a reminder of the brewery's commitment to family.
Among the options on Amor Artis' beer list, I notice one named "Carter Vol. V." Travis tells me it's for his son. He creates a new version every year, but always with the same ABV: 6.1 percent, for Carter's birth weight of six pounds, one ounce.
Amor Artis' 2018 opening marked the beginning of downtown Fort Mill's craft beer scene, and showcases York County's growing brewery culture. In the past year and a half, four breweries—Amor Artis, Dust Off, Rock Hill, and Slow Play—have opened in the county.
Before he opened Amor Artis, Travis was a brewer at Wicked Weed in Asheville, a large, established brewery that taught him to create high-quality beers in a variety of styles. Lovers of hoppy IPAs have plenty of options here between the Majestic Session IPA and Cruisin' Down the Street in my 6.4%, but the real pull of Amor Artis' beer list is its selection of non-traditional brews, drafts that even a non-beer drinker can enjoy.
In November, the brewery launched its Like a Fine Wine series and released two Belgian tripels aged in wine barrels—one chardonnay, one cabernet sauvignon. The final products are 500-milliliter bottles of beer that taste more like wine. The 10.5 percent ABV is dangerous, considering how crisp each sip is.
Use of local ingredients is another Amor Artis signature. For the South Carolina Strawberry Festival, the staff destemmed 1,600 pounds of strawberries from Springs Farm by hand to create the brewery's Strawberry Pale Ale. Earlier this year, Amor Artis created a sour beer with peaches from the same farm.
This focus on community reflects the Tolsons' roots in Fort Mill—both founders, Travis and Steve, are natives of the small suburb 19 miles south of uptown. In a town of less than 18,000 people, community becomes family, and Amor Artis welcomes all. Even dinosaurs.
"As always, our taproom is dino-friendly," the team posted in March with a picture of a Brachiosaurus and T. rex peering out a window, "just please keep an eye on them as they tend to get rowdy as the day goes on."
TRY THIS:
Cruisin' Down the Street in my 6.4%
Amor Artis Brewery
Style: A tropical IPA that's fruity, floral, and a little bitter
ABV: 6.4 percent
---
DO //
Windy Hill Orchard & Cidery
For a break from beer, head 35 minutes west and look for the windmill to get to York's Windy Hill Orchard & Cidery. Pick-your-own-apples season isn't until September, but in the meantime, try some hard cider. One of the first cideries in the area, Windy Hill is open for tastings on Fridays, Saturdays, and Sundays starting in August. Check their website for exact dates and times. 1860 Black Hwy., York; 803-684-0690; windyhillorchard.com
YoCo Brew Trail
Drive 30 minutes south of uptown to start your beer adventure in York County. Download the Visit York County app, and see if you can check in at five breweries to win a T-shirt. Breweries include Amor Artis in Fort Mill and Dust Off, Legal Remedy, and Slow Play in Rock Hill, among others. 130 E. Main St., Rock Hill; visityorkcounty.com
Blue Ridge Junction at Carowinds
The newest area of Carowinds, across the South Carolina line, includes the Copperhead Strike roller coaster, which whips riders through a double launch and travels from zero to 42 miles per hour in 2.5 seconds. The seven-acre Blue Ridge Junction, which opened in March, is the largest single-year investment at the amusement park since its opening in 1973. 300 Carowinds Blvd., carowinds.com
EAT //
The Improper Pig
This barbecue restaurant opened a few months ago in downtown Fort Mill, next door to Amor Artis. Have a beer, then a barbecue sandwich, then more beer. 204 Main St., Ste. 102, Fort Mill; 803-547-2345; theimproperpig.com
The Pump House
Look out over the Catawba River as you dine on crab cakes, shrimp and grits, or
a fried sweet tea chicken sandwich. 575 Herrons Ferry Rd., Rock Hill; 803-329-8888; rockhillpumphouse.com
STAY //
The York County area is so close to Charlotte, it's easy to make it a day trip. If you choose to stay the night, you'll find a handful of options in Rock Hill. visityorkcounty.com