BEER TRAVEL: Keep Portland Hoppy
Going north for beer in Maine's Forest City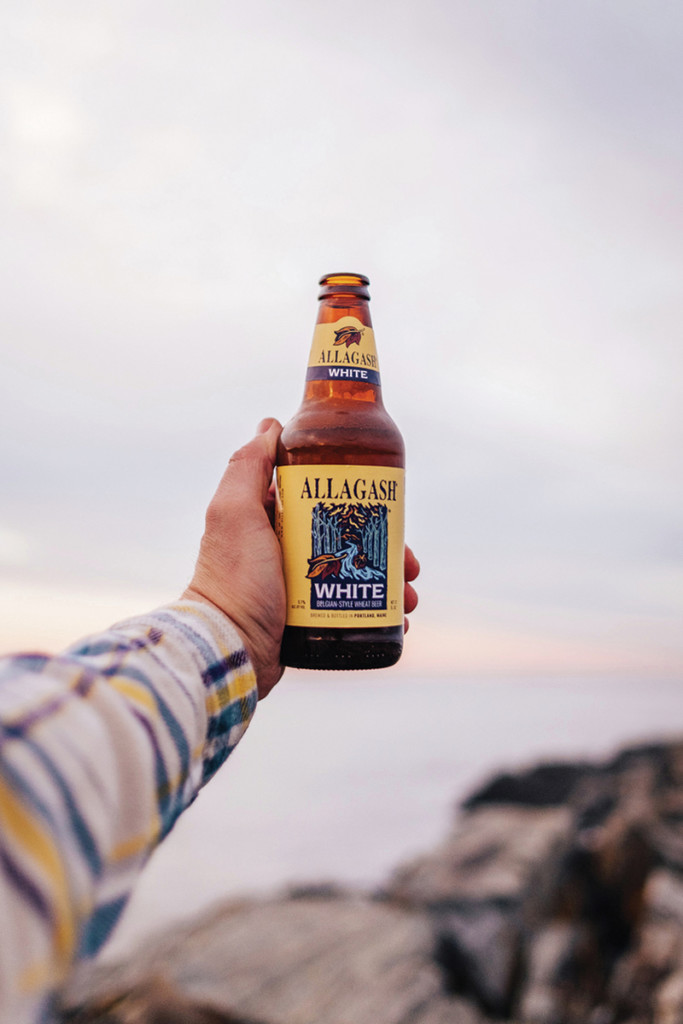 MAINE IS NOT SUBTLE about its lobsters.
Driving up the Atlantic coast on the eastern shores of Vacationland, this "lobstah"—as the signs and billboards beckon from right, left, in front of you, and behind you—is the best in Maine. Until, that is, you drive just a moment down the road and find the next "best" lobster in Maine.
Lobsters adorn keychains, postcards, T-shirts; they're blended into ice cream and painted on pillars. A 70-foot-long inflatable lobster sits atop Taste of Maine in Woolwich to celebrate the restaurant's 40th anniversary.
What's not so brazen, but perhaps should be, is Maine's craft beer market.
Though only eight states have a smaller population than this Northeastern state, only 17 states have more breweries. Maine, with its 1.3 million residents, has more breweries than Alabama, Alaska, and Mississippi combined. It has more breweries than Arizona, a state with more than five times the people, and it tops Georgia, a state with 10.5 million people, by 37 breweries.
Maine does this even though more bears live in the vast majority of its northern reaches than people.
All this is to say, Maine is a mecca for beer lovers, and Portland is its foamy, sudsy heart.
On a patch of land alongside industrial buildings on a street named—no kidding—Industrial Way, Allagash Brewing, the widely distributed and most recognized brand in the city, has its main brewery next to five others (Austin Street, Definitive, Battery Steele, Foundation, and Casco Bay breweries).
Here, no signs inked in red block lobster-claw lettering yell claims about the best beer in Maine. There's barely a sign at all. At the end of Industrial Way, an ordinary, plain marquee sign lists all the breweries down the road.
For one of the most widely recognized craft beers in the nation, this seems odd. The vibe at the brewery matches, though: It's an inconspicuous gem that's hidden only to those too busy eating lobster.
Outside the home of the extraordinarily simple and smooth Allagash White, visitors find a few small patches of gravel and a group of wooden Adirondack chairs, a small covered patio, and no fuss.
Inside, it's just as unassuming. The lineup is predetermined for the day, with straightforward offerings like the White, Saison, and House. Allagash does make other beers, such as the Stranger and the Crane, a cranberry saison, but they're limited and not part of the regular rotation.
In any fashion, I came for the White, having ordered it in so many bars outside of Maine, and so I take it outside to the porch to drink.
As the May evening cools, as it's wont to do in Maine, we head to Portland's downtown, pick up some famous potato-flour donuts, and then walk to one of the oldest breweries in Maine, Gritty McDuff's, which opened in 1988. The charming brick building's most obvious quirk is the collection of ceramic mugs, all numbered on the bottom with black Sharpie, hanging from the ceiling. The mugs aren't kitsch; they're someone's property. Portlanders pay $75 per year to join the Mug Club and claim a mug for themselves, which will always wait for them on the ceiling. In return, they drink from the 21-ounce mugs but pay for only 16 ounces, plus receive other benefits during the year.
We don't buy a mug; we don't know when we'll return to Portland, and there's hardly room for more among the hundreds of mugs, anyway. We do order beers, though, and head outside to sit at one of the many picnic tables. The cool air carries the scent of lobster, and the beer goes down with ease.
TRY THIS:
Allagash White
Allagash Brewing Company
Style: A crisp Belgian Witbier with a hint of spice
ABV: 5.1 percent
---
Do //
Try Portland's Cocktail Scene
While Portland might be known for its beer, its cocktails are also exquisite and inventive. Both Bramhall and the Bearded Lady's Jewel Box (A+ name) are musts. Bramhall is located in a cavernous space below ground while Bearded Lady's Jewel Box has barely any signage. Be on the lookout for both. Bramhall: 769 Congress St., 207-805-1978Bearded Lady's Jewel Box: 644 Congress St., 207-747-5384.
Eat //
The Holy Donut
Maine potato donuts are very much a force in Portland. Go to one of The Holy Donut's two Portland locations to chow down on the fluffy desserts. Various locations.
Stay //
The Chadwick Bed & Breakfast
Located in a charming multilevel green home built in 1891, this bed and breakfast offers an array of room sizes and amenities. Room rates run from $150 to $350, depending on season. 140 Chadwick St., 207-774-5141.