BEER TRAVEL: Memories of Dogfish Head
Delaware's prized brewery, now a tourist destination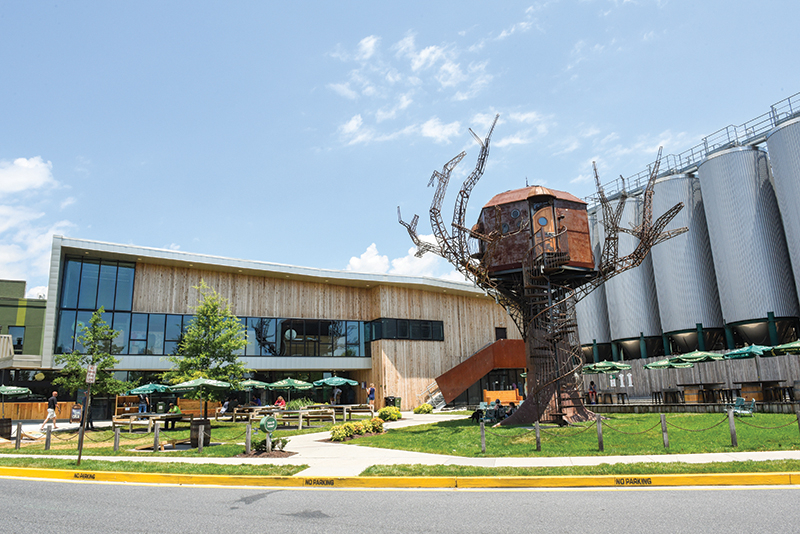 THE FIRST THING I NOTICE as I pull up to Delaware's Dogfish Head Brewery isn't the scent of malt or hops filling the air of small-town Milton, or the giant stainless steel fermentation silos outside. It's the steampunk treehouse with wiry, rusty branches and a spiral staircase that leads to a hexagonal house planted on the lawn.
The treehouse was first built as an art installation for Burning Man, the massive desert alt-festival, then found its way to Coachella, the massive desert mainstream festival. With no permanent home, Dogfish Head took in the 40-foot-tall steel sculpture, and it's remained on site since 2010. The eight-ton treehouse isn't open for guests, but boy, is it fun to look at.
I'm from Delaware, so for me, Dogfish Head is as synonymous with beer as National Bohemian is in Maryland or Bud Light is everywhere. It's what NoDa Brewing or Olde Mecklenburg Brewery are to Charlotte—but in Delaware, for a long time, we had only one choice. Now we have Mispillion River, Big Oyster, Fordham & Dominion, and about 20 others—remarkable for a state with a population of less than a million.
In my early 20s, I liked Dogfish's Namaste White so much, I bought Namaste-flavored lip balm from the gift shop. Today, for every birthday and Christmas, my dad still gives me a six-pack of whatever Dogfish has in season. In Charlotte, I scour bottle shops to find the lime green cap with a shark-shaped exclamation point, which signals the ABV is more than 15 percent. The brewery calls it the "Dogfish danger cap."
I was a year old in 1995, when Sam and Mariah Calagione opened Dogfish Head. As a young kid, I remember my dad drinking their flagship 90 Minute IPA as he cheered for the Redskins—a good beer helped curb the disappointment of Redskins fanhood ever since their 1992 Super Bowl win. Once I was old enough to drink, it was the first beer I tried (beat that, nameless-keg beer).
For those reasons, the brewery is like an amusement park for me. My eyes are wide as a tour guide shows us the fermentation process and the cannery, and explains the beers' notes over a tasting, all for free.
Dogfish Head tastes like home. Even though it's widely available at most bottle shops and grocery stores now—and, in May, merged with The Boston Beer Co. (Samuel Adams)—I still get a buzz of nostalgia when I see that shark logo in Charlotte. Especially if the cap is lime green.
TRY THIS:
Palo Santo Marron
Dogfish Head Brewery
Style: A wood-aged, unfiltered brown ale with notes of caramel and vanilla
ABV: 12 percent
---
Do //
Tanger Outlets
Delaware has no sales tax. At the Tanger Outlets in Rehoboth Beach, the price you see on tags is what you pay—and sometimes less, given the steep discounts at stores like Banana Republic Factory, Kate Spade, and Michael Kors. 36470 Seaside Outlet Dr., Rehoboth Beach; 302-226-9223.
Eat //
Agave
The best part of this Mexican restaurant in historic Lewes is its guacamole menu. My favorite is the Gala apple and midnight moon cheese guac—it's gooey and rich but cut with the sweetness of apples. The second-best part? The margaritas. 137 2nd St., Lewes; 302-645-1232.
Meding's Seafood
On every two-hour trip home from the beach I took growing up, I would stop here, sunburnt and exhausted, and Meding's cream of crab soup would revive me. 3697 Bay Rd., Milford; 302-335-3944.
Stay //
With just 16 rooms, this boutique inn is located along the Lewes-Rehoboth Canal and prides itself on its sustainability—they use forest-friendly toilet paper, LED light bulbs, and biodegradable cleaning solutions. 105 Savannah Rd., Lewes; 302-644-8292.