Before + After: A Transformation Inside Morehead Inn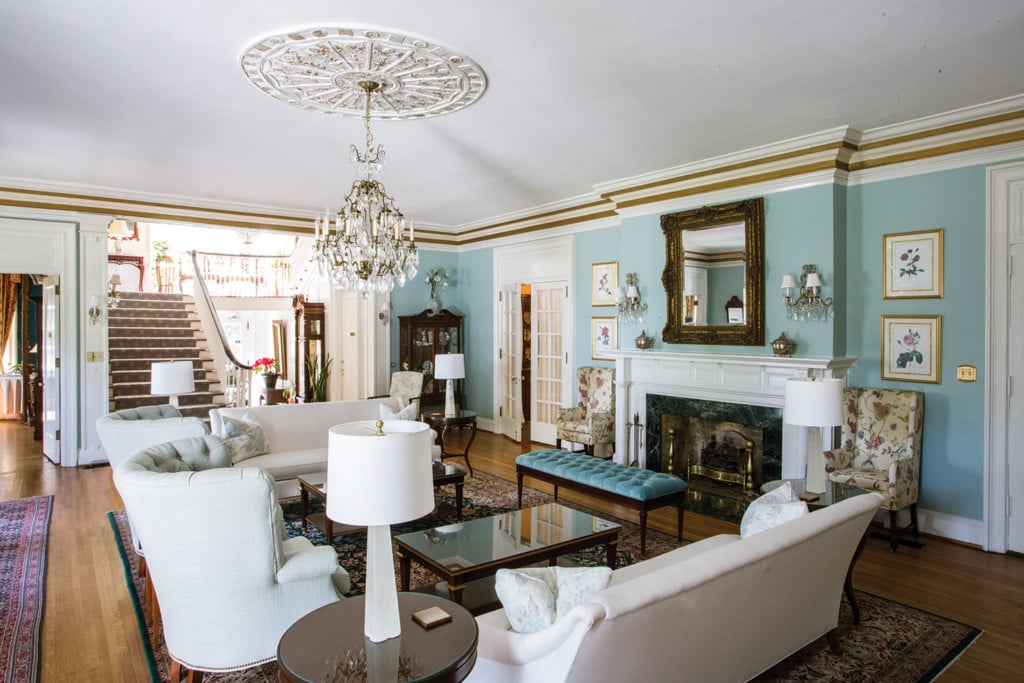 THE SCENE WAS BLEAK: a great room of a historic inn covered with dust, its furniture broken by pieces of fallen plaster. After a ceiling collapsed at the Morehead Inn last July—during its centennial year—the inn's owners sought to do more than recreate the space; they decided to renovate it. Enter designer Zachary Wheeler of Zachary Luke Designs.
Wheeler's transitional design vision modernized the space while grounding it in history, quite literally. The large Indian rug has been in the room for decades, and it's there still. But everything on it is new. This sense of balance pervades: historic with new, dark with light, elegance with comfort.
---
Brightening the Space
The Indian rug continues to inspire the room's palette, but differently. Instead of the room drawing from the rug's reds and greens as it did before, Wheeler took his cues from its white and pale gray-blue. Those colors inspired the walls, furnishings, and textiles, which, along with the ample sunlight, create a much brighter feel.
The Tufted Bench
This is Wheeler's favorite piece in the room. Its carved spiral legs add to the great room's traditional look, and the tufted velvet cushion plays off the Queen back chairs that sit across from it. But the bench is a functional piece, as well, adding additional seating for guests.
A Space to Gather
Even while making the room feel lighter, Wheeler doubled the amount of seating. One of the biggest compliments Wheeler received about this project was from the staff, who told him that guests use the space more than ever. "This is how I design," he says. "I want the space to be comfortable and inviting, and also look nice when no one's using it."