Before & After: Contemporary Chic
A contemporary home in Carmel Woods gets a makeover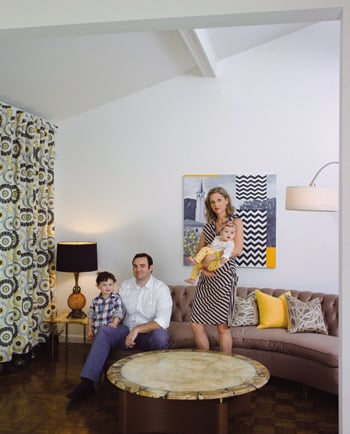 When Robin and Renato Tonelli moved from Chicago to Charlotte in 2011, they sought a home that was near a good elementary school for their two children and had "good bones" to support a modern aesthetic. The couple settled on a 2,100-square-foot, 1970s contemporary home in Carmel Woods. With wood-paneled walls, cramped rooms, and yellowed paint, the home was, to the untrained eye, outdated and tacky.
But Robin, a graphic designer, and Renato, an architect, liked the home's high ceilings and saw potential for an overhaul by tearing down the walls to create an open floor plan. The Tonellis chose a color palette of white, gray, and yellow to create a cohesive design that flows from room to room and incorporates family heirlooms and travel mementos to juxtapose the old with the modern.
Artful Escape: Robin snapped this photograph in 2006 on a trip to Paris, where Renato proposed. As wallpaper, the photo anchors the room by drawing the eye along the lines of the streetscape into the living room, giving the impression that the artwork is part of a larger composition.
Open Layout: When the Tonellis bought their home, walls and wooden railing boxed in the dining room, kitchen, and living room. They quickly had these obstacles torn down and opened wide archways to create a sense of openness and movement from room to room.
Accent Wall: Robin studied fine art and painted murals before she became a graphic designer, and her eye for color was an asset in this home redesign. She chose metallic accents that reflect the shimmer in the glossy floor.
Materials Matter: Renato says the most difficult design decision was choosing cohesive materials for the kitchen. The pair settled on natural materials: a
glossy quartzite tile floor, bamboo cabinets, and a yellow tiled backsplash. Horizontal grain on the cabinets and the vertical rectangles of the back- splash add subtle graphic interest.
Beloved Heirlooms: Repurposed family furniture is interspersed throughout the home, but Renato's grandmother's tufted couch from Italy is the most glamorous. The original olive-gold, crushed velvet upholstery was replaced with a chic, silvery poly-cotton fabric. As Robin says, "it's not a Super Bowl couch, but we think it adds charm."
Repurposed & Reused: The round onyx table is another family heirloom, bought by Renato's parents on their honeymoon in Acapulco, Mexico, in the 1970s. Renato redesigned the table, since its shaky legs and weight were a danger to crawling babies, by building a sturdy base out of pressed wood board.