Before + After: Cozy Quarters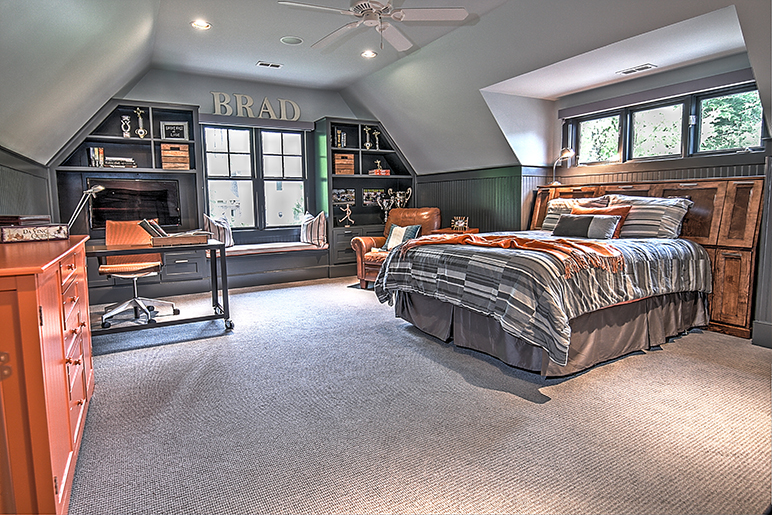 WHEN DESIGNER Tamara Leicester of Tamara Heather Interior Design first saw the space her clients wanted her to transform into their eldest son's bedroom, she knew there was work to be done. Previously the homeowners' office, the large, 458-square-foot room featured white trim work and wainscoting, a dark ceiling, and awkward nooks. "It was such a vast, open space that needed to really be filled up, but furniture just wouldn't cut it," explains Leicester. After consulting with the son and homeowners, Leicester drew up a plan that would transform the once expansive space into a comfortable getaway.
Architectural Detailing
To keep the room from feeling too expansive, Leicester had to rethink the furnishings. She looked to architectural detailing to fill out (and warm up) the space. "The wall on the far side of the room was so big and yet awkwardly shaped for furniture," says Leicester. Custom shelving not only added a touch more design to the room, but it also doubles as much-needed storage.
A Custom Space
Awkward ceiling angles and nooks— particularly the dormer with a trio of windows above—proved to be hurdles when designing the room. "A queen bed fit perfectly into the nook but then there was no room for side tables or a lamp," explains Leicester. To troubleshoot the issue, she designed a custom headboard so that the bed sticks out a couple of feet, allowing for ample room to crawl in. The headboard's built-in, drop-down side tables keep the piece from feeling bulky while also providing necessary functionality to the nook area.
Color
"The darker ceiling coupled with the walls being sloped created a bit of an oppressive feeling, like the ceiling was pressing down on you," explains Leicester. To make the room more comfortable, she painted the ceiling a pale aqua-gray while the existing white wainscoting was painted a darker gray. Pops of orange—an homage to the teen's love of the Florida Gators—were added to break up the slate gray color palette.