Before + After: Fresh and Bright in Waxhaw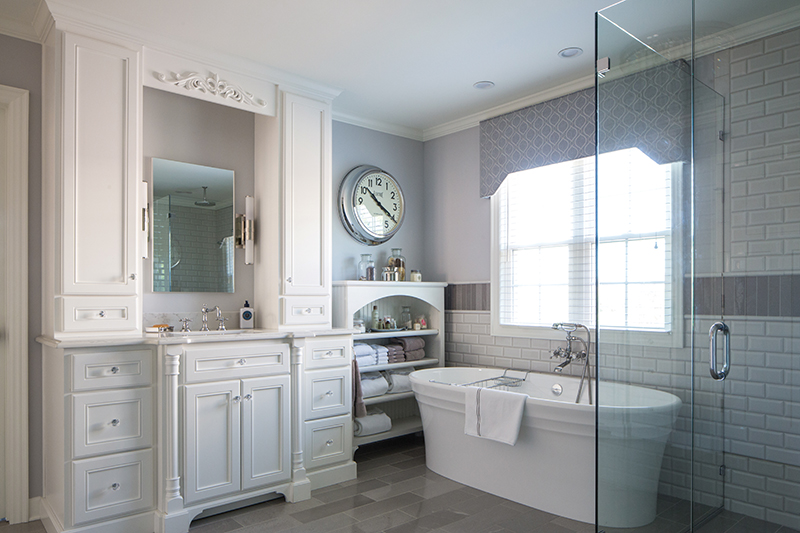 Interior designer Marcie Padgett and general contractor Steve Melton knew they'd need to do meticulous planning on a recent Waxhaw master bathroom remodel, working with clients in Boston who wanted their new Charlotte home to have a custom feel. "Our style is to spend months on the front end, planning out the entire remodel from start to finish," says Padgett, owner of Southern Style Designs. "That way, we know from the start if the budget is going to work, and we can get everything ordered and plan a specific timeline for our clients."
HIDDEN FEATURES
The former bathroom contained one long vanity with two sinks. Padgett added two separate vanities, each with its own sink and custom-built cabinets, which house and hide all of the electrical outlets for each vanity. Limestone floors, including a tile rug in the center of the bathroom, stay cool in the summer and warm in the winter, thanks to heating wires.
LIGHTING
Sconces positioned on the sides of inset mirrors over each sink provide soft, artificial light, in addition to a new double-hung window centered over the tub that allows for beautiful natural light. A flush-mounted crystal chandelier in the center of the room scatters prisms on the ceiling when illuminated.
COUNTERTOPS
Originally, the homeowners chose Carrara marble for their vanity countertops. Padgett suggested they instead consider a new version of quartz, which is as beautiful as ever but much easier to maintain. "The quartz market was dormant for years, but has recently really come back to life," Melton says.