Before & After: Historic Redo
A Dilworth kitchen gets a bright facelift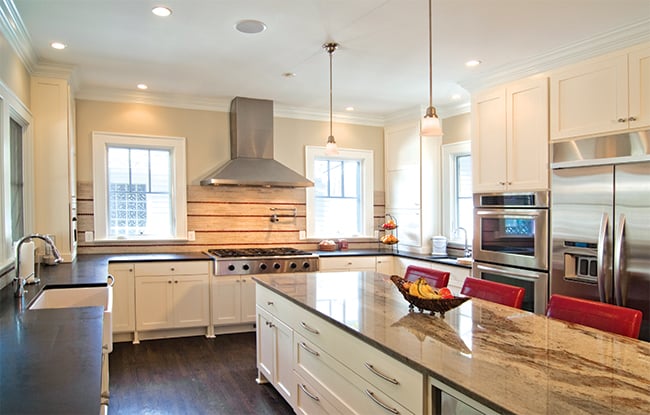 One morning back in 1996, Malin Pereira spotted a "For Sale by Owner" sign in the front yard of a charming bungalow in Dilworth. Knowing that she and her husband, Ernest, were still adding to their then family of three, the couple had been searching for a new home with more space. Though it was in disrepair and desperately needed updating, the historic, circa-1936 bungalow was their answer. "We had a lot of work ahead of us," says Malin.
COURTESY KENT LINEBERGER
Before
Fast-forward 12 years: The Pereiras family had grown from three to five, and the couple, who entertain frequently, needed a space that allowed them to host with ease. The Pereiras enlisted architect Kent Lineberger to redraw and expand the kitchen. The result: a room big enough for both Malin and Ernest to cook together. "[The kitchen] looks the way it should've looked all along," says Malin.
The Views
The original kitchen was not only outdated but also cramped, leaving the Pereiras little room to collaborate while cooking together. Lineberger rotated the footprint of the kitchen 90 degrees from its original orientation—and expanded it—to create a larger, seamless entertaining and cooking space. The kitchen now has three walls with large windows, resulting in a brighter workspace.
The Wow Factor
To add some dimension to the sleek, neutral color palette, which includes custom Shaker-style cabinetry and trim in an off-white finish, the Pereiras chose Silver Galaxy, a bold granite with distinct veins of silver, black, gray, and burnt red running throughout. "It's very dramatic," says Malin. "It's the major focal point of the room." In lieu of soapstone—which the Pereiras were hesitant to install due to its durability limitations—honed black granite was added on the outer counter space.
Working Room
The avid entertainers—who have hosted parties with as many as 100 guests—needed several work stations in their kitchen so they could easily move about the space without bumping into each other. "We really work as a team when we're entertaining," explains Malin. The oversized island—which seats up to four comfortably—large farm sink, Dacor stovetop, and surrounding countertop allow plenty of space for the couple. "Kent knew he had to create multiple work spaces, multiple ways to move around," says Malin.