Before & After: Modern Restoration
A 1915 home gets a modern-meets-traditional update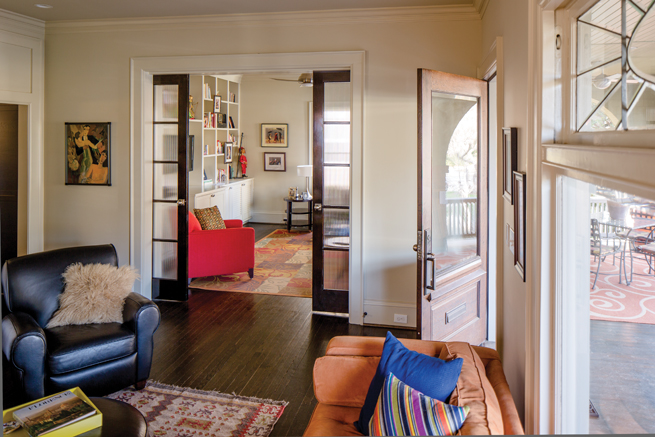 The beginnings of an extensive renovation left a 1915 Dilworth home in foreclosure—with holes in the walls, no electrical or plumbing systems, and original oak flooring scattered on the porch. But Sheri Harrison and Robert TeKolste saw potential and purchased the home in 2009. "Looking back, I'm surprised we pursued this home because we're not risk takers, and this was a huge risk," Harrison says.
The couple partnered with architect John Fryday of Fryday & Doyne to restore the home's original character. One of the biggest challenges of the yearlong renovation was reversing a previous expansion that had turned the house into a triplex. Fryday describes the process as "an archeological dig" to uncover—and undo—structural changes and to re-create the original floor plan. Nowhere is the commitment to maintaining the historical integrity of the home more apparent than in the front rooms.
Reunited When the home was built, two leaded-glass windows flanked the front door. The original window remained, but the parlor window was replaced with a door when the home was turned into apartments. To re-create this historic feature, Fryday commissioned a custom window to match the original. "It was the only time we used a reproduction to mimic what used to be there," he says.
Preserving the Past Strips of hardwood floors were rescued from the porch and used to patch the original oak flooring in the living room and parlor; the wood windows in both rooms were restored with new ropes and hardware; and the brick fireplace in the living room was refreshed with a coat of paint. "The original features needed to be preserved to reflect the history of the house," Fryday explains.
Mixing Eras After knocking down a wall between the living room and parlor that separated the former apartments, Fryday realized that the structure for original pocket doors was still intact. The feature was re-created, but the choice of materials—mahogany doors with rippled glass and contemporary brushed-nickel hardware—gave the doors a modern twist.