Before & After: Modest Expansion
A home in the Dilworth Historic District gets a bright, family-friendly renovation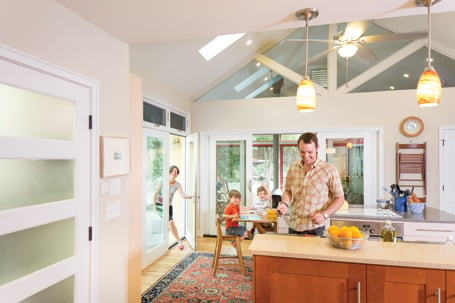 After months of house hunting, it took John and Megan McCann just moments after walking in the door to decide to buy their new home in Dilworth's Historic District. The neighborhood was bike-friendly and only a few blocks from Dilworth Elementary School, but the modest 1940s home was slightly cramped for their family of four.
The family turned to Ray Sheedy of Sheedy Watts Design for a whole home remodel. The greatest transformation happened in the kitchen, where the McCanns spend much of their time. "We wanted to keep the space small but give the impression of a large kitchen," says John McCann. "We didn't want to increase the heating and cooling footprint."
Outside In
Creating an outdoor entertainment space was one of the family's main objectives. But the original kitchen was small and separated from the backyard by a breezeway and garage. Sheedy tore down the walls of the garage, replacing it with a screened porch and a storage shed, opening the kitchen footprint by about 100 square feet and creating a patio area just outside the kitchen.
Brighten Up
To create the illusion of a more open space, Sheedy added glass doors leading to the screened porch and patio. Transom windows and solar-powered skylights add more natural light and reduce heating and cooling costs. Megan chose glass-paneled cabinets over the countertop. "[Glass] became a recurring theme throughout the whole house," says Sheedy.
Up and Up
To avoid encroaching on the yard space, Sheedy expanded upward. The home originally had two rooflines—one over the garage and another over the main house. Sheedy replaced these with a single, higher roofline, raising the ceiling to 18 feet at its peak. Triangular interior windows were added to open a sight line between the upstairs bedroom, kitchen, and screened porch, and let in lots of natural light.