Before + After: Outdoor Oasis
A Myers Park backyard becomes a picturesque retreat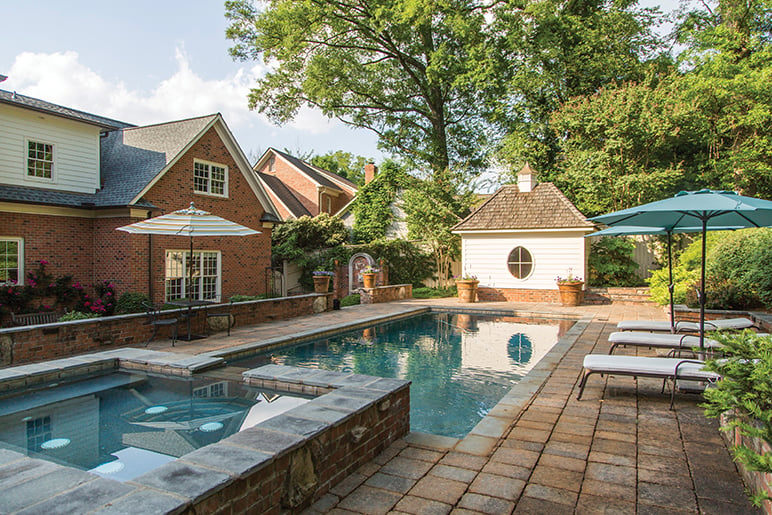 COURTESY
Before
It took three months, a dedicated crew, and a caravan of construction equipment to rescue Larry and Lois Osier from their barren backyard in Myers Park. Once a jumble of dead trees and patches of dirt, the yard has been transformed into a picturesque outdoor living space.
"Compared to the front of the house, which is pretty understated, the backyard is an unexpected surprise," says Larry Osier. "We went from having an unusable space to one of the prettiest backyards in the neighborhood."
The couple hired John Biggers of Biggers Lawn and Landscape to install a swimming pool and spa, build a stone patio with a covered outdoor fireplace, and create lush gardens. After the project was complete, the Osiers discovered that the makeover had a bigger impact than they expected.
"It transformed the entire house," says Larry. "Having the outdoor seating area is like having another living room. We spend all of our time out there."
COURTESY
After
MATERIALS
To make the covered seating area feel like it was original to the home, Biggers chose bricks similar in color and texture to those used on the house. He also incorporated contrasting materials, including natural stone and wood beams, that complement the color and texture of the brick and adds visual interest and softer lines.
DESIGN
An outdoor room should incorporate some of the same design elements you would use inside a home, says Biggers. In addition to creating a cozy seating area in front of the fire, he incorporated a fireplace mantel, ceiling fan, and vaulted ceilings with overhead lights to make the space feel like a true living room.
TECHNOLOGY
The backyard might feel like a natural oasis, but "there is a lot of hidden infrastructure that went into the final product," Biggers says. Landscape lighting was embedded into the stone walkways, drip irrigation was installed in all of the gardens—including planter boxes—and the patio was wired for electricity. To enhance the natural feel, all of the cables are hidden beneath the hardscape.