Before You Design an Outdoor Kitchen, Read This
Or risk costly mistakes.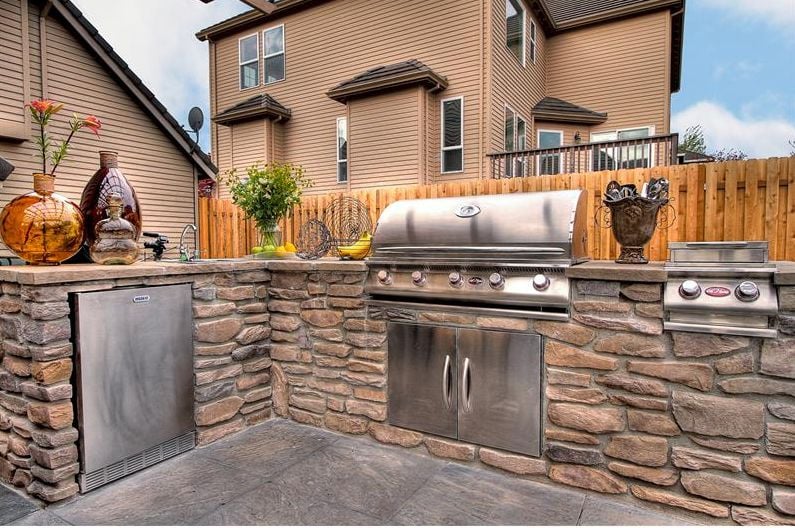 Grilling season is upon us, and you can't pretend that you haven't dreamed about what it'd be like to have your own outdoor kitchen. For al fresco soirees and life celebrations, outdoor kitchens amp up patios and terraces. The livable element of these spaces is tough to replicate with a different type of renovation, but if you choose to add an outdoor kitchen to your home, don't let Pinterest get the best of you. Outdoor kitchens actually take quite a bit of planning—you'd hate to get halfway through the project, only to realize the money spent was a waste because you overlooked a crucial detail.
Before you design an outdoor kitchen for your patio area, go over the below things to keep in mind. Then save this page for later or print it out—you'll be glad you did.
Create your budget around what you need, care about, and want
Since there are many possible aspects of creating an outdoor kitchen, it's best to start with a list of needs before wants. Perhaps you need ample seating for a large family or a sink for multiple purposes (more on that later). If there's one thing we've learned about home projects, it's always that they seem to require a larger budget than we imagine. Remember this when you decide what features are most important to have in the space.
Measure and take note of the space
Before you click "Buy" on that chic outdoor loveseat from Anthropologie, stop and grab a tape measure. It's essential to measure the room or area before buying any type of furniture (indoor or out) or making structural changes. You need to know what you're working with—whether for aesthetic or functional reasons. With that being said, it's worthwhile to consider various options for your outdoor kitchen area. Sometimes, the side yard of a home can be more private than the backyard—think about what types of occasions you'd use the kitchen for and choose accordingly. Sometimes, the unconventional area is the better one.
Map it out
After you've chosen and measured the area, it's wise to envision how a kitchen would actually work in the spot. A good kitchen has the right flow—somewhere to prepare food, cook it, serve it—and you'll want to consider the usability of the space before making permanent changes. You'll probably also want a nice area for guests to hang out while someone is cooking; L-shape layouts are common for this reason.
Additionally, think about hot (oven, stove, grill) and cold (fridge and freezer) food areas in addition to where the sink would go. Speaking of the sink (we told you we'd get back to this), it's a highly recommended outdoor kitchen item for a variety of reasons. You can use it to help prepare food, clean dishes, and wash hands—all welcome features when you're entertaining outdoors. Otherwise, you'd have to think of a plan for dirty dishes as guests finish their food.
Remember weather and nature
It should go without saying, but make sure all furniture, appliances, and other items are suited for outdoor weather. With the outdoors comes all of Mother Nature's quirks, so you might have to deal with pests every now and then or the hazy hue of spring pollen. In the same vein, it's smart to think about where the outdoor kitchen is, nature-wise. Is it under trees and will need constant upkeep? Does it have a roof? These questions will help lead you to the right decisions when spending money on your new al fresco lifestyle.
Power isn't everywhere
An outdoor kitchen isn't your average patio. This gathering area takes power to help it run. So, before you start trying to install appliances, take a look around to see where there might be any water, gas, and electric lines. You may have to run additional lines out to your kitchen, so keep this in mind when configuring costs and labor.
Amp up the ambiance
For the full "wow" effect when wooing your in-laws, ambiance is key. Once you've handled the heavy duty work, don't forget that the details make a place shine. Try unique and dimensional lighting options to bring warmth to the space, and for real warmth, a fireplace is a popular choice. Extra style is also found in thoughtful furniture and accessories that stretch your interior's good looks to the great outdoors.