Behind the Scenes of a Bridal Fashion Shoot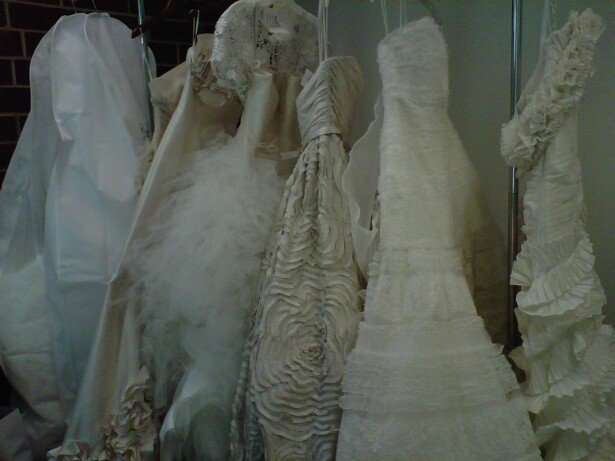 Spending a day playing dress up with frothy wedding dresses and jewelry might sound like a girlhood dream (and I'll admit, it is pretty darn fun), but there's a lot more than whimsy and giggles that goes into the execution of a bridal fashion shoot. Here's a quick summary of what it took to pull off yesterday's fabulous shoot for the Spring/Summer 2011 issue of Charlotte Wedding.
1-2 months out – Meet with editorial and design staff (and a huge stack of wedding magazines) to discuss themes. Color themes, dress themes, accessory themes, background and materials themes, photography themes… not a single element of these fashion shoots goes undebated. Once these decisions are made, I usually send a heads-up email or phone call to all the jewelry designers, dress boutiques, floral designers and other accessories vendors that we intend to use to let them know what themes we have in mind. This puts me on their radar for the weeks to come and helps us realize if we've made a wrong turn in choosing our themes (based on their reactions, "Awesome!" or "What in Vera's name are you thinking?").
2-3 weeks out – Dress scouting. This is essentially the styling equivalent of window shopping. I make formal appointments with the manager or owner of every store (unauthorized drop-ins are rude and often lead to a wasted trip if you can't get the time and attention of the person who can actually authorize you to take thousands of dollars of merchandise from their store). I spend just under an hour at each one pulling dresses aside that strike my fancy and fit somewhere within the spectrum of our chosen theme, always consulting the manager or owner about which dresses are the newest, which are from old collections, which have been photographed before, and a million other factors that go into choosing which dresses I'll be taking. Then I take copious notes and cell-phone photographs so I can remember what I saw when I get to the next store. No, I don't put the dresses on (though I sometimes consider it), and yes, it really is hard to narrow down 6 amazing dresses to just 2 or 3 at each store. Not "Sophie's Choice" hard, but like "Oh my gosh my Tivo can only record two shows at once and there is a third show I want to see, which one can I live without or watch online later?" hard. Then, all of my photos and notes are shared with the editor and art director to make sure we're all still on the same page, and then I call the same store owners back up to let them know when I'll be coming to get the dresses, which ones I want, and most importantly (to them) how fast I can have them back to them again.
1 week out – Accessories scouting. Now I know the dresses I want, I have lived with them in my head for a week. I am ready to accessorize. Many times, we are fortunate enough to have local jewelery designers who will put together custom pieces inspired by our shoots but there are still shoes, bags, veils, and additional jewels to be scouted. Did I mention how tricky it is to find a sparkly summer sandal in the middle of November? Oh, well. It is. I've often thought I should just start a new trend for spring/summer brides: black ankle boots. Because those I can find by the truckload.
2 days out – The Great Pick Up Begins! I clean out my car, lay down the softest cleanest blanket I can find and then start driving around town to pick up all the glorious goodies I have pre-arranged to take. I always get a fun little rush when I walk out of a store with (for example) a pair of $850 dollar shimmering Jimmy Choo's, without maxing out a credit card, but that euphoria is quickly replaced by paranoia as I now realize that for the next 48 hours, those expensive little shoes are completely and totally my responsibility to protect and return unharmed. As are the thousands of dollars worth of tulle, lace, silk and satin that I pile in after them. And the diamond rings. The diamond rings keep me awake at night. So small. So easy to lose. So very, very expensive. So, whenever one of the adorable shop girls or a well-meaning friend catches me during the middle of The Great Pick Up and says "Oh your job must be so fun!" I probably give him/her a death stare. Not because it's not fun. But because I've got $18,000 of merchandise on my hands and the 48 hours in which I must protect it all has just begun.
Shooting Day – Arrive early. Find out where the dresses will be the cleanest and safest for the duration of the day. Bring everything in out of the car. Unpack dresses. Remember which store gave you which dress bags for returning them later. Line up ever pair of earrings, every necklace, every cocktail ring, every bracelet, grouped by designer so you don't forget where it came from. Painstakingly cover the suede bottoms of Jimmy Choo's with blue painters tape and trim edges. Steam wrinkles out of dresses. And steam. And steam. And steam until your makeup has melted and your hair looks like it just got rained on. Make awkward small talk with beautiful model while she strips naked and steps into the dress you are holding out for her. Zip, button, tie, clamp, pin. Accessorize. Change your mind about accessories. Accessorize again. Stand by to fluff, fold, re-position and otherwise tend to the details while the photographer starts clicking. Keep vigilant watch to be sure that dress and/or shoes do not go anywhere near dirt or harm. Write down detailed notes of what is in each shot, where it came from, how much it cost, who the designer is, and a description of the item for captioning later on. Repeat 11-12 times. Make sure every store and designer who loaned out anything has been accounted for and shot. Pack everything back up. Put everything back in car. Drive home. Crash.
The Day After – Ahhh, The Great Return. Now that all the pictures have been taken, every dress, shoe and earring has to be returned safely to it's rightful owner. In case you haven't done all the math, I spend roughly 13 hours in the car for every single bridal shoot between all the scouting, picking up and returning. So the thing that actually best prepares you to be a bridal stylist is a subscription to Sirius/XM radio.
My favorite part: Seeing the dress I've known all along was going to look killer look absolutely killer in front of the camera.
My least favorite part: The driving. Absolutely the driving.
Yesterday's shoot was a blast. Our model was a friendly ray of sunshine with an adorable engagement story of her own. The dresses looked in-cred-ible on her and on our set. Shoes didn't get even remotely close to damaged. Our custom designed jewelry hit just the right note of edge and sophistication. Our photographer knocked it out of the park with some incredibly unique lighting techniques to really show off the dresses in an unconventional way. It truly was a blast and yes, my job truly is fun.
Today, I am about to get back in the car and begin The Great Return. Then, it'll be no time at all before we're brainstorming the fall/winter photo shoots!
What have you got to say, Shop Talkers? Have you ever wondered how those photo shoots get put together? Do you have any questions I didn't answer? Any questions for the art director or photographer? Just pass them along in the comments and I'll make sure you get the behind the scenes details you crave! Also keep your eyes peeled to www.cltwedding.com for a behind the scenes video shot by Sarah Crosland during the shoot!