Behind the Scenes with Jay Bilas
The ESPN college basketball analyst and Charlotte family man is featured in a new Dove Men+Care campaign and has just released a new book, 'Toughness'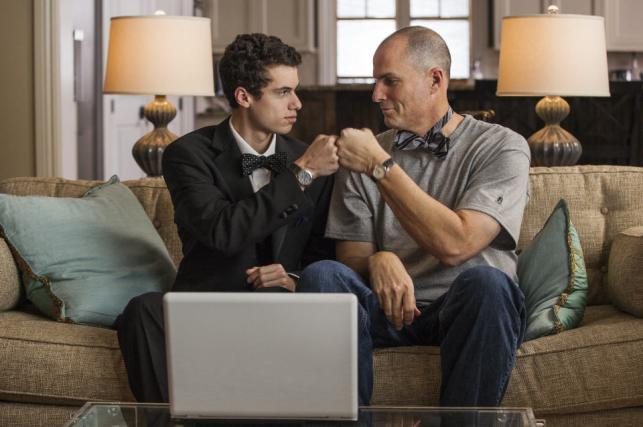 Jay Bilas and his son Anthony at their Charlotte home, during the taping of TV commercials for the new Dove Men+Care "Real Moments" campaign.
Photo credit: Dove Men+Care
This week (March 13), just in time for March Madness, Dove Men+Care launched its new "Real Moments" promotional campaign for its skincare product line, featuring ESPN analyst Jay Bilas and Miami Heat star Dwyane Wade. Each of the two sports figures are appearing in a series of national TV commercials with their families, depicting the softer sides of their lives and the people and moments that are most important to them.
As you might know, Bilas lives in Charlotte. He resides here with his wife of 20 years, Wendy, and their daughter Tori and son Anthony, both in high school. He's successfully balanced a family life, a career as an attorney at Moore & Van Allen, and has become one of the most prominent TV analysts in college basketball. That combination made him a natural fit for the Dove Men+Care campaign.
Back in January, I had the opportunity to visit the Bilas home on the day it had been transformed into a production rivaling a movie set. The number of production trucks lining the street in front of their home probably led neighbors to think that an episode of Homeland was being filmed. Instead it was Dove's hired film crew capturing Bilas' home life. You'd be surprised to see how much time and effort goes into creating 30-second commercials—the scene where Bilas and his daughter are backing out of the driveway was repeated so many times, it's amazing that one of them didn't get car sick. But the finished commercials are great glimpses into their family life.
In this interview, I talked to Bilas about how he balances such a busy schedule, how he got involved with the Dove campaign, his thoughts on college basketball in this state, the inspiration behind his new book, Toughness (released last week), and how he became a Twitter rapper to his more than 450,000 followers (@JayBilas).
You have a lot going on, from broadcasting games around the country for ESPN to being an attorney in Charlotte. How do you juggle all those things?
I've tried not to look at it as juggling things; I've tried to look at it as all being part of one thing. When I was a kid, my dad used to talk about—concentration wasn't my best trait as a kid—every once in awhile he would tell me, 'Concentrate on what you're doing while you're doing it.' And the idea that it's okay that when you're playing basketball to make that the most important two hours of your life. Then when it's over, move on to the next thing and make that the most important thing. I really try to do that now. Every moment, if you concentrate on that and only that, you get the most out of it. And then when it's over you have to be tough enough to move on to the next thing. So when I set aside time to be with my friends—maybe I'm going to play golf with a couple of my friends, my wife wants to go to dinner or we're going to go to a movie—I throw everything I have and all my concentration into that time. Because it doesn't do me any good to think about basketball while I'm at a movie with my wife. I'd be wasting that time by thinking about something else. It takes a little bit of discipline to try to throw yourself into what you're doing, and then to turn the page as soon as it's over.
I call it concentration because I think that's a skill. But you hear golfers or athletes say, 'Staying in the moment.' When they say that, I think what they're talking about is concentrating, throwing themselves into what's happening now. Because you can't do anything about something that's already happened; you move on to the next play. And you can't do anything about what's going to happen in the future—you have to deal with the right now. I try really hard to concentrate on that, and when I do a good job at it I wind up benefiting more and I think everybody else benefits as a result of it. At least I hope anyway.
How did you get involved with Dove?
Dove Men+Care has its Real Moments campaign, and I guess it sort of dovetailed [laughs] with me and what I'm doing. Not only with the moments that matter with me as a broadcaster, a lawyer, a husband, a father, but also with NCAA basketball and my book, Toughness. And sort of the moments that matter in our daily lives. That campaign just hit a homerun with me. It's a great partnership and a great team to be on. I'm really lucky.
I follow you on Twitter and see that you often tweet rap lyrics, followed by the line 'I gotta go to work.' What's that about?
When I was in high school, in the early '80s, there was a band called the Sugarhill Gang, and that was really the first rap music I listened to. They had a song called "Rapper's Delight" and I still know every word of it. So I started listening to rap music, and listened to it with my friends in college—I have diverse music taste. A couple of years ago, we were at Michigan State, and one of the players said he had Young Jeezy on his iPod. I had listened to Young Jeezy and liked it. And somebody said something to me like, 'Do you listen to Young Jeezy?' And I said yeah, I do. Then someone said to me on Twitter, 'You don't really listen to Jeezy.' So I shot a rap lyric back at him to prove that I did, and I was actually leaving to go to work when I did it. We'd gone back and forth, so when I shot the lyric out, I was ending it because I couldn't tweet anymore because I had to go. So after the lyric, I said 'I gotta go to work.' And it got a response. So I did it the next day, and it became a daily thing. It got a great response; it's lighthearted fun. And Jeezy threw my name into a remix he did, which was really cool.

"Toughness is a skill. I don't think we're all born tough. You learn about toughness through your experience."

Looking at how the SEC has dominated college football for the last seven years, and how that has impacted the way conferences are aligned. Do you think North Carolina will continue to be a dominant state when it comes to college basketball?
I do, because of the tradition. The landscape is changing a little bit with conference realignment, but it hasn't hit here. Conference realignment is kind of like—Brad Stevens at Butler said this a couple of years ago—it's kind of like the weather. There's a hurricane and you're aware of it, but as long as it doesn't rip through your area you just go about your business. Well it's been ripping through some different areas. It ripped through the ACC, you know, Maryland's gone. Things change quickly. But North Carolina and Duke will always be contenders. They may have a down year here or there; I think that's what North Carolina is experiencing now because they lost so much talent from last year to this. This year is analogous to 2010. They won the title in '09 then lost a bunch of first-round draft picks like Tyler Hansbrough and Ty Lawson, Brandan Wright, the whole crew. And then this year is the same, where they lost a bunch of players last year and they've had to learn on the fly and have taken some lumps doing it.
What was the inspiration behind you writing Toughness?
Being an athlete growing up, coachers are always talking about how you have to be tougher and you gotta show toughness. It's not something that was ever defined for me as a player, where someone said, 'This is what toughness is.' You kind of learned it through osmosis over time, and it was something that was valued by the coaches I played for and was talked about a lot and emphasized. A few years ago I wrote an article for ESPN.com, that was about defining toughness in college basketball and what it means: guys who dive for a loose ball, or who are tough enough to set good screens and look for their offense right after, who work so hard that their coaches have to take them out to give them a break, because they work themselves to exhaustion. It got such a great response from coaches and players, from grade school all the way up to the NBA; people all over the world were reaching out to me, providing their feedback, telling me how much they enjoyed it and appreciated it.
So I thought you know what, this has value beyond sports. And I wanted to write about what it means in everyday life and use examples with friends of mine. So I got with many of my friends that I played with and played against; Julie Foudy and Mia Hamm were big influences; Doris Burke, who I work with at ESPN, Sage Steele at ESPN. The stories they told of persevering, of getting knocked down and getting back up, continuing to keep plugging when things got difficult. The ability to concentrate under stress. I dealt with a NASA engineer who I got to know, a doctor at the Duke Brain Tumor Center and one of his patients—learned so much about what real toughness is. People in the military. I learned a lot from it. I think the stories will resonate with people—for a kid, for an adult, for an athlete, I think it will serve them well. I wish when I was a kid I could've talked to all of these people and knew all of these people then, because I think toughness is a skill. I don't think we're all born tough. You learn about toughness through your experience—it doesn't know age, size, or gender. My wife is not that big, but she's mentally strong and tough, and she's the nicest woman on the planet. You can be nice and a hell of a tough person, too. Tough enough to say no and no thank you. Bob Knight was telling me that he needed to be tough enough to say no. He said 'no' is a word used by tough people. He said you might miss an opportunity by saying no, but no is never going to get you in trouble. Saying yes is gonna get you in trouble.

Follow Jarvis Holliday on Twitter @HollidayInk.

Click on a photo below to begin the slideshow.