Behind the Scenes
Shedding light on five charitable programs you need to know about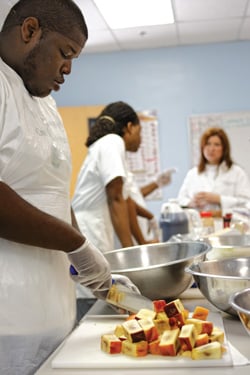 Over the summer, the media coalition known as Charlotte Mission Possible (for more on CMP, see page 62) invited Charlotteans to submit their ideas for new solutions to the troubles plaguing area charitable organizations. We then convened a group of citizens to evaluate those ideas. In the process, we discovered that a few ideas were already being put into practice locally, only most folks didn't know it. Here they are:
Hands on Charlotte
What People Wanted:
A go-to place for volunteering
Kelly Melton was trying to beef up her résumé for grad school and thought volunteer work would look good. After one session of tutoring adults at Central Piedmont Community College, she realized this was something she was going to keep doing for herself, not her résumé. "It's such a humbling experience to come away knowing you've helped somebody," she says.
Melton got started through Hands on Charlotte, the easiest way for individuals in the Queen City to start volunteering. Founded in 1991, the nonprofit offers more than 120 projects with sixty local charities — activities as varied as hanging out with kids at the homeless shelter, bowling with adults with developmental disabilities, and playing bingo with seniors. Projects are typically weekly, but volunteers can sign up to show up as often as they like. There are 1,000 active volunteers, and new folks are signing up in record numbers.
"The need has always been there, but more people are interested in helping than ever before," says Doug Macomb, director of programs. That's why HOC is working to streamline orientation. Right now, new volunteers must go through an hour-long class and wait for background checks before they can start volunteering. (HOC lists available projects on an easy-to-navigate Web site.) Once you've been through orientation, you simply go to the site to sign up for projects. Usually, you can be on the job in two days. By the end of the year, though, HOC will offer an online orientation, making it even easier to get involved. There are also special projects for teens that don't require orientation, and a communitywide volunteer effort every October called Hands on Charlotte Day where hundreds show up to pitch in.
More information: handsoncharlotte.org or 704-333-7471
United Way
What People Wanted:
An easy way for groups to volunteer
OK. So there's no denying the United Way has taken some hits this year. But there's also no denying the agency still does a lot of good (and is now under new management). And if your church group wants to volunteer, you have an Eagle Scout group needing some service time, or your employees need a team-building project, this is who you should call. So far this year, United Way volunteers have put in more than 5,400 community service hours at sixty-five different projects, and coordinator Leslie Rink has overseen every single one of them. It's her job to match each group to the right project.
There are programs seven days a week, and all are typically listed on the agency's Web site. Rink says groups should call her and she'll take it from there. "I ask things like: how many are in the group? Do you all want to be in the same place? Want to work indoors or outdoors?" She also often suggests doing a fundraising, food, or toy drive to go along with the hands-on work, depending on the charity. "A lot of times people just don't know the needs, so I try to at least put it out there." Most agencies don't require long application processes, so you can just pick a project and get to work.
More information: uwcentralcarolinas.org or call Leslie Rink at 704-371-6324
Community Culinary School, Friendship Trays, and St. Andrews Society
What People Wanted:
For more charities to work together, particularly to fight hunger. Plus, community gardens
There's a warehouse on Distribution Street in South End that you can smell a mile away—and that's a good thing. The people inside are cooking 600 to 1,000 meals on any given day. It's a partnership between three nonprofits—all fighting hunger in Charlotte under one very busy roof.
Sybil Durant is the kitchen manager now, but ten years ago she was a student at the Community Culinary School of Charlotte. She landed there after a prison stint, and, like fellow students and grads, she has turned her life around—she's a homeowner who can afford to put her kids through college. The school is free, and the goal is getting people back to work upon graduation. Many of the students come to the school by way of rehab, social service referrals, or word of mouth. Chef Ron Ahlert runs the school, and he says it will graduate the biggest class ever in December, "thanks to the economic tsunami that's upon us." The only "tuition" required is that students spend the morning cooking and prepping meals for Friendship Trays, Mecklenburg County's biggest meals-on-wheels program. (It takes an additional 100 volunteers daily to get every meal out the door.)
The gleaners of St. Andrews Society complete the trifecta. They go to area farms and collect leftover produce to distribute to the needy. There's also a community garden behind the building that the groups have been growing since January. Ahlert says the students often don't know where food comes from. Now they've learned to cultivate herbs, sweet potatoes, and more. The three agencies even meet monthly with about a dozen other area hunger-related nonprofits to make sure no one is duplicating services.
More information: communityculinary.org, friendshiptrays.org
Retired and Senior Volunteer Program
What People Wanted:
To tap the volunteer power of retirees
Carol Hudson always wanted to volunteer, but working sixty hours a week at BB&T left her little time. So earlier this year when she reached retirement age and dropped her hours back to part time, she found herself with time to give back.
"I don't want to be an old person sitting around. This gives me a reason to get up and get dressed every day," she says. Hudson splits her volunteer time between the Charlotte Douglas Airport (where she works as a guide) and Mercy Hospital (where she does a little bit of everything). "Once you get started, you don't want to miss a day," Hudson says.
Sarah Jackson, who is in charge of the 400 RSVP (Retired and Senior Volunteer Program) do-gooders in Mecklenburg County, says volunteers can even get additional insurance coverage once enrolled in RSVP. If you're older than fifty-four, call to make an appointment for a one-on-one consultation and a mini orientation; you can start volunteering immediately.
More information: rsvpcharlotte.org
Piedmont Natural Gas
What People Wanted:
To "round up" on bills and donate the money
Piedmont Natural Gas spokeswoman Loree Elswick says she was trying to find a different way for her company to give back when she came up with the idea to ask customers to round up their bill to the nearest dollar and allow that change to be donated. This summer the electric company started inviting customers to enroll in Share the Warmth.
So far, 5,500 have signed up, and the average customer would end up donating about $6 a year. The money goes to Crisis Assistance Ministry, where people can get help with rent and utilities when they're in a bind. It's often a stopgap to prevent someone from becoming homeless. Workers there are helping 33 percent more people this year than last. Six bucks may not sound like much, but Doug Hartjes at Crisis Assistance Ministry says, "When those pennies add up—along with everybody else's pennies, it turns out to be quite a significant contribution."
More information: Piedmont customers can sign up for Share the Warmth on their bill, online, or by calling customer service.
For more, watch Michelle Boudin's report on WCNC News Channel 36 on November 24.