Behind These Masks: Hinds' Feet Farm
Why the family that built Lance crackers is now on a mission to help people with traumatic brain injuries on a farm in Huntersville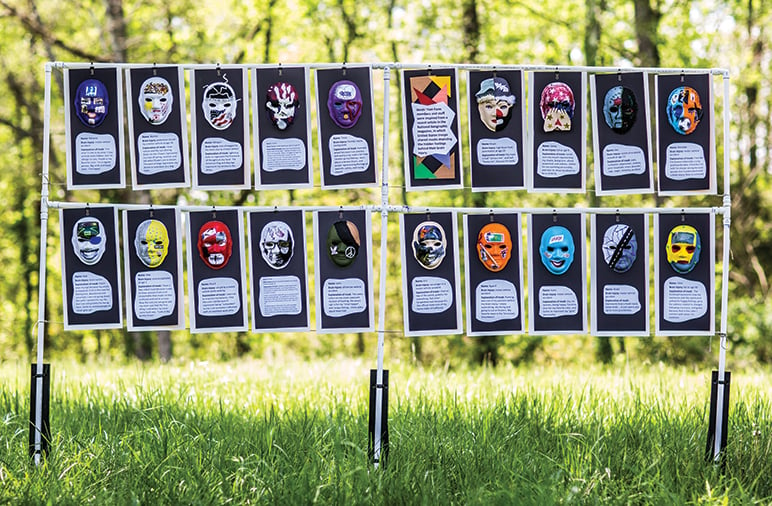 MARTY FOIL FLIPS through a box of masks. They used to be plain and white, the kind you can buy at any crafts store. He gave them to members at Hinds' Feet Farm and told them to create an outward expression of what it's like to live with a brain injury. Some of their masks glow with happiness. Some wallow in darkness. Some simply recite the person's interests and hobbies. Some mix the three.
Foil stops at a mask created by a woman named Ginny. She suffered a traumatic brain injury when she fell down the stairs when she was four. She is in her late 40s now, and on her mask she placed a cutout of two hands over the mouth, nose, and eyes of her mask. "Representing," she wrote underneath, "my shame, being torn, afraid, unwanted, and sadness."
She glued four yellow stars onto the hands and three silver stars onto the forehead, which she painted red. The thumbs and index fingers of the hands connect to form an upside-down heart over the mouth. It's hard to tell if she did that on purpose. She colored the heart—if it is, indeed, a heart—orange. She sprinkled glitter on her mask, "for my sparkling personality, and stars to show my desire to be a celebrity."
Foil plans to showcase the masks around the state to raise awareness about brain injuries, but for now they remain at Hinds' Feet Farm, a holistic health and wellness center in Huntersville for people with traumatic brain injuries, a formal-sounding description that might conjure images of white hallways and white jackets. One step onto the driveway puts that notion to rest. Hinds' Feet doesn't look like a holistic health and wellness center. It looks like a mountain getaway.
It's quiet here. Three main buildings— an office, house, and arts and crafts center—sit behind a line of trees, hiding them from the road. Horses stand behind a fence, waiting to be groomed. It looks and feels like a place where you go to forget the outside world.
Which is by design.
Foil, whose great-grandfather cofounded Lance crackers, helped start the farm with his family about a decade ago and now runs it as executive director. Foil knows the devastation of brain injuries. His brother, Philip, still suffers from one, 31 years after a car accident that changed the course of one of Charlotte's most prominent families.
Foil thumbs through more masks. Many are at least as haunting as Ginny's, and each is powerful in its own way. That's why Foil started the project after reading in National Geographic about a similar one done by veterans. He hopes the masks, when displayed in public, will do for head injuries what the AIDS quilt did for AIDS. He envisions them lining the walls of the state capitol in Raleigh, making it impossible for legislators to plead ignorance about the havoc head injuries wreak on victims and families.
The masks show how Hinds' Feet members try to let go of their pre-injury selves. That's an important part of the treatment here—they're taught that wallowing over what they've lost only exacerbates the pain. They learn to say good-bye to their old lives, accept their new lives, and try to find meaning in them.
A member named Ryan walks through the common area of the office at Hinds' Feet. Foil had talked about Ryan earlier that day: "Worst short-term memory of anybody I've ever met." Foil roots through the box, looking for Ryan's mask.
Foil can't find it.
Did you make one? he asks Ryan.
Ryan says yes. He says he distinctly remembers doing so. He made it all black. He says his mask says "Ryan" on it.
It's not in the box. Foil looks around the office. It's nowhere to be found. Ryan leaves. Alison Spasoff, the Hinds' Feet Farm day program director who oversees the mask project, comes in. She says Ryan never made a mask. He couldn't get past the idea phase. Ryan can't remember the things he's done, yet he has memories of the things he hasn't done.
These types of mind-aching tragedies have surrounded Marty Foil in the years since Philip's accident. The desperation Foil sees among Hinds' Feet members and their families fuels him. He can't end traumatic brain injuries, but he can make life better for the victims and their families. He and his parents have devoted their lives to it.
"I've got clinicians who talk to me about separation of work and life. I can't separate work and life. My work is my life. My life is my work. I have a brother with a traumatic brain injury. You can't separate that. … When I fight for them," he looks around the farm as if to corral all the members here, "I am fighting for my brother."
***
IN 1960, Martin Foil and Carolyn Johnson Van Every met on a blind date at the Masters golf tournament in Augusta, Georgia. They both were from distinguished families. Martin's grandfather and great-grandfather were presidents of Davidson College; Carolyn's grandfather founded Lance crackers and her father, Philip Van Every, served as CEO of Lance and mayor of Charlotte.
Everyone called Carolyn by her nickname, Puddin. At that Masters tournament, Martin and Puddin walked around the course together proudly as members of Arnie's Army, the fan club that supported Arnold Palmer, the man with the hacker's swing but the pro's results.
Arnie won the tournament. Martin won Puddin's heart.
Martin asked Puddin to marry him on the night of the first date. He says she laughed at him … and married him three months later.
They settled in Concord and raised two girls and two boys: Quincy, Marty, Mary, and Philip, the baby. Philip had green eyes, blond hair, and a brilliant brain. At a very early age, his brother says, Philip knew he wanted to be a pediatrician.
Philip, now 46, adored his older brother. "If I stopped too suddenly in my tracks, Philip broke his neck," says Marty, 52.
When Marty worked on his algebra and trigonometry homework, Philip sat alongside and watched, peppering his older brother with questions about how to solve the problems. Those queries yielded a fifth-grade math whiz and an occasionally annoyed older brother. "I needed my space, and he would not give me my space because he needed to be doing whatever I was doing," Marty says.
Philip was driving home from Concord High School on December 12, 1984, a Wednesday, when an oncoming car driven by an 83-year-old man on a restricted license didn't turn when the road did. Philip, 16 at the time, swerved, but the two cars collided nearly head on.
A photograph on the front page of the Concord Tribune showed the driver's side quarter panel of Philip's car ripped almost completely from the frame. The force of the collision creased the roof of Philip's car, pushed his door inward, pinned the car against the guardrail, and left him trapped inside.
Two of Philip's passengers and the other driver suffered minor injuries. Philip suffered catastrophic head injuries. The family considers the fact he survived a miracle.
***
EACH YEAR, approximately 52,000 people die from traumatic brain injuries in the United States.
Another 2.5 million visit the emergency room. The Centers for Disease Control and Prevention says more than 5.3 million people need long-term or permanent care for TBI.
"Your brain is everything that you are. If you damage that brain, you have, in a very physical sense, changed who you are as a person," Marty says.
The effects of TBI are so unpredictable there's a saying in the TBI community: If you've seen one head injury, you've seen one head injury. The masks at Hinds' Feet affirm that. Each one tells a story distinct from the next.
And the lives behind the masks are equally complex—normal outside appearances often cover perplexing problems on the inside. There's a member named Eric. He has a thick handlebar mustache, a deep, rich voice, and memory problems similar to Ryan's, though not as profound. Before moving to Charlotte, Eric lived in Dallas, where after his injury he worked a menial job at the airport. Eric hitchhiked to work every day and kept a journal in which he wrote details about everybody who picked him up. But he can't live on his own, and he's never going to be any better than he is now.
Another Hinds' Feet member found a job at a grocery store but he got fired after showing odd behavior, which included the fact that whenever he walked underneath signs, he couldn't help but jump up and smack them. It took months for him to learn to stop doing that. The part of his brain that governed impulse control no longer worked.
The two leading causes of TBI are falls and car crashes—things you can't plan for. But sports injuries are a common cause, too, and in some of those cases, injury is avoidable if proper helmets are worn. To raise awareness about that, Foil and other members of the Hinds' Feet staff travel around the Charlotte area talking to students about the importance of helmet safety. They bring helmets as props.
One comes from an F-16 fighter pilot. The man who gave Foil the helmet volunteered at Hinds' Feet Farm. He is the same age as Philip, with great kids, a great career, and a great wife.
As Marty got to know the pilot, he thought about Philip's lost future. He had to step back to collect himself. "I've got to stop thinking about the sadness of not ever getting to grow up and have an adult relationship with my brother. Because I won't," he says. "I'll have a caregiver relationship with my brother, which is entirely different. Is he still my brother? Sure, he's my brother. But I'm never going to go bang back beers with him. We're never going to sit around and bitch about our kids or the dogs or work. That sucks."
***
ONE DAY THIS spring, Philip sits in a wheelchair, and his father, Martin, sits in a chair next to him. They are in the library of the home where Philip grew up, the same house to which he was driving when he had his accident. In the 30 years since he came home, he's seen a steady decline in functions, to the point now where he has almost no mobility. The family plans for Philip to live here until his dad passes. Then he'll move to the house at Hinds' Feet Farm. (If a family can afford the cost of in-home care and it's safe, it's considered best for a person with TBI to live at home.) Philip has glasses and a goatee. Marty sometimes jokes with him about this, because Marty can't grow one. Philip's blond hair is brown now, and it's thinning a bit, another source of ribbing from his brother.
Carolyn "Puddin" Johnson Van Every Foil dreamed up Hinds' Feet Farm, and now her portrait hangs in
Puddin's Place.
Martin calls his son "sweetheart" and uses his right hand to hold Philip's left. Philip can't speak, but he communicates with hand gestures and understands what is happening around him. He points his right thumb up when he is told he looks like Marty. Eventually an in-home caregiver wheels Philip away so he can rest.
In the months after the accident, Martin and Puddin visited Philip at the hospital in shifts—Puddin in the morning, Martin in the afternoon. Days turned to weeks and months, with little change; Philip remained in a coma. Puddin kept notes about every visit. Martin says he thought about writing a book about what he saw and experienced in those bleak days in the hospital—answered and unanswered prayers, unbelievable miracles, and all-too-believable realities. He even picked out a title: "The Waiting Room."
Puddin caught the flu and couldn't see her son for weeks. When she returned to the hospital, she arrived at the door of his room. At the sound of her voice, Philip, still in a coma, sat up in his bed. He held his arms out in front of him. She rushed to him, hugged him, and smothered him with kisses.
Martin visited the hospital so often he was given a doctor's pass to make it easier for him to fi nd a place to park. About four months after the accident, Martin saw the neurosurgeon in the parking garage. The father confronted the doctor for not spending enough time with his son. Did you know Philip can respond to commands with his hands? Martin asked. The neurosurgeon had no idea. The doctor spent half of the next day with Philip, after which he declared him officially awake.
"Are you ready for this?" Martin says now.
His voice catches.
"It was Good Friday."
Martin says he sees God's hand throughout this three-decades long experience—in property and building material and a million other little things that dropped into his and Puddin's and Marty's laps like manna and quail from heaven. But his son waking up on Good Friday? The dark day of death that led to resurrection now foretold his son's survival. "I've never gotten over that," Martin says.
Philip moved from the hospital to a rehab facility in Charlotte. One night, Martin was home in bed when the phone rang. It was a woman at the hospital. Her daughter had been in a car accident. She had heard that Philip's survival was a miracle. She wanted one for her daughter. Martin—who later would serve as chairman of the Brain Injury Association of America, would help create the International Brain Injury Association, and would testify before a Senate appropriations committee so many times he got to know some of the lawmakers—climbed out of his pajamas, put his clothes back on, and drove to the hospital to talk to her.
He found her drinking coffee in the cafeteria. She asked him to go see her daughter in the emergency room. She didn't like what doctors said about the extent of her daughter's injuries and wanted his opinion. He went into the room and came out. He told the woman that her daughter's injuries were worse than Philip's.
She asked him what she should pray for. "I think you should pray that God will do whatever is best for your daughter," he told her. "If He thinks she should live, she will. But I'm here to tell you that there are worse things than death. And [sometimes] that's survival."
The woman thanked him. Martin went home. "The next day she died," he says of the daughter, "which was a real, real, real, real blessing."
***
OVER THE NEXT nine years, Martin and Puddin grew frustrated with the care Philip received at the rehab facilities where he lived. They moved him from Charlotte to Houston to Atlanta to Durham, always seeking a better place. But in an essay posted on Hinds' Feet Farm's website, Puddin says her son suffered verbal abuse from the staff in Charlotte, was assaulted by a roommate in Atlanta, and suffered from neglect in Durham.
Martin and Puddin decided to move Philip home. They started dreaming about opening the type of facility they wanted for Philip but couldn't find.
For years, Martin and Puddin looked for land in the Mount Pleasant area because the company Martin ran, Tuscarora Yarns, is headquartered there. They couldn't find what they wanted. "Early one morning, I was awakened by words pounding in my heart: 'You are looking in the wrong direction!' " Puddin wrote.
She told Martin they needed to look for property in Davidson. They got a real estate agent, drove around on a Friday scouting property, and found a parcel they liked between Huntersville and Davidson on Black Farms Road. The property didn't appear to be for sale, though. Martin instructed the agent to find the owner. "You're going to put The Godfather on him," Martin told him. "You're going to make him an offer he can't refuse."
The agent called a couple of days later. "You're not going to believe this," he told Martin. "A sign just went up." Martin called the owner, met him on the property, told him to name his price, and said yes to it. They had a handshake agreement before they left.
Now Puddin needed someone to run the facility. Again she woke up to a voice telling her what to do. This time it said, "Ask Marty." That troubled her. Her oldest son, the one Philip adored, had a successful career in the software business, and she was hesitant to suggest that he walk away from that. He had a wife and two young daughters (they are in high school and college now). She asked him anyway, unaware he was looking for a career change and felt called to help his brother. He took the job his mother offered.
***
AS PLANS FOR what became Hinds' Feet Farm progressed, Marty called Puddin and said he had an idea of what to call their unnamed facility. She said she had an idea, too. He knew from the tone of her voice that whatever idea she had, that's what the name would be. She quoted from an Old Testament book called Habakkuk, verse 3:19: "The Lord God is my strength, and he will make my feet like hinds' feet, and he will make me to walk upon mine high places."
Hinds' Feet Farm opened as a day program in 2007. Members are not called patients, and they vote on which activities they will do, from bowling to going to the YMCA to tending to horses on the farm's 36 acres. The day program offers cognitive, creative, functional, emotional, physical, recreational, social, and vocational workshops. A second day program opened at a church in Asheville in 2009.
As the day programs got up and running, Puddin continued to develop a grander vision for Hinds' Feet Farm. She wanted to build a home for people with the most severe traumatic brain injuries. She wanted to prepare a place for Philip to live when his parents could no longer provide that. But there were delays. The Foils wanted the home to be perfect, and that meant going through several architectural renderings. The design took seven years.
Puddin would never see the home become reality. In 2010, she died of cancer. Marty delivered her eulogy. Standing in the First Presbyterian Church in Concord, the same church where his father taught Sunday School and served as a deacon and elder, Marty said that in Puddin's last days, the family read to her from her Bible. Her handwriting filled the margins. They found names of her friends and loved ones, next to verses that she thought applied to what was happening in their lives. "She truly cared," he told those who gathered in the church. "And what is caring but another word for love?"
That love came back to her. After her funeral, more than $200,000 in donations poured in, and the money was used to build the house at Hinds' Feet Farm.
Her death made possible her dream home for Philip.
The home opened in 2012. The board christened it Puddin's Place.
***
ONE DAY in April, Marty walks through Puddin's Place. Members and staff talk in the kitchen as they make cookies. Soft light pours in from seemingly every direction. Dark brown hardwood floors— with planks more than 100 years old that came free of charge from a demolished mill—give the common areas the feel of an ornate mountain lodge.
Marty tells a story about walking through Puddin's Place with an inspector. Looking at a checklist on a clipboard, the inspector asked Marty where the soiled linens were kept. Marty told him they didn't need such a space, that they'd throw the sheets right into the washing machine. That Puddin's Place would look like, smell like, and feel like a house, while also providing world-class care for the people who live there. It is a home, Marty says, something he wants to be flawless inside and out. He can barely fathom a question about soiled linens.
"I told all of [the employees]: If I ever walk in this house and it smells like that, I'll fi re every damn one of you. There is no reason, there is no reason at all, that this house should smell like anything more than clean laundry, baking bread, ribs in the stove, spaghetti, whatever."
He wants dignity and respect for the people who live here. Philip lived in places that treated him with neither. That will not happen at a place named for their mother. "They've had all their quality of life taken from them. So we are doing everything we can to overcompensate in other areas," Marty says. "Just because they're disabled doesn't mean they don't deserve clean sheets and a house that smells like a house. That's down there with the damn Bill of Rights, brother."
***
ONE LAST STORY, about how Puddin got the name Puddin and thus how Puddin's Place got the name Puddin's Place. She was one of four girls in her family, and when they were young, their father gave each of them a boy's nickname. He dubbed her Pete, short for Peter, which the Bible says means "rock." One day, her dad came home from work and greeted a housekeeper who was holding her. He asked how his little Pete was doing. This here ain't no Pete, the housekeeper told him. This ain't nothing but a little puddin'.
On the outside, she was Puddin—a gentle Southern matron, radiating sweetness and light, praying over the names in her Bible. But underneath, she was solid. "My mother had a pain threshold like a herd of water buffalo," Marty says. "There was no amount of grief or pain that she could not absorb, either of her own or on behalf of someone else. She was like the iron lady."
Marty and Martin are tougher on the outside. They chew out inspectors and neurosurgeons and make off ers people can't refuse. They wonder aloud what in the hell is wrong with some people. But a lifetime of giving themselves away, for Philip and others like him, reveals soft hearts.
"I have discovered the meaning of joy out here. Not happiness, but joy," Marty says. "Happiness is a fleeting moment. Happiness is a fleeting emotion. It comes and goes. You can't be happy all the time. Joy is a state of mind."
Members come and go from the office as Marty talks. He wonders what Hinds' Feet's next big project will be. They seem to come every few years. A renovated cottage on adjacent property will open soon as a home for people whose injuries are less serious than those who live in Puddin's Place. Marty wants to open another day program after that. Maybe in Wilmington.
Meanwhile, in the arts and crafts building, members talk about their favorite songs from the 1980s and 1990s; for many of them, their preinjury memories are intact, and those are the decades they remember.
In Puddin's Place, work in the kitchen goes on, the pleasant smell of fresh-baked cookies filling the air. Down the hall, one of the six bedrooms remains empty. It's called the bluebird room, because, as Martin says, "Puddin's favorite thing in the whole world was bluebirds."
The empty room belongs to Philip. It's ready for him, whenever he needs it.
Matt Crossman is a writer in Charlotte. He can be reached at mattcrossman.com. Follow him on Twitter at MattCrossman_.
HINDS' FEET FARM
14625 Black Farms Rd.,
Huntersville
704-992-1424