Being at the Convention Without Being at the Convention
I never did make it to the actual Democratic National Convention. But I'm pretty sure I didn't miss a thing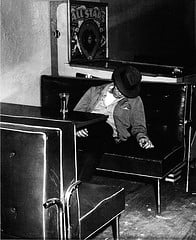 When somebody asks, and they will, about my most lasting memory of the 2012 Democratic National Convention, I'll tell them it came around 1:55 a.m. Wednesday after a 12-hour shift, when, blocked on every side by a dignitary's approaching motorcade (surely making way for Spartacus or somebody equally important), I had but no choice but to find a bar on Montford Drive to wait it out, and the one I picked happened to be inhabited by ten people, maybe more if you count the guys cleaning up in the kitchen, and four of those people were drunk on Jagermeister, and two were having an intense discussion about the legs of Cirque du Soleil dancers ("Like fuckin' hams!") and then moved on to the best ways to deep fry an Oreo, and I sat by myself at the end of the bar drinking an OMB Copper with the music off and the lights up, thoroughly dazed by the cops along Tyvola Road that were indefinitely impeding the only possible way home ("Shut your engine off, gonna be a while" one had warned), wondering if I might just take a little nap right then and there, resting my head ever so gently on my hand as not to pick up any stale beer or grime with my cheek, all while trying to avoid piquing the interest of the only bartender in the place who would surely make me leave if he saw me sleeping.
That is my DNC story. I don't have a better one than that.
I was not in the arena when President Obama spoke. I did not walk alongside long-haired snarky-signed protesters. I did not see Zach Braff. Instead I spent most of the convention sitting in a half-empty newsroom, staring at a screen, watching Tweets. Once, on 15 minutes notice, I got to interview Jesse Jackson via webcam ("Keep hope alive," he told me in closing). Mostly, I listened to most of the speeches through an earbud while I monitored the audio of one of many feeble Occupy marches streaming through my computer speakers and updated a Twitter feed. It was a digital solution in digital times. You can be at the convention without being at the convention.
The people who got to be at the convention, as far as I can tell, got their pictures taken in front of some sort of dramatic background, whether it be the convention floor or from a suite overlooking the arena, or next to a famous person. Just today, a friend of mine got a snapshot with a smiling Al Sharpton, who was about to board a plane in a three-piece suit. Those people got to listen to sound checks from James Taylor and got to see Gabby Giffords deliver the Pledge of Allegiance and got to feel Bill Clinton implode the space with his charisma. I watched on my little screen. One of my buddies from D.C., who had credentials to be in the arena, gave up after the fire marshal locked the door at seven on Thursday and decided to walk into a bar up the street instead. And to think, he came all this way and didn't even get a decent Facebook profile picture out of it.
The people who got to be at the convention got speech after speech after speech. It all kind of runs together after a while. Steny Hoyer is Charlie Crist is Tom Vilsack is Donna Edwards and they're all making their points and it turns into this long stream of consciousness about jobs and freedom and the problem with the other guys. Sure, I could listen to John Lewis and Barney Frank and Jennifer Granholm (!) all damn day because Lewis is remarkable and Granholm is a wee bit crazy and YOU DO NOT WANT TO TUSSLE WITH BARNEY FRANK. Especially when he goes off-prompter.
There were problems. The threat of rain and Republican indignation forced the president's big speech inside, to Time Warner Cable Arena, which has about a third of the seats of Bank of America Stadium. Democrats hastily added the word God to their platform after somebody (indignant Republicans) pointed out that it was missing. And we still don't know how the host committee's fundraising is going. I'd probably be called indignant or Republican for asking.
And yes Bill Clinton was the Clintoniest he's been in years and Julian Castro is an up-and-comer who might have launched his campaign for 2016 Parent Trap President, and Michelle Obama looked great, and the president spoke for 33 minutes and brought the crowd to its feet and not once did he mention Charlotte, but this morning everybody who lives here is high-fiving other people who live here, regardless of the fact that political conventions are waning in influence and relevance and that there's a big mess to clean up. They, the Democrats, used us. And we loved it.
Again, you think, you weren't even there. Oh but I was. I was in the Charlotte that the convention didn't get to, the Charlotte that still had to go to the gas station and pick up dry cleaning and pay the bills. I've been here all along. This week, I was out of town, covering my own town, which was turned into Six Flags over Blue State. I watched it from afar, in the same way you might watch a baseball game from a press box. I was separated from the masses by a comfortable distance. I could look at a screen and report what I'd seen. Sure, I missed the weird campaign pins ("Sluts for Obama!") and the woman who wore a dress that consisted of nothing but a screen print of Barack Obama's face. But other people saw them and posted pictures and then made catty comments about them. I was worried I'd miss the little details. Instead, those little details were retweeted over and over again. It's now impossible to stumble upon something at the convention that somebody hasn't already snapped with their iPhone.
It's hard to grasp the totality of it, this huge thing that moves like a school of fish in a fishbowl. There is no reason to try. The easy part is listening to what's being said on stage and then trying to figure out what it REALLY means. The interesting stuff is probably happening in hotel lounges and backstage hallways and bank accounts, and that's not the stuff you can see or hear. Besides, everybody's got their own agenda, and they're pushing it, and so what you end up with is a mismatched pile of junk instead of this zen garden of smooth, polished pebbles.
I got to interview (also on Google+, also on 15 minutes notice) Dave Barry, the Miami Herald's humor columnist and the guy whose writing led me to choose this career. Barry said there's no possible way you can possibly make sense of something this size, so the best you can do is wander around and look for the funny stuff. It is like, when assigned to write a story about the planet Earth, focusing solely on beetles that live in Albania. You miss the big picture. But there's no possible way NOT to miss it.
Still, I had to try.
Thursday night, I finally ventured uptown. I drove a shuttle van to pick up my colleagues, zombified after 12+ hours and 3+ days of nothing but convention coverage. I let someone drive back and I wandered around the streets and flitted among the concrete barriers. I saw things I had never seen before in Charlotte. I saw the CNN Grill. I saw police officers watching every square inch of sidewalk. I saw metal barriers around everything, funneling people with lanyards into, say, BLT Steak.
I met up with some journalist friends at Connelly's, and we sat outside on stools with skyscrapers looming overhead, and we talked about everything we'd witnessed. Some friends of friends walked up, and one from Denver asked what Charlotte was like. I stuttered for a second. I had no idea. The whole concept of Charlotte was suddenly so foreign to me that I had nothing to offer. I said I liked it here. Then I took a sip of my beer and waited for someone to change the subject.
Later, I told my story about the roadblocks and the desperation and the bar. And the whole time I was thinking about how tired I was and how much I missed my wife, who I had seen for a total of maybe 30 seconds each day, and how I just wanted to go home. And now that the DNC is over, finally, I can.