Being District Attorney: Peter Gilchrist Looks Back
After an impressive thirty-six years in office, District Attorney Peter Gilchrist is stepping down. A look back at his career arc shows the evolution of the office—and the dramatic challenges that await his successor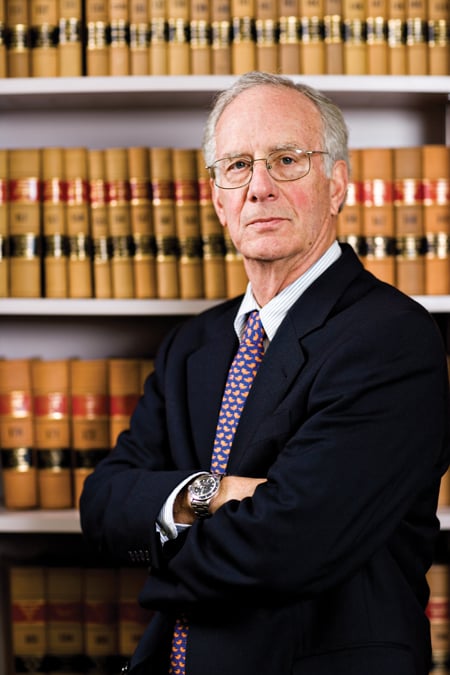 A narrow, long hallway leads to one of two offices belonging to Peter S. Gilchrist III, this one in the aging County Court Office Building that he refers to as a "rabbit warren." At the hall's end, the door on the right presents a crooked, yellow Post-it note on which someone has drawn a smiling cartoon face and written "Peter" underneath. The playful image contrasts with the man on the other side of the door, who, after thirty-six years as Mecklenburg County district attorney, has become a local icon and, today, is dressed like one. His immaculately pressed summer pincord suit and white, starched, Oxford cloth, button-down shirt are accented by a bright blue tie covered in sailboats.
A long-running fuzzy head shot in The Charlotte Observer has made Peter Gilchrist's face difficult to recognize, much as the official quotes he issues routinely obscure his personality. Who is the person sketched fancifully on the Post-it? How about the fellow who, before he married Anne Phillips in 1980, was known as Charlotte's most eligible bachelor? Or the blade who was given to cruising the town in his International Scout—the original off-road, sport utility vehicle, with buckets for seats? How do the person and his public office coalesce? Reputed by those who know him for an unflagging sense of humor, the man behind the door reveals little in the way of private particulars. Instead, conversation with Gilchrist traces a nine-term career as a public official inseparable from the evolution of the Mecklenburg County District Attorney's Office during the same thirty-six years. It also anticipates the extraordinary challenges his successor is about to encounter.
Recollecting his early years as a prosecutor, Gilchrist sits upright in a leather-covered straight-back chair, the calf of one leg crossed over the knee of the other. His voice is surprisingly soft for a trial lawyer, his accent of the refined, mid-Atlantic variety that dialect coaches can't convincingly cultivate in actors they train. He recounts how he moved from his starter career as a CPA to the court system. His intent to assume control of his family's business was sidetracked in the late 1960s when the small chemical company his grandfather started was sold. Turning to his Duke University law degree, he began working for Judge Willard Gatling in a special Mecklenburg family court. Despite the 40 percent pay cut, he says he preferred working for the public good rather than for the elite few who could afford a CPA. At the time, most matters handled in Gatling's court involved juvenile bike theft or lapsed child support payments, nothing like the degree and frequency of violence typifying a caseload in Mecklenburg County today.
Even counting this trial experience, by the time Gilchrist took office, he had spent relatively little time in the courtroom. But, as long-term friend state Superior Court Judge J. Gentry Caudill observes of him, he was a talented trial lawyer, handling the high-profile cases. Having temporarily left the court system in 1968, Gilchrist accepted an invitation in 1970 to work for Tom Moore, the newly elected chief solicitor, the title now known as district attorney. Although a Republican, Moore thought highly of the Democrat Gilchrist's ability. When Moore passed up reelection in 1974, Gilchrist defeated two other Democratic primary candidates in his bid for DA, 
J. Reid Potter and J. Grover Lee II, but had no Republican opponent. He has run unopposed by either party ever since.
What thrilled Gilchrist more than anything about trial law was the intellectual challenge of putting together a case. He describes the process as "constructing a building someone can't tear down." How can the pieces of available evidence be assembled into a coherent structure for the jury so as to minimize whatever gaps threaten to topple it? How can the most obvious of those gaps be filled and subordinated so as to preserve the structure? Preparing for attack from the opponent requires discerning where the pieces of the puzzle don't quite fit. The strategizing, he says with palpable enthusiasm, is "sorta like a chess game."
"We stress—I stress—that our job is to do the right thing. And opinions can vary on that. But our job really is to do justice."
Shortly after his election in 1974, Gilchrist took on a chess game whose magnitude and wider significance would help define his tenure. John J. Ryan, then recently dismissed vice president of Southern Bell of North Carolina, accused the company of skimming funds from executives above a certain salary level and then illegally transferring the money to political campaigns. In 1975, Gilchrist asked the U.S. attorney general's office for an investigation, which, a year later, led to an indictment against Southern Bell on charges of falsifying records. In addition to the help of one federal attorney, Gilchrist had three trial lawyers on board from his own office. Southern Bell had a large, formidably talented team. By the trial date, however, Gilchrist had offered immunity to several witnesses who were prepared to testify against Southern Bell and had entered subpoenas for the governor, senators, state representatives, and the president of Southern Bell. Checkmate.
Gilchrist has a habit of citing the day of the week on which a particular trial began, as if that one detail is a key unlocking a memory bank. This trial, he recalls, "started on a Monday," the Honorable Lacy Thornburg presiding. Southern Bell's legal team had added Bill Walker, a seasoned lawyer with the Charlotte firm Moore and Van Allen. Seeing that Gilchrist would win and, in the process, embarrass a number of politicians and executives, Walker advised Southern Bell to settle out of court. Although individuals at Southern Bell escaped prosecution, Gilchrist saw to it that the company as a whole pleaded guilty to falsifying records. Southern Bell paid a fine of $270,000, a seemingly paltry sum today that, thirty-six years ago, was substantial.
This victory heralded a new era in the workings of the DA's office, which, in Gilchrist's early years, were often slipshod. His predecessor, he recalls, would go to the clerk of court's office every Monday through Thursday, pull out a stack of files measuring seven inches, and deal with those cases on that day. At the time, two codefendants might be facing trial, each in one of the two courtrooms available, on two different days. An investigating police officer would round up witnesses on a moment's notice and bring them to court, where they might be interviewed for the first time on the stand. Contributing to the crude system Gilchrist inherited in 1975 was the unavailability of case files. "We didn't have a district attorney's file," he remembers. The clerk's file "really had no information about the case other than the charge. It was a very primitive way to operate when I first started, and I think justice certainly suffered."
At age thirty-five he took office intending to have the county's courts renovated and in good working order within two years. "I really believed that, having my background and having tried the cases and seen what I thought were the flaws in the system, I could fix the court system in two years, and then I'd go do something else." He shakes his head. "The pride of youth. But I really did think I could do it and knew what all the answers were." A few years later, in 1977, just when he thought he'd accomplished many of his projected goals, he took advantage of a program offered by the National District Attorneys Association that sent a staff person and four elected DAs from other locations to assess a DA's office and make recommendations.
One of the main suggestions was that Gilchrist get out of the courtroom and move into administration, which, as the county and the case loads kept growing, demanded full-time attention.
Although Gilchrist followed the consultants' advice and began backing out of trial work, he continued to try select cases until a few years ago. He is especially remembered for his aggression, from 1985 to 1989, toward Charlotte's adult bookstores, movie houses, and low-budget motels. "It was not something I really wanted to take on," he says. "I knew substantial resources would be invested in it, particularly my time." But he felt compelled to rid neighborhoods of what he describes as "depravity itself." "We had some pockets in this community of people disseminating obscenity that went beyond just sales of magazines," he explains. Specifically, quarter booths in the backs of bookstores showed movies, but, worse, "glory holes" cut in the walls dividing the booths allowed for anonymous sexual encounters between strangers. The books, magazines, and videotapes sold in the stores were a front for the mischief in back, which, Gilchrist attests, was backed by organized crime. One known member of a criminal ring was monitored flying weekly between Charlotte and Baltimore with an envelope full of cash from the lucrative stores.
The DA's office worked out a strategy with police. An undercover officer would purchase illicit material from a store clerk, and then turn the material over to Gilchrist for potential prosecution. Upon arrest, the store clerk in question would be presented with a letter that outlined a plea: a suspended sentence in return for testimony about the out-of-state crime bosses. Lawyers for those bosses rushed in to post bond for and represent the clerks, discouraging them from accepting the plea bargain while assuring them that the First Amendment would shield essentially any criminality. Knowing that the lawyers were interested in protecting not the clerks but the criminal organization that was paying them, the DA's office drove a wedge between the lawyers and the clerks by threatening the clerks. "We had to break that relationship between employers and employees," recalls Gilchrist. "We squeezed 'em," he says today of the blunt language the prosecutors used with the clerks. "Now you are going to get to experience all this stuff that you've been seeing on these videos first hand in the Department of Corrections. Wait till you meet your 300-pound, six-foot-five roommate who's going to decide you're going to be a sex toy." Some clerks caved, and turned against their bosses. Most clerks who stood trial rather than accepted the plea bargain were convicted.
The commodities in question, according to Gilchrist, easily qualified as obscene. "The judges, you know, they had to sit through two or three days of this stuff [that made you want] to go walk through a carwash. [You] felt like the only way you could get clean was to be spun by a bunch of big brushes, head to toe." Once the upper management of the criminal organizations was brought to trial, defense lawyers imported expert witnesses to speak to First Amendment rights. When an attorney arrived from Denver to serve as lead, Gilchrist discovered the attorney had previously defended someone now on his own witness list. After Gilchrist got the Denver attorney removed from the case for conflict of interest, the defendants' fate rested in the hands of an inexperienced associate attorney. Checkmate. The defendants negotiated a plea, resulting in the closing of nineteen bookstores in one sweep.
Since transitioning out of the courtroom and into full-time administration, Gilchrist has exerted no less influence on the county's justice system. He has simply affected it more than ever behind the scenes. His central struggle has been, and continues to be, budgetary. His operation is severely underfunded—not just according to him, but by any objective standard. "We're nowhere near where we need to be," he asserts—with funding 30 percent to 50 percent below any other city in Charlotte's class. "Legal Aid," he adds, "is even [less] destitute than we are." Continually unaffordable technology is especially needed.
Yet his work force has grown since 1975 from fourteen to eighty assistant DAs and from two to roughly fifty-five support employees, and he points with some pride to various programs, including a defensive driving school and deferred prosecution system, that have taken pressure off the courts and served justice by combining the sting of punishment with the mercy of a second chance. Anne Tompkins, now U.S. attorney for North Carolina, saw an explosion of cases during her eight years as an assistant DA in the 1990s. As a result, she says, "the office got so much bigger that the whole structure … changed." So vigilant has been Gilchrist's husbanding of resources that, of his successor, he says, "He's going to have a hard time in my judgment keeping up with where we are. He's going to have to run hard."
Gilchrist says he's rankled by the public's underestimation of just how hard he and his staff are running already. Numbers alone—of charges, trials, convictions, and the like—don't begin to explain the complex, multiple juggling acts within his office. For example, his staff may schedule sixty trials for one week, and only one major homicide case during another. In any event, they are always prepared to try more cases than actually get through the courtroom door. Factors like last-minute guilty pleas, continuances, and long-lasting trials throw off the best-laid plans for use of courtroom time. If, for instance, a case settles just before going to trial, the DA must be ready to proceed to the next case in line; for that reason, he'll constantly overschedule cases, a practice that in turn creates other problems—as when witnesses, held up in the hall while another trial extends beyond the time expected, lose patience and leave, refusing to return when their time to testify finally arrives. Those who have taken Gilchrist to task for inefficiency, he says, don't appreciate the skills he's already deploying. "Scheduling is a tremendous challenge," he maintains.
Gilchrist has also received continual criticism—from within and outside the police department—for not prosecuting enough cases. In 2008 Creative Loafing put him on its list of "The 10 Scariest People in Charlotte" when, some twenty years after his robust pursuit of obscenity, a rapist with more than thirty arrests was released and later assaulted a twelve-year-old girl. Both candidates for Gilchrist's position (the election occurred after this magazine went to press) promised to redress his reputed lack of prosecutorial vigor. Democrat Michael Barnes pitched "community prosecutors" who would cooperate with local police and federal prosecutors. Republican Andrew Murray promoted more restrictive bonds for serious charges. In response, Gilchrist points to his office's success at screening cases for trial, another area that, he suggests, the public often misunderstands. When conflict arises between the police and his office, it usually centers on the difference between the standards for arrest and for conviction: it's "probable cause" for arrest, and "beyond a reasonable doubt" for conviction. Speaking of the police, he says, "If all they can give us is probable cause, and if we have no investigative capability, and if beyond a reasonable doubt isn't there, we can't go to trial." Nor is bluffing possible: defense attorneys, privy to the prosecution's case file, see their opponents' hand and easily recognize which cases stand to succeed in court. Proceeding to trial under those circumstances, argues Gilchrist, is pointless.
He admits that his most common 
frustration on the job is recognizing that a case he'd like to prosecute—and that 
a family passionately wants to see prosecuted—won't stand up in court and must be set aside in favor of another case that may be less morally compelling but promises a better hope of conviction. This kind of choice can still disturb him. "I still have sleepless nights," he says. As ballast, he adheres to the straightforward standard of the reasonable probability of conviction. "Do you have evidence to convict?" he says. "That's the bedrock."
Gilchrist's partiality toward simplicity and practicality surfaces often. As an undergraduate English major at UNC-Chapel Hill, he has background in analyzing literary texts that corresponds with reading criminal cases. Most readers cluster into one of two categories: those who read for plot—whodunit?—and those who read for motivation—why'dhedoit? Gilchrist says he is uninterested in why, a question he suggests can never be satisfactorily answered. His only concern is plot: whether so-and-so committed a crime.
Or, more accurately, in Gilchrist's view, it's to further justice. "I have no idea how I'm perceived," he claims. "We stress—I stress—that our job is to do the right thing. And opinions can vary on that, but our job really is to do justice," not merely to convict. If that statement seems political, ask nearly any of the assistant DAs who have worked with him—nineteen of whom have become judges—and they will say that Gilchrist's commitment to doing right is bone deep. "I've never known a truer public servant," says George Guise, now a major gifts officer at Davidson College, who worked for Gilchrist in the mid-1990s.
Another former assistant DA from the same era, Tony Scheer, has become a criminal defense attorney with Rawls, Dickinson and Scheer. Gilchrist accompanied Scheer during his first day on the job as he was sworn in by a Superior Court judge. Walking back to the old County Courthouse, where their offices were at the time, Gilchrist said to Scheer, "I have very high expectations for what you do in this job. … I expect you to be careful and do justice every day." What struck Scheer about this comment was his boss's focus not on sparing himself embarrassment, but on his deputy's doing the right thing. "It gave me chills," remembers Scheer. "I wasn't young," he says, meaning that he wasn't easily impressed. But to hear Gilchrist put his charge in such "simple terms was"—Scheer laughs at himself for what he is about to say—"it was heavy."
Special Superior Court Judge Calvin E. Murphy, who served as assistant DA during the late seventies and early eighties, narrates another story from the formative years of Gilchrist's administration. The DA asked Murphy to investigate whether a criminal charge against someone Gilchrist knew was substantial and, if not, whether it could be reasonably dismissed. Later, Gilchrist asked about the case, and Murphy said he thought it should go to trial. "He looked at me," recalls Murphy, "and I thought, 'Why did I say that?' Then he . . . said, 'You're right.' "
Experiences like Murphy's serve up glimpses of the man in the office, if not the man behind it. The erstwhile dashing bachelor Gentry Caudill remembers as always having a pretty blonde on his arm remains fair, freckled, and fit, notably fit for someone married to a gourmet cook. "I am the beneficiary of a lot of good food," he says. Anne Byrd Gilchrist pursued her chef's career, from which she retired ten years ago, by the professional name of Anne Byrd. It included a segment about cooking for twelve years on WSOC-TV and a term as president of the International Association of Culinary Professionals, a group that once claimed Julia Child as a board member. Having met Gilchrist on a blind date, she married him when he was forty-one.
At Gilchrist's departure, the office he has influenced so much for the past three and a half decades will confront his successor with more than financial woes and with challenges both inherited and new. Gilchrist cites complex cases and an ever-revolving pool of assistant DAs, necessitating constant training. "Many come into the office for experience, not to make a career out of it. … And when they leave, they're going to the opposite side." Between staffing, scheduling, and screening, he predicts, his successor will be more tested than he's yet imagined. "One of my frustrations," says Gilchrist, "is that the political campaigning for DA didn't involve more substance as to the issues of operating this office."
In view of the vexations constantly facing the DA of such a populous, urban county as Mecklenburg, Gilchrist's staying power is remarkable. Still, he holds the office at a distance. "I never wanted to be in a position where I felt I had to have this job," he says. "Some things are worth more than this. … I am not ready to sell my soul for it." He counterbalances such detachment by embracing the responsibilities of the office, as he sees them. "It's not my job," he reflects about being district attorney. "It's been entrusted to me. It doesn't belong to me. The community has let me have it, and really it is a public trust. I was given something precious and very powerful."