Being Thomas Edison
That's the dream for every would-be inventor. One Charlotte company is helping it become a reality for some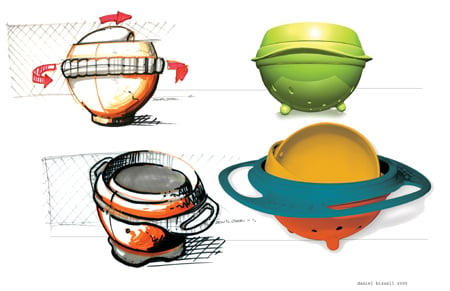 About eight years ago, Brad and Melinda Shepard, a Wilmington couple, were learning firsthand the definition of "terrible twos" with their son Aidan. He "was at the age where he wanted to carry and do for himself, but wasn't at an age where he was good at it," says Melinda.
"He was spilling Cheerios and fishy crackers everywhere."
Tired of vacuuming up snack foods, Melinda looked around at stores to see if she could find a solution. She searched online as well, but to no avail. "I was complaining about it, and Brad said 'Well, I'll just make you something.' He created this bowl. … It was this huge, green, ugly thing."
Brad's bowl rotated closed when turned upside down. "Like Melinda said, it was ugly," concedes Brad, an engineer. "But functionally it worked
really well."
Melinda wasn't keen on their son carrying around an unsightly contraption. "It sat on the shelf in our home office forever," she says. "We would pull it out when friends would come over and go, 'Check this out,' but never used it."
They still believed it was a great and useful concept, though, and often wondered "what if." In 2005, the couple learned about casting calls for a new reality-television show called Everyday Edisons that was going to help ordinary people and independent inventors get their ideas developed into products.
Enventys, a Charlotte-based firm that specializes in industrial design, branding, and advertising, created the show. The Shepards made the trip to a casting call in Columbia. The casting directors were impressed and selected the Shepards for the first season of the series, which
premiered on PBS in spring 2007.
If you watched season one of Everyday Edisons, you'll recall seeing Brad's prototype being modified, enhanced, and beautified over a series of episodes (several months in real time). And then in the final episode, the Shepards were taken on a surprise trip to Bed Bath & Beyond, where the Loopa Bowl was on sale. The spill-proof children's snack bowl rotates 360 degrees—similar to a globe—and conceptually is similar to Brad's early prototype, but now it's pretty, sleek, and kid friendly.
"We had the opportunity to work with the people at Enventys to bring this from a rough concept to a store-ready product," Brad says. "To me, the education of seeing that process has been the best part of the whole experience. The money is great, of course [the Shepards get half of the royalties], but it's such a wonderful opportunity to be able to walk through with professionals from start to finish. And it's really made us realize how much effort goes into bringing a product to market."
"When we look at thousands of ideas for the TV show, and we only choose ten, there are some really good ideas we're not choosing."
That was the goal for Everyday Edisons when Enventys founder and CEO Louis Foreman was hatching the idea. The show, which has won two
Emmys, is in production for its fourth season, scheduled to premiere in April. And along the way, a new business venture was spawned—Edison Nation.
"When we look at thousands of ideas for the TV show, and we only choose ten, there are some really good ideas we're not choosing," Foreman says. "We also recognized that there's a big and growing market for people who have ideas, but don't know what to do with their ideas." That's where Edison Nation comes in.
Tucked away in a quiet part of uptown is a hundred-year-old brick building. It's a place where ideas come to life almost magically. Foreman moved Enventys to the building in 2003. Today it also houses sister companies Edison Nation, Everyday Edisons, and the monthly magazine Inventors Digest—sixty employees altogether.
Inside, the two-story building feels a lot like a science museum for kids. Orange and neon-green walls serve as the backdrop to gadgets and display cases. One wall houses a flat-panel TV that airs episodes of Everyday Edisons, surrounded by dozens of framed patent certificates. Several of the offices have glass walls, creating the feeling that you're looking into a laboratory. On a day in September, staffers were schlepping down the hall a four-foot-tall, 100-plus-pound smartphone replica—a prototype for a new Bank of America kiosk. The break room boasts a Coca-Cola Freestyle, the cutting-edge vending machine with a touch screen that creates mixes from more than 100 different drink flavors. The modern touches are offset by hardwood floors, exposed brick, and open ceilings.
Edison Nation began as a web platform where independent and aspiring inventors could chat in forums and share ideas and resources. But it quickly grew into a force for innovation. The rapid growth is thanks largely to the addition of the live product search in 2008. Large consumer-product companies pay Edison Nation $10,000 to search for product ideas, usually in a specified area. This year it has searched for outdoor toys that can be used for sports activities for Mattel; the next-generation dirty-diaper disposal system for Fisher-Price; aftermarket auto accessories for Pep Boys; measuring devices for Irwin Tools; and products that can be sold in SkyMall catalogs.
Edison Nation members, garage hobbyists and engineers alike, can submit ideas for $25. Edison Nation reviews the ideas based on what its clients want, and then presents the best ideas. If Fisher-Price, for example, chooses an idea, Edison Nation licenses it, and the inventor receives an advance of about $2,500 and splits any royalties 50-50 with Edison Nation for twenty years.
"The inventor doesn't have to file a patent, they don't have to build prototypes, they don't have to incur the financial burden associated with an invention," says Foreman, who also serves as CEO of Edison Nation. "We incur those costs, then we split [the profits] with them."
Two years ago, Betsy Kaufman was leaving a Bed Bath & Beyond in Houston, where she lives. She saw on the back of her sales receipt details about a product search for college dorm room products. With a son in college, she figured she could come up with some cool ideas. The instructions directed her to EdisonNation.com, which she'd never heard of, and while on the site she watched a couple episodes of Everyday Edisons for the first time. "I was impressed with the show, and I know the legitimacy of PBS," she says.
Kaufman submitted three ideas, paid the $25 fee for each, and crossed her fingers.
When people like Kaufman submit ideas, they're able to track the progress through their online accounts, which she says can easily become addicting. None of her ideas were selected, but while on the site one day she saw a product search for "as seen on TV" ideas.
"I'm thinking, wouldn't that be hysterical to have an as-seen-on-TV product in a commercial that says, 'But wait. There's more,'" says Kaufman, a freelance TV producer. "Then a couple of days later, boom, I get this idea for this way to [boil] eggs without an eggshell."
Kaufman says she felt an adrenaline rush when she thought of the idea, and she entered it on Edison Nation's website as fast as she could.
Edison Nation emailed Kaufman shortly after to say a sponsor was interested and ask if she had a sketch or photo of a prototype. She didn't have a prototype, but "who can't draw an egg with a couple of lines where it screws open?" she says. Edison Nation called her about a week later and said her idea had been chosen.
Over the next few months, Edison Nation developed the idea. It sent Kaufman photos of the prototype, color proofs, clips of the infomercial it taped, and even statistical reports from how the product, now called Eggies, was testing in markets.
"They've done everything," she says. "OK, I had the idea and I followed through and submitted it. That is me patting myself on the back. But they've done everything. Without an Edison Nation, I would've had the idea, I would've smiled to myself, and then I would've poured a cup of coffee and forgotten about the idea and done nothing with it."
The finished Eggies product is a small, hard-plastic, egg-shaped container that screws open in the middle. You crack open an egg, pour in the white and yolk, twist the Eggie closed, and boil it. Twist open the Eggie and you have a hard-boiled egg with no shell to peel. Just like Kaufman envisioned.
"From the second that launched, it was a success," says Todd Stancombe, president of Edison Nation. "Out of the gate, you knew it. Those are rare. Most of them you have to work at."
Sold in packs of six, Eggies launched in May through an as-seen-on-TV campaign—two six-packs for $10 plus shipping and handling. In August, Edison Nation announced that the 30 millionth Eggie had been produced. This fall, it began selling Eggies in retail store chains around the country, including Bed Bath & Beyond.
"We have worked with both Louis and Todd for many years and have always found them to not only be creative thinkers but great partners to both us and the inventor community," says Bari Fagin, a spokesperson for Bed Bath & Beyond. "They understand the inventor's challenge to bring an idea to life and at the same time they understand how to bring the final product to market with a retail partner like Bed Bath & Beyond."
Not every product Edison Nation launches becomes a big seller so easily.
The Loopa Bowl didn't take off when it hit shelves in 2007.
"It got checkout presence at every Bed Bath & Beyond," Stancombe says. "I think we may have sold four containers, about 60,000 units," a disappointing number.
But Stancombe and company weren't ready to give up. They decided they would reintroduce the snack bowl through a TV campaign. They changed the name to Gyro Bowl and shot a commercial using company employees and their kids. It worked.
"We put a couple million dollars behind it in media and promotion, and this thing sold 100 containers," about 1.5 million units, Stancombe says.
"It's not easy, and sometimes you gotta tweak. And sometimes you can tweak forever and it never happens."
Which is what might happen to what Stancombe says is the company's best product.
"The biggest challenge in my mind, with this business, is knowing when to walk away."
The Workout 180 is the result of an idea from another season-one Everyday Edisons cast member, Jennifer Holloway from Tampa. Designers and engineers at the company spent a year and a half building and refining the prototype, with the final product launching in August 2008 at Dick's Sporting Goods. It's a piece of workout equipment, about the size of a dresser drawer, that allows you to do more than ninety different exercises.
Edison Nation had high hopes for what the Workout 180 could do in the multibillion-dollar fitness-equipment industry. It hired retired NFL star Jerry Rice to endorse it in an infomercial. Reviews from fitness experts and critics were highly favorable, including Shape Magazine designating it as a "favorite new home-workout tool." It's also been featured in several episodes of MTV's I Used to be Fat.
But over three years in the marketplace, sales for the Workout 180 have been slow. The company has poured in millions of dollars in development and marketing, but is far from having made a profit on it. About 4,400 units have been manufactured, Stancombe says.
"We got what we think is the best product we've ever had, that's won multiple awards, used by any trainer, and the feedback is the same—best piece of equipment they've ever used—but we continue to hit wall after wall after wall," Stancombe says.
Edison Nation has recently agreed to a new launch of the Workout 180 through a deal with a Canadian-based company called Tour Star. Consumers should begin seeing new TV commercials and other advertisements next year. This is likely the product's last chance at success.
"The biggest challenge in my mind, with this business, is knowing when to walk away," Stancombe says. "You cannot fall in love with a product. I'm about to cross that line with this product.
"When you get into products like this, the Workout 180, I would say that you gotta give it an opportunity to succeed, and it hasn't been given that yet," he continues. "The Tour Star [deal] gives it its opportunity. It either will succeed or it won't. And if it won't, we'll raise our hand and say, we were wrong. The market didn't respond. We weren't wrong about the product and its function—we did a terrific job developing it. But for whatever reason the consumer didn't respond. And you gotta walk away."
Mike Drummond, editor of Inventors Digest, a twenty-six-year-old national magazine that Enventys acquired in 2007, would like to see Edison Nation develop products that are more scientific in nature.
"Let's be honest, when you're making, like, left-handed potato peelers, you don't need rocket scientists," says Drummond. "We make gidgets, gadgets, and gizbots. And consumer products, that's—right now—our bread and butter. But there are some aspirations to go higher up on the innovative food chain. Frankly, that's where I have been taking the lead."
Drummond cites the Stark Hand, a prosthetic hand the company is developing, as a positive step. The idea came from Mark Stark, of St. Louis, during a product search. There are several prosthetic hands on the market, but they typically either look real but aren't very functional or are high-end electronic versions that cost tens of thousands of dollars. Stark's idea falls in the middle.
A mechanical designer working for a company that makes gas valves for dryers and water heaters, Stark created a working prototype several years ago for a friend who was born without a left hand. The prototype attaches to a cable that runs from a shoulder harness. Each finger has three knuckles and two on the thumb. The hand attaches to cables, controlled by shoulder movements, that bend and open the fingers. Not only was Stark's friend using the hand successfully, but Stark was also able to get a patent for it. But that's as far as he got.
"I tried to do it on my own and I was getting very frustrated," Stark says. "It's very hard work and it's not easy to make contact with companies. They don't want to talk to you and take you seriously. And I was pretty close to giving up on everything when Edison Nation decided to have an open invention search."
Edison Nation is developing Stark's idea and prototype. You can watch the process next year on season four of Everyday Edisons, in which Stark is a cast member. And he has a little more buzz than his fellow reality show cast members—the Stark Hand was featured in the June issue of Popular Science as one of the magazine's 2011 Inventions of the Year.
All of which, of course, means nothing to the most important element in the process—the consumer. As Edison Nation has learned, there's no predicting the market's reaction to a product. But without Edison Nation, inventors like Stark would be left with a fate worse than failure—wondering, "What if?"