Belk Family Planting a New Legacy With Wild Hope Farm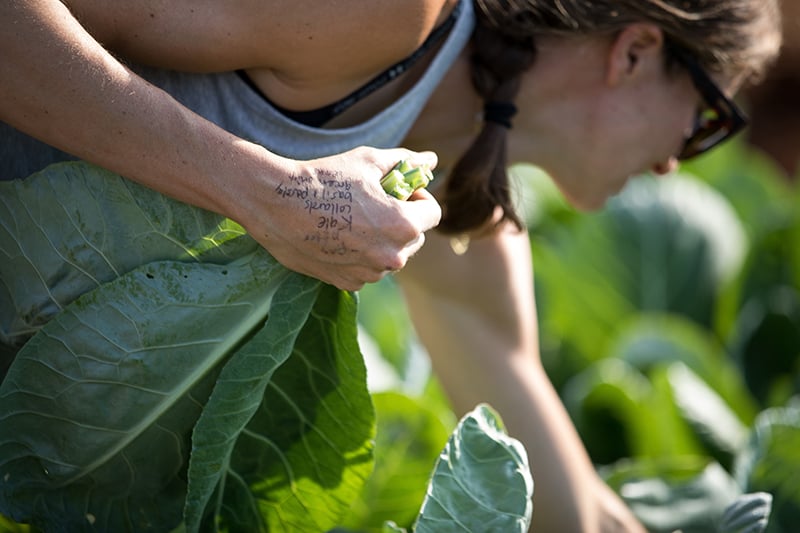 ROCKS SNAP beneath my car tires as they roll down the gravel driveway at Wild Hope Farm. It's noon. Although the sun is at its highest point, the sky in Chester, South Carolina, is dim with globs of dark clouds overhead. I pass rows of crops, their leafy tops poking through the dirt like green flags. Three or four figures are in the field transplanting seedlings from the greenhouse into the soil. It's surprising; the sight is a departure from the lone scarecrow I'm used to seeing in farm-themed decor.
One of the figures, Katherine Belk, breaks away and walks over to my car. It's parked in front of a 40-by-80-foot shed, a mammoth of a building when you consider the average garden shed is 10-by-12 feet. She's wearing a gray T-shirt, a gold necklace peeking out from behind the collar, and she's tucked her blond hair under a Carolina Panthers cap. She quickly brushes the fresh dirt off her hand before extending it to me. Belk is the "farm connector;" the self-appointed title was the best alternative to calling herself the farmer-slash-accountant-slash-events coordinator-slash-marketer-slash-delivery driver.
The farm is 220 acres of green: green grass, green leaves, green crops. Belk's parents, Tim and Sarah, purchased the former dairy farm in 1997. As a girl, Belk remembers coming out here to get muddy, pitching camping tents or fishing for catfish in the 10-acre pond. After the house was built, the property became more of a family retreat. The landscape's soundtrack has always included the subtle ruffling of grazing cows, horses nibbling on hay, and a rooster's shrill crow.
"My mom always had chickens," Belk says. "She was always kind of dabbling in farming." Sarah Belk got a taste of local agriculture from her work with Common Grounds, a volunteer farm stand that was open from 2009 to 2015. After Belk's father, the former CEO of Belk department stores, retired in 2016, her parents decided to turn the Chester vacation home into a working, sustainable farm. "When my parents told me about this vision they had," Belk says, "I was like, 'Oh you know, that's kind of interesting.'"
Her parents had a farm manager, but they still needed another person to help run the business. At the time, Belk was living in Boston with her husband, Peyton, working at a product design firm. There, her focus was designing better products to help people take their medicine, and she realized how much nutrition was missing from the discussion of healing. She was riding her bike to and from work and bought her produce from local farmers. The job requirements of a "farm connecter" were a reflection of all her interests. "I kinda raised my hand," Belk says softly.
Inside the shed, I survey bags of soil, patio heaters, rope, garden tools, stacks of seed trays, wicker baskets, coolers, and cans of paint. A dirt-stained copy of The South Carolina Master Gardener Training Manual sits on a table. It belongs to Shawn Jadrnicek, the farm manager, former manager of the Clemson University Student Organic Farm. He is an expert at incorporating natural ecosystems into farm design, as evidenced by the compost heating system and cactus fence line he's designed.
"He is always thinking about, 'How can we get higher yields? How can we have more organic matter in our soil? How we can put in less effort?'" Belk says. Inside the shed, there's a single conveyor washing system (Jadrnicek's design) that helps reduce the time it takes to wash and refrigerate produce. "Farming, at the end of the day, is exhausting," Belk says. "So if you can reduce the amount of work it takes to accomplish a given task, it can go a long way."
There isn't a single bucket of pesticide on-site. Wild Hope Farm uses organic practices focused on soil health to protect its three and a half acres of vegetables and flowers. Laying hens double as natural fertilizers. Cover crops restore nutrients to the ground and block weeds. These natural systems enhance the soil's organic matter, resulting in healthy, pest-resilient produce.
"We're regenerative, in that we're thinking beyond just our farming practices. We're also thinking of conserving water, trying to conserve energy use," Belk explains. When she leads me inside the greenhouse, she points to the black plastic water barrels lining the perimeter. The water inside the barrels absorbs heat during the day and releases it at night, cutting propane costs.
A man walks past us, the dirt on his pants indicating he's come from the field. Belk flashes him a quick smile. "That's my husband," she says, blushing. Although he works for an environmental conservation fund, Belk tells me, he likes to help on the farm when he wants a workout. Later, I learn Belk's sister is also working on the farm today, and yesterday, her mom was driving the tractor. It feels as though everyone in the Belk family with work boots is here helping out. Overwhelmed by the bucolic landscape, I'm tempted to volunteer myself.
Wild Hope Farm grows enough produce to sell to local chefs throughout North and South Carolina and to run a 100-family farm share. The farm share is similar to subscription meal services, except that you buy produce in advance, typically at the beginning of growing season. Once a week during the 14-week harvest season, Belk and Jadrnicek deliver freshly harvested vegetables, flowers, and eggs to a refrigerated trailer. Subscribers have 24 hours to pick up their produce, accessing the trailer by key fob. Belk, a vegetarian, argues that carrots grown organically, picked when ripe, and delivered to consumers within days (sometimes hours) of harvest have more nutrients. "And so much more taste," she adds.
Wild Hope Farm is not alone in the pursuit of selling quality produce to consumers. This is the story of local agriculture. Except, the farm's story doesn't end here. Belk's speech accelerates and her volume rises slightly as she tells me, "A large part of what I'm interested in is the community side of farming. How can we get people out here to really experience the farm?"
Belk believes she can offer new ways for people across the local food movement to engage with the farm through education and celebration. Gardening 101 workshops teach a basic understanding of agriculture for novices. Farm tours led by Jadrnicek are available to show other farmers how to use permaculture design and regenerative practices. The farm also hosts pickin' parties with live music, juicing events, and yoga. "Getting to speak to people about what we're doing, and educating them on what we're doing and how we're doing it, gives me a lot of energy," Belk says, her hand gently tugging at the gold necklace around her neck. "I'm much more extroverted than your typical farmer."