Belk's Modern. Southern. Style.
Why the nation's largest privately owned department store thinks it's good to be Southern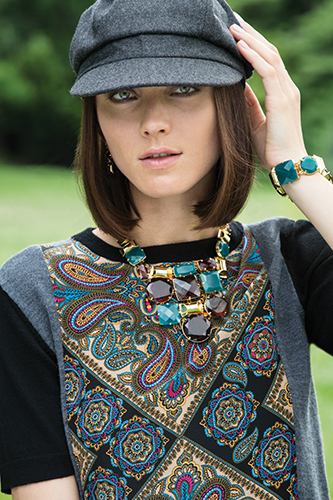 In the fall of 2010, Belk re-introduced itself to customers. The store changed its logo from traditional script to lower-case plain letters—"sans serif" for typography buffs. It also nailed its identity firmly to the South with a new tagline, "Modern. Southern. Style."
With hundreds of stores throughout the South and a history dating to the 1800s in a small town outside Charlotte, the family-owned company went for a bulldog grip on "Southern." The word landed smack in the middle as the nerve center of the brand. A translation could read: "Southern. This is who we are. Period."
Four years later, is it working? In an era when corporate identity often relies on clever words—think Google, Yahoo, or Amazon—tying one's brand to a region of the country has its risks. The previous tagline—the innocuous "All for you!"—did nothing to separate Belk from top competitors (Dillard's, Kohl's, and Macy's). Customers could argue any favorite store delivers "all for me."
With the change, Belk stepped out of the crowd and went for something authentic. Although the nation's largest privately owned department store chain—with more than $4 billion in sales in the most recent fiscal year—could have toned down the provincialism to position for expansion outside the South, it drew closer to its roots.
"It's really been fabulous for us—it has helped our whole organization rally around a single idea," Jon Pollack, executive vice president of Belk, says about the use of "Southern" in the tagline. "It helps keep us focused, both in terms of our assortment, in terms of our marketing focus, in terms of how we behave, and in terms of how we approach business." The concept took a year to develop and was endorsed by the Belk family, many of whom live in Charlotte, including the two brothers who oversaw the rebranding.
Pollack has a clear idea of what Southern means. "Family is very strong here—faith and family," he explains. The South's legendary hospitality is also important to Belk's corporate climate, as is community involvement.
That explains "Southern," but what about "Southern style"? Pollack says Southerners keep the bar high. "In the South, we're not sloppy," he explains. "We care about how we look, but we don't overdo it. When you live in the climate that we enjoy, you can't be too stuffy."
Understanding Southerners gives the company a unique advantage. The Belk family survived the devastation of the Civil War and has weathered widely publicized feuds. The men of the third generation are in their 60s, and they are affirming a core respect for their Southern roots.
"We think 'Modern. Southern. Style.' can stand the test of time," Pollack says. "We believe we own that."
***
What is Southern Style?
Sassy and respectful, elegant and polite. And graceful. Always graceful
If you've spent time in New York, Los Angeles, or Chicago, you know that Southern style is distinct. New Yorkers make black beautiful, Angelenos mix California cool with Hollywood glam, and Chicagoans erupt in color at the first sign of melting snow. So what about Charlotte? What defines Southern style?
That topic could probably fill a book, so let me suggest an unexpected place to start: grace. There are certain non-corporeal qualities about Southern style, whether in fashion, homes, or even the giving of gifts. Self-effacing humor, respect for the past, and a dose of sassiness are hallmarks of stylish Southerners. Those with grace transform an outfit that looks good on a mannequin into something beautiful on a human being. These people know that without elegance, politeness, and generosity of spirit, clothes are just, well, clothes.
Julia Roberts conveys the warmth and grace of Southern culture. More than a pretty woman from Smyrna, Georgia, she dresses in a style that is classy and appropriate. She wears her clothes; they don't wear her. This is a different approach to style than that of, say, New Yorker Stefani Germanotta, also known as Lady Gaga. Her outfits dominate her appearance to such an extent that the clothes seem to wear her.
Fashion designer Oscar de la Renta noted that style is about being yourself, and as Southerners, we know who we are. The rest of the world may not take us very seriously, and our deep past, like a felon's record, raises suspicion in good company. Some outsiders may still describe us as ignorant, intolerant, and long-winded.
But they've never lived in the South, bless their hearts.
Laurie Prince is the contributing style editor for this magazine. She can be reached at laurieprince@carolina.rr.com.