Benny's Opens By-the-Slice Pizza Joint in NoDa
See how big the slices are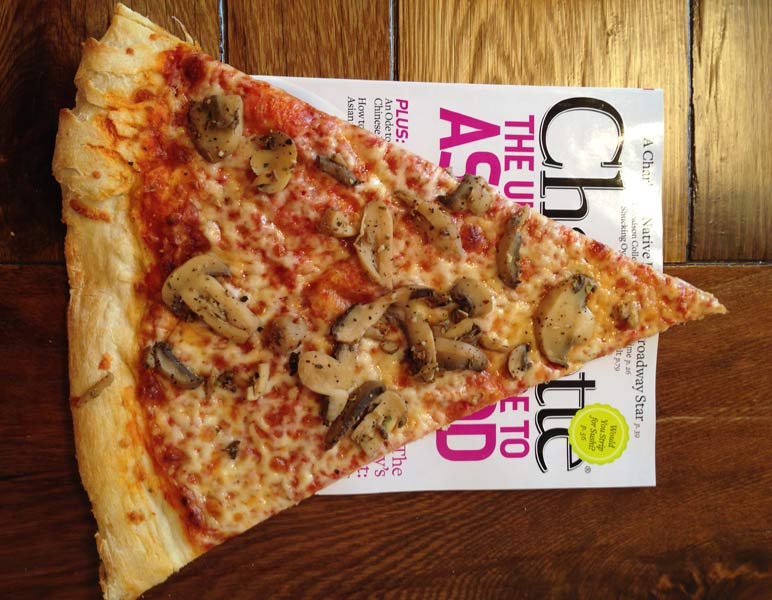 Benny Pennello's opened for its first day of full service in NoDa today, so we had to stop by to see how big the slices really are. Answer? They're a one-and-done-sized slice. Located at 2909 N. Davidson St., right next to Heist's patio, Benny's is serving up slices of cheese ($4) and pepperoni, sausage, garlic mushroom, and buffalo chicken 'za (the slices with toppings are five dollars). Whole pizzas, which measure 28 inches, are $30 for cheese and $38 with toppings. Check them out Sunday through Wednesday from 11 a.m. to midnight, Thursday from 11 a.m. to 2 a.m., and Friday and Saturday from 11 a.m. to 3 a.m. Read more about Benny's from our earlier post here.
To give you some better perspective on what a 14-inch slice looks like, we took photos of a slice of Benny's mushroom pizza next to various items. Editor's note: Please forgive any typos. We're currently in a pizza stupor.
COMPARISON ONE: PIZZA VS. iPHONE 3
COMPARISON TWO: PIZZA VS. NATURE VALLEY BAR
COMPARISON THREE: PIZZA VS. CHARLOTTE MAGAZINE
COMPARISON FOUR: PIZZA VS. COMB
COMPARISON FIVE: PIZZA VS. MY FACE
For more info on the restaurant, check out Benny's on Facebook.