Bernardin's: An Uptown Surprise
Uptown eatery becomes the latest destination for preshow dining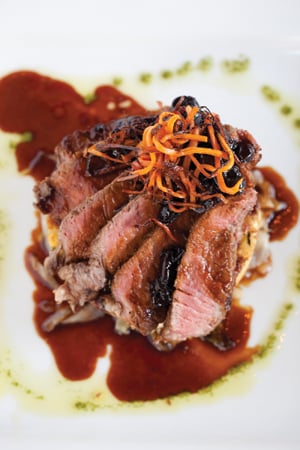 When you're inside Bernardin's, it seems surprising that this former Ratcliffe on the Green space remained empty so long. Located across Tryon Street from the Levine Center for the Arts, the elegant restaurant has already become popular with those looking for a pretheater dinner or postmuseum lunch. And with its arched ceiling, charming dining room, and contemporary American fare with Asian and French inflections, it's easy to see why the intimate space is filled most nights.
Chef and owner Freddy Lee's original Bernardin's opened in 1992 in Winston-Salem and has long been a fine dining favorite in the Triad. The new location offers the same menu, which features delightfully unusual options like pan-seared ostrich with a cumin fennel crust ($26.95) or grilled venison in a lingonberry and raspberry sauce ($25.95).
Appetizers are heavy on the seafood options, with crab cakes, mussels, fried oysters, seared scallops, fried calamari, and shrimp cocktail (those range from $10.95 to $12.95). But the Tuna Tuna stands out from the seafood crowd with slices of seared tuna served alongside a small, glistening mound of tuna tartare. Both are slightly spicy, but the bright flavor of the tender fish stands out.
The menu is diverse, with a selection of soups and salads, as well as a pasta section with offerings like a vegetarian goat cheese ravioli ($16.95) and a rich take on fettuccine with grilled chicken breast drenched in a Gorgonzola cream ($17.95). The entrées, which range in price from $18.95 for a sautéed, Brie-stuffed chicken breast to $30.95 for a grilled bone-in rib eye, offer a large variety of meats and seafood, all of which arrive in hearty servings.
While Bernardin's is open for lunch, the restaurant really shines in the evenings. Changes to the space, like white banquettes along one wall and additional lighting, were minimal but effective for modernizing the main room. At night the room has a convivial atmosphere—especially in the early evenings as servers hurry to accommodate guests who have theater tickets and uptown workers stop in for drinks or dinner. It only recently opened, but with its full tables, familiar setting, and established menu Bernardin's already feels like a local favorite.
Location:
435 S. Tryon St.
704-332-3188
L (Mon-Fri), D (Mon-Sat),