Best Bets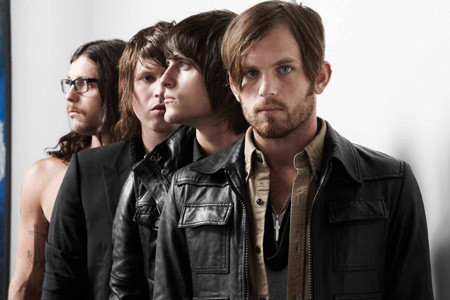 Kings of Leon
These days, you won't find heartache and angst anywhere like you will on a Kings of Leon album. Tennessee's Lonely Hearts Club Band, this group has permeated generational tastes with a blend of Zeppelin-style vocals, nineties grunge guitar, and a hopless romantic appeal that's always up to date. The voices responsible for gut-wrenchers like "Use Somebody" and "Sex on Fire" are hitting the stage with openers the Black Keys for an epic (if emotionally trying) concert. September 10 at Verizon Wireless Amphitheatre. Details here.
Esperanza Spalding
Few jazz vocalists actually bother with singing jazz anymore, but Spalding, the twenty-five-year-old bassist and vocalist has plunged headfirst into the public eye with her crystal-clear voice and nostalgic lyrics. Her concert, sponsored by Sol Kitchen and the Sunset Jazz Festival, is her first appearance in Charlotte, so you'll want to make it to this starlet's inaugural Q.C. performance. September 24 at Knight Theater. Details here.

Harvey B. Gantt Center for African American Arts + Culture
This month, three new exhibits are moving into the Gantt Center for an extended stay. Charlotte Collects African American Art highlights some of the city's greatest art patrons, with privately owned works by Jacob Lawrence and Romare Bearden on loan through 2010. In additional, dual exhibition Protegé displays works by creative abstractionist Sam Gilliam and his long-time student Kevin Cole, each of whom fuse sculpture, painting, and metalwork for a completely original medium. Progeny features nostalgic, sensuous photographs by mother-son artistic team Deborah Willis—winner of a MacArthur "genius" grant in 2000—and Hank Willis Thomas. Details here.
The 39 Steps
The 39 Steps has taken about that many paces away from the original 1915 thriller novel written by John Buchan. Since Buchan's original story, Hitchcock took a stab (in addition to those that appear in the story) with a movie adaptation, followed closely by playwright Patrick Barlow, who added a thick layer of slapstick comedy. It's a tale of espionage, seduction, and, above all, cheeky British humor. Patrick Hanney is an innocent bystander launched by a beautiful spy into a government military plot, but with more than 150 characters and only four actors, we're convinced this will still be a tricky whodunit. September 15-October 2 at Actor's Theatre. Details here.
Time Warner Cable BBQ and Blues
And this little piggy went to uptown to be slathered in homemade barbecue sauce, roasted over a public grill, sliced, and tasted by some of the fiercest judges of barbecued pork in the Southeast. He may not have faired so well, but we think that once you take a few laps around this festival of meat, beer, and music, you'll take to it like a pig to marinade—er, mud. If your athletic streak won't let you indulge in all the carnivorous carnival activities, there's also a 5K Hog Jog. Your loss. September 10-11 in uptown. Details here.
Bechtler Museum of Modern Art
World War II proper may have ended in gunshots and treaties, but the artistic world war lived on in the School of Paris, an international challenge to America's New York School, where Abstract Expressionism had made its home. This month's new exhibit, School of Paris: European Abstraction Post World War II, features the modern, haunting works from some of the school's most notorious students, like Alfred Manessier's painting Dans la flamme qui consumme. The art is both triste and jolie—an artistic mood that needs no translation. Details here.
Yiasou Greek Festival
Last the National Bank of Greece reported, there wasn't too much cause for Greek celebration. But on East Boulevard, at the Holy Trinity Greek Orthodox Church, three days of spanikopita, Greek Dancing, and Charlotte's very own Agora (a marketplace selling Greek goodies) suggest differently. The annual festival brings a taste of the Mediterranean to Charlotte, making for a weekend of food and fun of Herculean proportions. September 9-12. Details here.
Annie
For kids just starting school, it really is a hard-knock life. That's why a show sparkling with bubbly show tunes and an even more bubbly leading young lady might help take some of the dreariness out of their new daily grind. Even if the sun doesn't come out tomorrow, the chances of them (and you) getting that song out of their heads in the next week really does deserve a bottom-dollar bet. September 10-26 at Theatre Charlotte. Details here.
Lady Gaga
Up on stage! It's a sparkling alien! It's a drug-induced hallucination! No … it's Lady Gaga! After nearly two years of listening to her monopolize radio stations with dance anthems like "Poker Face" and "Bad Romance," you've got every syllable of her songs burned into your memory, but still can't figure out what she's saying to save your life. But with everyone distracted by the freakish hairdo and see-through outfits, we think you'll be just fine mumbling along with your own "ra, ra, ooh-la-la!" September 18 at Time Warner Cable Arena. Details here.
Whose Live Anyway?
It takes a pro to imagine what lovers Oprah Winfrey and Albus Dumbledore would say to each other after crash-landing on top of the Empire State Building, but that's why Whose Live Anyway? has become the nationally renowned act you'll recognize from Whose Line Is It Anyway? This is the touring group's eleventh year, but its ability to painlessly weave Albus and Oprah (and maybe even their illegitimate son, Robert Pattinson) into an outrageous, hysterical sketch retains its side-stitching freshness. September 25 at Knight Theater. Details here.