Best Bets
From Spring Awakening to Alvin Ailey Dance Theater, our picks for the top things to do in Charlotte in February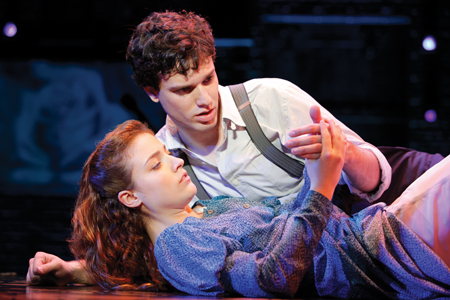 Furthur: Phil Lesh & Bob Weir
They might worship the Dead, but fans of one of music's most classic rock bands finally have something to live for again. Two of the original members of the Grateful Dead (Lesh played bass, Weir was on rhythm guitar) are back together, and they've brought with them a bona fide Jerry Garcia sing-alike to help re-create the band's iconic sound. This is their first tour, but Dead fans are hoping it's far from the last. Feb 10. Bojangles Coliseum.
Spring Awakening
On paper, Spring Awakening comes off as the anti-High School Musical or a truly glum Glee. Instead of shiny, happy, dancing teens, the Tony Award-winning musical's youth sway and stomp while singing about suicide, abortion, rape, incest, death, and general angst. The story isn't new at all; it's adapted from an 1891 German play of the same name. And yet, the central themes work in perfect concert with the modern alternative rock soundtrack devised by songwriter Duncan Sheik. Not a show you'd want to take your grandmother to, but still a can't-miss for Broadway buffs and lovers of edgy artistry. Feb 2-7. Belk Theater.
Charlotte Symphony Orchestra
Christopher Warren-Green (left) doesn't officially take up the baton as the music director of the Charlotte Symphony Orchestra until September, but he's stopping in early to show us what he's made of with a sampling including Verdi's La forza de destino and Rachmaninoff's Symphony No. 2. It's the unofficial beginning of a new era for the CSO. Feb 12-13. Belk Theater.
As You Like It
English teachers have been trying for years to make Shakespeare exciting for tweens and teens. Now, the Children's Theatre of Charlotte is tackling the task, bringing to life the tale of Rosalind, the girl who dresses as a boy and then befriends the boy she's crushing on and helps him think of ways to woo, well, her. It's practically an episode of Gossip Girl already. Throw in inventive use of off-the-stage action and this show is bound to bring a few teens into the Bard's fold. Feb 19-27. ImaginON.
Alvin Ailey American Dance Theater
Every one of the thirty dancers in this New York-based dance ensemble have bodies that double as works of art. Together, they flawlessly combine the energy and cultural richness of traditional African dance with the fluid storytelling of American modern dance. But for their six-day run, the real star of the show (in our eyes, at least) will be Constance Stamatiou, who began her dance career right here in Charlotte as a student at Northwest School of the Arts and a member of North Carolina Dance Theatre.
Feb 9-14 at Knight Theater.
On the radar:
2/3-13 Grey Gardens: The Musical, Duke Energy Theater
2/6 Charlotte Bobcats vs. New Orleans Hornets, Time Warner Cable Arena
2/11-20 Charlotte Squawks, McGlohon Theatre
2/25 Drive-By Truckers, Neighborhood Theatre