Best Bets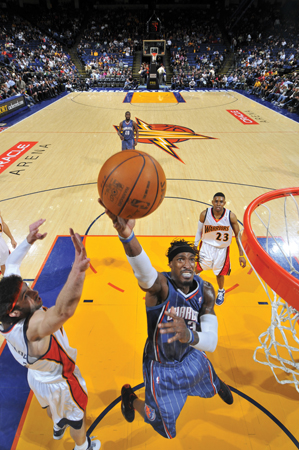 Black Pearl Sings
The premise of this story, set in the 1930s, is simple: young, white researcher for the Library of Congress endeavors to build a relationship with Pearl, a black woman serving time in prison. The researcher is there to chronicle the breadth of folk music that Pearl knows by heart—and thus reveals the true aim of this show: providing a platform on which these gorgeous, haunting songs of African American sorrow, passion, and experience can be performed. Through March 6 at Actor's Theatre. Details on page 31.
Bobcats Vs. Warriors
Davidson darling Stephen Curry and his deadeye shooting touch return to North Carolina soil, but this time he's wearing the jersey of a Golden State Warrior, not a Wildcat. The Bobcats have played well so far in 2010, which makes it easier for us to swallow that we'll have to root against our former collegiate favorite for this one night. March 6 at Time Warner Cable Arena. Details on page 35.
Parsons Dance Company
This New York dance company, founded by choreographer David Parsons, has ten full-time dancers on the payroll at all times, but it employs a lot more than just the art of dance in its work. The company collaborates with artists of all kinds, including musicians such as Dave Matthews, photographer Annie Leibovitz, and clothing designer Donna Karan, to make their performances unique. March 25-28 at Knight Theater. Details on page 33.
Identity Theft: How a Cropsey Became a Gifford
This innovative show appeals to the Nancy Drew (or Hardy Boy) inside us all: a painting that had been identified for years as the work of Jasper Francis Cropsey had its identity challenged by Ila Weiss, a scholar in the works of Sanford Robinson Gifford. Careful conservation work proved that a Gifford signature was indeed hidden beneath the Cropsey name. See the work in question as well as other works by both artists side by side to see their similarities. Through March 27 at Mint Museum of Art. Details on page 34.
Carmen
This classic opera by Georges Bizet tells the story of a passionate and disastrous love triangle between Carmen, the tempting Gypsy with a fickle heart, Don Jose, a young Spanish soldier, and Escamillo, a brooding bullfighter. Critics panned the production when it debuted in Paris in the late nineteenth century, but it's one of the most popular operas performed in the United States today. March 13-20 at Belk Theater. Details on page 33.
3/5 Steep Canyon Rangers, McGlohon Theatre • 3/13 St. Patrick's Day Parade, Uptown • 3/18-28 A Streetcar Named Desire, Theatre Charlotte • 3/22 The Moody Blues, Belk Theater • All month Romance of the Road, The Light Factory