Best Bets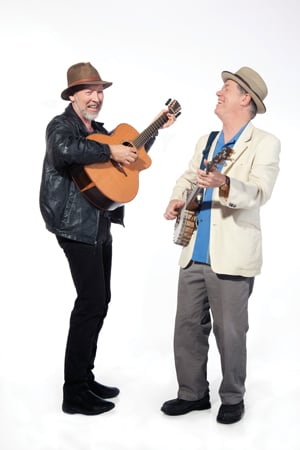 Loud & Rich
Even if you're neither rich nor especially loud, you can't deny the appeal of a timeless duo rocking out in a sleek, shiny new venue. Legends Loudon Wainwright III, Grammy winner and actor in M*A*S*H and The 40 Year Old Virgin, and Richard Thompson, one of Rolling Stone's top-twenty guitarists of all time, are taking the stage at the Knight Theater. The partners in crooning have been collaborators for thirty years, so you can bet the rock-and-roll chemistry will be formidable. April 19 at Knight Theater.
Welcome to the Monkey House
The Carolina Actors Studio Theatre is going back to the future this month with its production of Kurt Vonnegut's Welcome to the Monkey House, the 1968 collection of sci-fi-meets-satire short stories. And while we understand that a night of dark, dystopian drama means you might need to hire a babysitter for the impressionable young ones, we suggest you step outside the cage — re, box — for this wild show. April 29-May 29 at CAST.
Evita
You might think this rock opera bio of Argentine First Lady Eva Perón was buried with Madonna's 1996 diva-worthy rendition, but the truth is it never left you. The Queen City Theater Company will bring the seven-time Tony Award winner to uptown's Duke Energy Theater, where a smaller stage with a more intimate audience experience means that when Señora Perón begs you not to shed any tears over her, it's not likely you'll comply. April 16-May 9 at Duke Energy Theater.
Charlotte Knights vs. Chicago White Sox
Spring just hasn't sprung until the peanuts, Cracker Jack, and beer are served at Knights Stadium. The Knights will open the season at home this year against the Chicago White Sox, their first time hosting a Major League exhibition game in nine years. And while the Knights will have a tough game against the Windy City sluggers, we're sure that having a grand old time at the ballgame will be just a Carolina breeze. April 1.
Evolution: Five Decades of Printmaking by David C. Driskel
During this four-month run, the Harvey B. Gantt Center for African American Arts + Culture will feature five decades of David C. Driskell's groundbreaking work, including seventy-five prints as well as his paper drawings and woodwork. Since the 1950s, Driskell has made waves in the artistic and academic communities with his bold, colorful works—some have found their way to the National Gallery of Art — and his expertise in African American culture.
On the Radar
Other events you should have on your calendar
4/2-3 Fool's Brigade Tribute to The Replacements and Big Star, Snug Harbor
4/14 Taste of the Nation, The Atrium Uptown
4/16 Needtobreathe with Will Hoge, Amos' Southend
4/22 Bon Jovi, Time Warner Cable Arena