Best Bets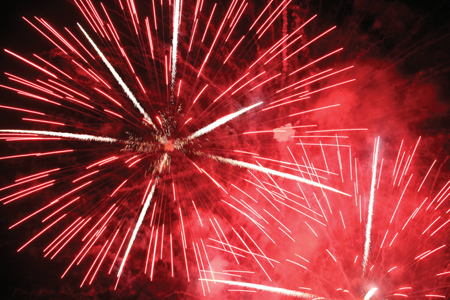 Fourth of July Celebrations
'Tis the season for not-so-silent nights of fireworks, parades, music, and food, and Charlotte has a packed lineup of All-American celebrations this year. For suburbanites with spotlight-hungry kids, the Matthews Family Fun Fourth of July Celebration's parade (with bike decorations provided) should suffice (July 3 in downtown Matthews). Of course, Memorial Stadium's Red, White, and Boom! (July 4) is the meat-and-potatoes of Charlotte's Independence Day, but if you're looking for a little more adrenaline with your festivities, we recommend Red Rocks, Whitewater, and Bluegrass Fourth of July Festival at the U.S. National Whitewater Center (July 4), where fireworks, live music, and food stands are merely a soundtrack to awesome rafting and climbing options. Details here.
Dave Matthews Band
There are two essential summer traditions in Charlotte: triple-digit temperatures and a Dave Matthews Band show. You already know what both are like, and you know that Dave's show is the one where you don't want to be inside worshipping your air conditioning. Mark your calendar for the living rock legend's annual appearance, because without it, it's just not summer yet. July 21 at Verizon Wireless Amphitheatre. Details here.
Victor Wooten
It's hard to deny bass players' sex appeal; after all, they provide that mysterious, foundational drive behind every great blues, jazz, country, or rock song. Victor Wooten, bassist for Béla Fleck and the Flecktones, is perhaps the most alluring of these musical enigmas, having released six solo albums and won five Grammys for his work with Fleck. That's why we're particularly excited that this Tennessee native, who's been named Bass Player of the Year three times by Bass Player magazine, is stepping into the spotlight for a solo show in Charlotte. July 8 at Neighborhood Theatre. Details here.
Baseball: Charlotte Knights
Our Southern gents in shining armor are in the thick of their season this month, with multiple jousts scheduled. With the season ending in just a few weeks, you don't have too many more opportunities to root, root, root for our home team at Knights Stadium. We promise major hits, hot dogs, and humidity, but with minor league prices (field box seats are just $13), we can't think of an excuse to not brave the heat and watch the Q.C.'s best sluggers. Details here.
The Drowsy Chaperone
If, for some inexplicable reason, flapping bobs and petticoats aren't enough to draw you to this flamboyant musical comedy, maybe the thirteen Tony nominations it received after its premiere in 2006 will do the trick. The Broadway sensation follows the daydream of a crotchety old Broadway fanatic whose runaway imagination makes for an old-fashioned delight of a show. While the musical-within-a-musical premise might seem a little cookie-cutter, the endearing characters and upbeat score threading the story together make Drowsy anything but. July 16 through 24 at CPCC Halton Theater. Details here.
On the Radar: Other events you should have on your calendar
7/8 Chatham County Line at Neighborhood Theatre
Through 8/1 Girls Only – The Secret Comedy of Women at Stage Door Theater
Through 12/30 Changing Places: From Black and White to Technicolor at Levine Museum of the New South