Best Bets April 2011
Your best bets for what to see and do this month.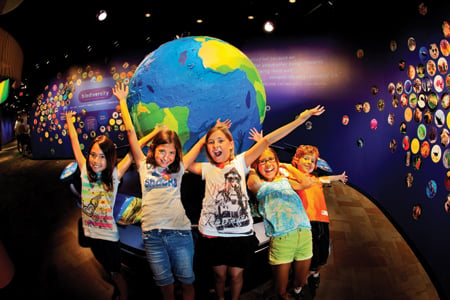 Discovery Place
While grown-ups always get a kick out of catching the latest IMAX show or helping their kids prop up pipes at Project Build, with Discovery Place's Race: Are We So Different? parents have an even more adult-friendly exhibit to see. This traveling show is a comprehensive look at the concept of "race," letting visitors scan their own skin, see the portraits and testimonials from multiracial people, and learn more about how race became so black and white. Details here.
The McColl Center for Visual Art

Most people scrub their floors to sparkle during springtime, but installation artists Jeff Schmuki and Heather Lewis are known for dropping metal equipment, dirt-stuffed nylon tubes, and grass onto the floor of their venues. The two will debut their work as part of the dual exhibit The Green Shadow at the McColl on April 15, but Schmuki will be at the April 9 Community Day, asking for public help on his new project. Details here.
Iron & Wine

Iron & Wine (real name: Sam Beam) has a soft, cryptic sound that's made him a favorite for lonely road trips. What melancholy listeners may not realize is that the acoustic singer-songwriter is actually a Columbia, South Carolina, native, and will be traveling through his homeland with tunes from his new album, Kiss Each Other Clean. April 26 at Amos' Southend. Details here.
Avenue Q

If the Sesame Street cast went to college and turned counter-culture, they might resemble the supporting cast of this eccentric Tony-winning musical. In a show replete with hilarious, if offbeat, musical numbers ("Everyone's a Little Bit Racist") and R-rated humor, recent college grad Princeton moves into a decrepit New York City apartment. His neighbors, both human and puppet, welcome him with outrageous musical numbers, raunchy humor, and a healthy dose of real-world experience. April 5-10 at Knight Theater. Details here.
Tomás and the Library Lady

The Children's Theatre of Charlotte pays homage to Spanish author and poet Tomás Rivera with this biographical play. The production follows the story of Rivera as a young boy, moving in and out of schools as his family relocates from town to town. He struggles to learn how to read and write English until he meets a librarian who helps him turn a new page. April 29-May 8 at Wachovia Playhouse. Details here.
Citizen Cope

While this Memphis-born singer-songwriter has a rootsy American sound, his songs are driven by soul and hip-hop beats, making them catchier than the average folk ballad. His climb to fame began with the 2004 album The Clarence Greenwood Recordings, which, incidentally, got its title from his birth name. April 12 at Neighborhood Theatre. Details here.
Jimmy Buffett

It doesn't take a diehard Parrothead to appreciate Buffett's "hakuna matata" philosophy. While we can't all lounge around the cabana all day (apparently, selling millions of CDs allows you to do this), taking a moment to pay homage to sun and margaritas may be one of the best ways to celebrate the spring season. April 21 at Verizon Wireless Amphitheatre. Details here.
Spotlight: An Evening of Women Choreographers

While a night out dancing with the girls is always a welcome release, sometimes it's nice to just sit back and watch the professionals. This program from North Carolina Dance Theatre will feature works from female choreographers across the globe, from Twyla Tharp's renowned The Golden Section to a world premiere from Greensboro native Emery LeCrone. April 28-30 at Knight Theater. Details here.
Blue Man Group

While audiences patiently wait for the release of the new Smurfs movie this summer, they'll have to bide their time with a different set of blue comedians. Even if you're familiar with the multimedia show's slapstick humor, this troupe has been surprising audiences with new antics for more than twenty years, and they've got a movie of their own hitting IMAX screens this year. April 19-24 at Belk Theater. Details here.
Usher

With "More," "OMG," and "DJ Got Us Fallin' in Love" taking over radio waves this past year, this Atlanta-born R&B icon is in high spirits. And that's just fine with us—the possibility of watching one of his sultry happy dances at Time Warner Cable Arena puts us in a good mood, too. April 30 at Time Warner Cable Arena. Details here.