Best Bets April 2013
Your best bets of what to see and do this month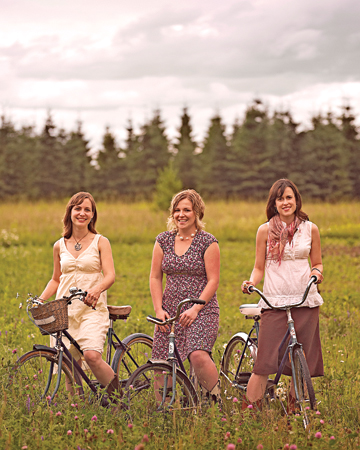 This Canadian trio is just fun to listen to. The infectious harmonies and playful music are reminiscent of early Dixie Chicks or a souped-up version of the Andrews Sisters. The ladies play a brand of modern folk that's playful pop, but they also have a penchant for slipping a serious song in among the saccharine. It's those more weighty songs that grab your attention and make you realize how talented this band truly is. April 10 at the Evening Muse.
Christopher Durang has made a living writing absurdist comedy, his most famous being the play Beyond Therapy. Miss Witherspoon, which was a 2005 Pulitzer Prize finalist, is Durang at his finest. It's a story about a woman who commits suicide to escape her miserable life only to find out that her afterlife isn't so great either. And this play is in good hands. The producers and performers at CAST have a knack for breathing life into over-the-top plays. Through April 27 at Carolina Actors Studio Theatre.
This Alabama-born beauty embodies quintessential country music. Her voice is one of the best in any genre and has been throughout her 44-year career. She recently released a duets album with Rodney Crowell, their first official collaboration since they were in the Hot Band together in the 1970s. Richard Thompson, a first-rate talent in his own right, opens. April 1 at Belk Theater.
This comedian is quickly becoming one of the rising stars of his generation. His jokes and set-ups tend to defy conventional construction, and his punch lines are much smarter than they first seem. His crowd interactions are spontaneous but feel like well-rehearsed, polished jokes. This is a comedian you'll want to see now in a comedy club before he's playing larger venues. April 17-20 at the Charlotte Comedy Zone.
You know the story. But the UNC Charlotte Department of Theatre wants to explore how the story—and by extension modern romantic relationships—would be different if it unfolded in today's world. Would Juliet "LOL" at Romeo's jokes? Would Romeo tweet about their dates? It's an updated retelling that forces audience members to reinterpret their conceptions of romance, courtship, and love. April 11-21 at Robinson Hall.
This Edward Albee dark comedy set the theater world ablaze when it was first performed in 1962. It won several awards for its depiction of a marriage on the brink of disaster and its unflinching look at the American family. Theatre Charlotte has proven itself with several very good and entertaining productions this season. This play should continue that streak. Through April 7 at Theatre Charlotte.
Diana Krall is a talented songwriter. But what sets her apart from other singers is her ability to take someone else's music and make it her own. Her husky voice and trusted Steinway piano seem to permeate the cracks and crevasses of a cover song and reawaken it, melting it into something new. And seeing her reproduce this live is magic. April 7 at Ovens Auditorium.
Elmo, Big Bird, and the gang must help out a new music teacher after she discovers all of Sesame Street's instruments have gone missing. That's the plot of this educational production that teaches children the importance of music and working together. It's a fun musical adventure that will enthrall kids and let their parents relive a little bit of their childhood. April 12-14 at Bojangles' Coliseum.
There's a reason why George Bizet's 1863 opera continues to be performed in theaters across the country. The captivating story of a love triangle in the ancient world is filled with as much interpersonal drama as it is personal strife. Its study of honor, friendship, and religious devotion requires the audience to examine their own beliefs on the matter. And Opera Carolina does a very good job in making the genre accessible like providing English subtitles for this French production. April 13-21 at the Belk Theater.
David Sedaris is one of America's preeminent raconteurs and authors. His dry wit and sardonic style are unmistakable. His ability to find a deeper meaning and side-splitting humor in everyday life have made him famous. And his voluminous body of quality work has made him undeniable. April 22 at Belk Theater.