Best Bets August 2012
What to see and do in Charlotte this month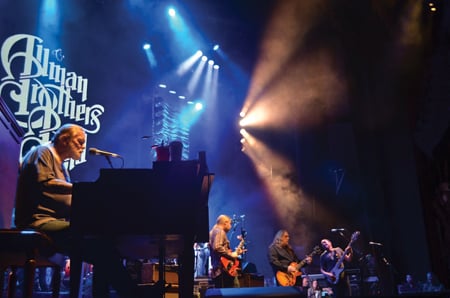 ALLMAN BROTHERS BAND AND LYNYRD SKYNYRD
Two of the best-loved Southern rock bands have Southern gothic histories (band members have died in motorcycle accidents and plane crashes). But that history makes every live performance something to savor. "Sweet Melissa" and "Sweet Home Alabama" are two anthems for the ages. August 3 at Verizon Wireless Amphitheatre.
Collaborative Arts Theatre brings Shakespeare to Charlotte every summer, and it's no amateur production. Graham Smith's performance in last year's King Lear earned him a BOB Award for best local actor. In The Merchant of Venice, the moneylending Shylock gives Antonio (a Venetian merchant) an interest-free loan … with a few strings attached.
August 15-26 at McGlohon Theater.
It's been a while since a Panthers season was so hotly anticipated. Some guy named Cam Newton is the source of most of the excitement of course, but keep a close eye on the revamped defense. Or, just stay in the parking lot: break out the grills and tap the kegs because it's football season! August 11 and 17 at Bank of America Stadium.
Four emerging American playwrights get to workshop their latest, and one playwright will see his or her work performed in a world premiere during Actors Theatre of Charlotte's 2013–14 season. The plays are Cygnus by Susan Soon He Stanton, Narrow Daylight by Sevan Kaloustian Greene, The Scene of Dreams Bar and Grill, NOLA by James Marlow, and Summer on Fire by Mike Bencivenga. These are names you may be hearing in the future, and you'll be able to say, "I saw them when …" August 7-12 at Actor's Theatre.
Talk about a grand slam. It's the largest team performance poetry event in the world, and the Queen City is hosting. More than 1,000 spoken-word poets from all over the country will vie to be national champion. Over five days, there will be forty-six official bouts that culminate in the main event—the National Poetry Slam Finals on August 11. August 7-11. Various locations.
I AM MUSIC FEST WITH INDIA.ARIE & FRIENDS
Neo soul/R&B singer/songwriter India.Arie headlines Sol Kitchen's first music festival. Arie became an icon to millions of girls and women thanks to the sentiment, "I may not be built like a supermodel/But I've learned to love myself unconditionally" from her hit song "Video." Aug 10 at Belk Theater.

"The Remedy (I Won't Worry)" is his biggest radio hit, but Mr. A-Z (the title of one of his albums) has plenty of street cred on the indie circuit. He plays mandolin, banjo, and the uke—in addition to the guitar. His vegan lifestyle and social activism only make fans love him more. Aug 11 at Verizon Wireless Amphitheatre.
THE BECHTLER ARCHITECTURE + FILM PROGRAM: SKETCHES OF FRANK GEHRY
Acclaimed feature film director Sydney Pollack isn't known for making documentaries, but he knows a great subject when he sees one. This film is his tribute to his friend, the masterful architect Frank Gehry. The fascinating film includes a series of informal chats between the two creative geniuses that illuminates the architect's creative process. Aug 17 at Bechtler Museum of Modern Art.
WHITEWATER RIVER JAM: LEFTY WILLIAMS BAND
Never mind the amazing fact that Lefty Williams can play the guitar at all, given that he was born without a complete right arm—this guy can flat-out play. Some say his sound is like that of the Allman Brothers, and Williams doesn't mind the comparison of his straightforward Southern rock to the legendary band. This show is an even better bet, given that admission is free. Aug 2 at U.S. National Whitewater Center.
How hard do they jam? One legendary set lasted four hours. (Four hours!) Few psychedelic bands have shared the stage with classical icons the Boston Pops, but these guys have. They cross some serious boundaries. Aug 25 at Time Warner Cable Uptown Amphitheatre.