Best Bets August 2013
Your best bets for what to see and do this month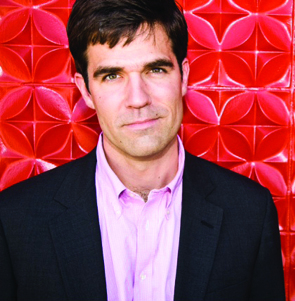 ---
Rob Delaney
Most Twitter users think they're funny. Some actually are. Rob Delaney is the maestro of the 140-character joke. A rising stand-up comedian, Delaney brings his filthy, unfettered, and unabashed style to the stage. And in person, he's even more revealing, telling stories of being a father, a recovering alcoholic, and a burgeoning star. Aug. 7 at the Charlotte Comedy Zone. Photo courtesty of The Comedy Zone
---
Elemeno Pea
Playwright Molly Smith Metzler once took a job at a yacht club just to see, first-hand, the difference between rich people and the people who serve them. There, she met a woman. The woman was mean, sometimes thoughtless, at times loving, and always complicated. She became the central character in this comedy that examines the complex lives of real people, what they strive for, and who they're expected to be. Aug. 29 through Sept. 21 at Carolinas Actors Studio Theatre. Artwork design by Matt Dobson, courtesy of Actors Theatre of Louisville

---
Tift Merritt

Merritt's latest album, Traveling Alone, explores loneliness, grief, and a sense of isolation beneath a desire for adventure. Merritt's voice is powerful, sensitive, hopeful, and mysterious. Aug. 16 at the Visulite Theatre. Photo credit: Parker Fitzgerald

---
I Love Lucy On Stage
Although the last episode of I Love Lucy was filmed in 1960, it remains an important piece of our modern culture. It set the standard and style of the American sitcom and featured a female star. It also happened to be very funny. I Love Lucy On Stage recreates a Friday night taping of two episodes and lets audiences see what made the show great—in front of, and behind, the camera. Aug. 7-18 at Knight Theater. Photo credit: Ed Krieger
---
Mandolin Orange
The Chapel Hill-based duo produces an Americana-bluegrass sound that's also peppered with gospel, rock, and blues influences. Made up of Andrew Marlin and Emily Frantz, Mandolin Orange pays homage to the musicians who came before them with capable songwriting and a timeless sound. Aug. 17 at Evening Muse. Photo credit: Briana Brough
---
Allman Brothers Band
More than 40 years after losing one of the greatest guitarists in history, Duane Allman, The Allman Brothers band continues to tour and spread Southern rock at its finest. Aug. 31 at Verizon Wireless Amphitheatre.
---
Disney's Lion King
One of the best things to come from Broadway in the past 20 years, this production is full of great visuals and songs. It also gets all the little things right as well. Based on the 1994 Disney film The Lion King, this show has found a way to keep all the heartfelt sentiment, funny moments, and whimsy in tact. Aug. 6 through Sept. 1 at Belk Theater.
---
Garfunkle and Oates
Riki Lindholme and Kate Micucci sing funny songs about dateless nights, the smugness of pregnant women, and the merits of over-the-clothes making out. The songs are clever and full of those bits of wisdom many of us only wish we had the courage to say. Also, this is definitely only for a mature audience. Aug. 31 at Charlotte Comedy Zone.
---
MacBeth
Many of the great evil characters in literature and film can trace their beginnings to this Shakespeare classic. The eponymous character is the textbook example of someone consumed with ambition. Charlotte Shakespeare never fails the poet and playwright's words when it takes on one of his plays. Elise Wilkinson, the group's executive director, leading the production. Aug. 15 through 25 at Booth Playhouse.
---
Jazz at the Bechtler
The Ziad Jazz Quartet may be the most popular band in Charlotte. Every concert they have is sold out, sometimes weeks in advance. They're the house band of the Jazz at the Bechtler, one the city's best attended events. This month the group will perform Latin Jazz, a fiery brand of music that was made famous by the giants of the genre. Tito Puente, Cal Tjader, Michel Camilo, Antonio Carlos Jobim, and many more. Aug. 2 at Bechtler Musuem of Modern Art.