Best Bets July 2011
Your cultural "musts" for the month.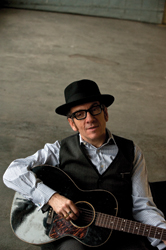 Elvis Costello and the Imposters
This spectacled icon of the British New Wave spent the 1980s and 1990s surprising his cultish fans with musical curveballs like a country cover album or a soul tune. When he comes to the Belk with his latest backup band, the Imposters, he'll carry on the element of surprise. They'll decide the program by spinning the Spectacular Singing Songbook, a twirling arrow that lands on whichever song the band will play next, from classics like "Pump It Up" to yet-unheard covers. July 16 at the Belk Theater. Details here.
John Butler Trio

It's hard to imagine a dreadlocked guitar player soaring from busking on Australian street corners to enjoying international indie stardom, but it takes only a couple listens of his roots-rock jams to get it. While the band lineup may be in constant flux, Butler's nimble guitar picking makes this unlikely success story a spectacular live show. July 21 at The Fillmore. Details here.
Next To Normal

Before playwright Brian Yorkey and composer Tom Kitt (of the High Fidelity score) joined forces, the last musical to pick up a Pulitzer for drama was Rent. This much-buzzed-about production (which earned the prize in 2010) follows the story of a family forced to rally for a mother struggling with bipolar disorder. Its rock-opera songs earned the 2009 Tony nod for Best Original Score. July 12-17 at Knight Theater. Details here.
Moon over Buffalo

The Davidson Community Players are taking on this beloved slapstick show from Tony-winning playwright Ken Ludwig. When small-time traveling actors Charlotte and George Hay learn that a hotshot movie producer wants to consider them for his upcoming blockbuster, they'll spare no effort to give him the show of their lives. Their fight for fame is packed with slapstick stage antics and collar-sweating innuendo and makes for a delightful (if absurd) look at the life of undiscovered stars. July 21-31 at Duke Family Performance Hall. Details here.
Fourth of July Festivals

Fireworks are tough entertainment to come by during the year, meaning it's important to rack up as many sparkling shows as possible this month. Start with the U.S. National Whitewater Center's Coca-Cola Fourth of July Festival, which features three nights of free live music (Langhorne Slim and Anders Osbourne star this year) from Saturday through Monday. On Sunday night, mix fire with fanfare at the CSO's Celebrate America concert at Symphony Park. Presbyterian Hospital's Fourth of July Spectacular at Memorial Stadium includes the usual face painting and funnel cakes this year, and the Charlotte Knights will wrap up their game with a patriotic fireworks show the night of the Fourth.
Rascal Flatts

Guilty fans roll up the car windows when a Rascal Flatts song comes on the radio so they can safely listen to one of the band's country-pop confections without suffering the judgment of surrounding drivers. While it's impossible to buy tickets for their Verizon Wireless Amphitheater show under a false name, the hundreds of "Bless the Broken Road" lovers should provide the comfort (and anonymity) you need to shamelessly sing along. Details here.
Neon Psalms

Carolina Actors Studio Theatre is closing its season with this dark comedy about an eccentric aging couple's life in the Mojave Desert—a life fueled by pet turtles, soap operas, psalms, and deciding what to do about their directionless daughter. The show itself is enough to warrant buying a ticket, but you also don't want to miss CAST's first production in its new location at NoDa@28, right next to Amelie's. Through July 19 at Carolina Actors Studio Theatre. Details here.
Mamma Mia!

It took watching Meryl Streep in a creepy love rectangle for us to realize how unhinged the plot of this turn-of-the-century pop musical is. And how, yes, even Meryl has her cinematic limits. But with a score made up entirely of songs by one of the peppiest pop groups in history, who could notice or care? July 26-31 at Belk Theater. Details here.
Harvey B. Gantt Center for African American Arts + Culture

This summer, the Gantt Center will have two new exhibitions on display. Anthology: The Photography of Jeanne Moutoussamy-Ashe includes portraits, landscapes, and other studies from the last thirty years of this American photographer's work in Africa, North America, and Asia. Live and in Stereo(type) features the edgy paintings and collages from the Gantt Center's first-ever artists in residence, Fahamu Pecou and Marcia Jones. Details here.
Whitewater River Jam Series

Spending a lot of time outdoors in Charlotte in July requires four things: water, evening shade, beer, and the promise of a great live concert. The U.S. National Whitewater Center makes sure all those bases are covered with this weekly, Thursday-night concert series. Spread a blanket on the grass near the rapids or find a spot on the River's Edge Bar and Grill patio with a pint of local beer. This month, the featured bands include the Victor James Band, ToneBlazers, the Mike Strauss band, the Thompson Brothers Band, and Alan Barrington. Thursday nights at the U.S. National Whitewater Center. Details here.